On Wednesday, The Fresh Market (NASDAQ:TFM) followed in the footsteps of Whole Foods Market (WFM) by releasing disappointing fourth quarter earnings. The earnings today not only showed weaker than expected profit, but also pointed to a fiscal year 2013 that can be characterized by moderate growth; not tremendous growth. The Fresh Market reported full year earnings of $1.33 per share and fourth-quarter earnings of $.43, which did not match analysts' expectations of $.44 for the fourth quarter. The news, however, that resulted in the stock losing nearly 10% of its market capitalization in trading on Wednesday was the company's projections for fiscal year 2013. These projections are as follows:
Open 19 to 22 new stores, with two new stores opening in the first quarter; 4 to 6 new stores opening in the second quarter; and, 13 to 15 new stores opening in the second half of the year.
Remodel 3 to 5 stores and have no relocations
Spend approximately $130 million to $150 million in capital expenditures, primarily related to real estate investments
Increase comparable store sales 2% to 4%
Achieve flat to modest growth in operating margin as a percentage of sales, as the Company continues to make operating expense investments related to its accelerated growth plans
Generate diluted earnings per share of $1.51 to $1.58, assuming an effective tax rate of 37.0%, where earnings per share in the second half of fiscal 2013 exceed earnings per share in the first half of the year.
Ultimately, these results show a softening of comparable store growth (5.7% in fiscal year 2012), which points to the rising challenge of growing revenue in existing stores. Additionally, analysts were expecting the company to forecast earnings for fiscal year 2013 of $1.68, while the company is only expecting earnings per share between $1.51 and $1.58. This "miss" on earnings stands alongside Whole Foods Market, which reported weaker than expected sales last month. Both of these retailers are facing rising competition from traditional supermarkets, supercenters like Wal Mart (NYSE:WMT) and Target (NYSE:TGT), and a brand that is seen by consumers as being expensive and high end. This customer perception could ultimately limit these two retailers' potential to drive comparable store growth.
Although the name Whole Foods and The Fresh Market have a cachet amongst consumers as being high quality and "the place to be," they also carry the reputation as being expensive and only for special occasions. This perception has resulted in an uphill climb for both retailers to drive comparable store growth and bring in new customers who are wary due to the perception of high prices. Whole Foods has tried to cut costs in order to drive down prices, but has been met with weaker than expected results due to customers holding onto the notion that the store is expensive. This places Whole Foods and The Fresh Market in a unique situation: to keep margins high and appeal to only a higher end consumer or to lower margins (which Whole Foods has been experimenting with) to bring new customers into the store. Neither retailer has fully figured out the correct approach to this quandary.
The rising competition from traditional retailers like Kroger (NYSE:KR) and Safeway (NYSE:SWY) that have both moved into carrying more and more natural and organic items has also hurt Whole Foods and The Fresh Market. Kroger and other traditional grocers have the space available in their stores to adapt into having specialist and organic departments. This makes it easier for traditional grocers to retail customers than it is for Whole Foods and The Fresh Market to attract new customers. This market reality has the potential to curb the revenue growth of Whole Foods and the The Fresh Market because their customer perception is that they only cater to wealthier individuals due to high prices. Even though this is becoming less and less of a reality from a pricing standpoint (due to lower margins), many customers still hold the belief that Whole Foods and The Fresh Market are only for the well-to-do.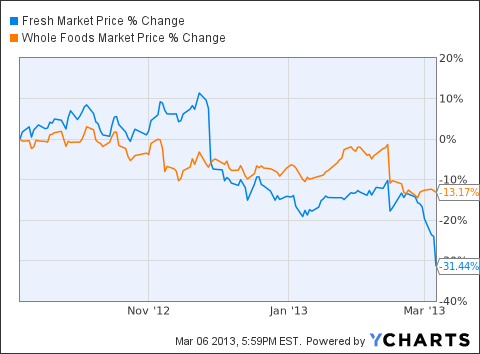 The market selloff of both specialty grocery retailers points to investors losing confidence in their ability to sustain high growth levels. The fundamental roadblock racing The Fresh Market and Whole Foods Market is the fact that even when prices are lowered, customers still see them as being more expensive. Additionally, retailers like Kroger are investing heavily into increasing the number of natural, organic, and specialty items being sold in their stores. This reality for specialty grocery has the potential to limit growth in a hyper competitive industry where perception dominates and traditional supermarkets are becoming less traditional.
Disclosure: I have no positions in any stocks mentioned, and no plans to initiate any positions within the next 72 hours. I wrote this article myself, and it expresses my own opinions. I am not receiving compensation for it (other than from Seeking Alpha). I have no business relationship with any company whose stock is mentioned in this article.