On February 28th, the Bureau of Economic Analysis revised upwards its previous estimate of Q4 2012 Real GDP growth in the U.S. to a seasonally adjusted annual rate of 0.1% from -0.1%. This was still below expectations of 0.5% growth, but that did not stop a flurry of articles from declaring that the components of the report that actually counted were showing strength, and that the trend in the economy was pointing up in coming quarters.
Reuters' headline related to the GDP report read, "Economy Barely Grew In Fourth Quarter, Brighter Days Ahead", arguing that strength in personal consumption, which added 1.47 percentage points to GDP, and private fixed investment (+1.36 pct pts) could allow us to ignore a rogue's gallery of other components, such as a plunge in government spending (-1.38 pct pts) and a drop in exports (-0.55 pct pts). In the odd logic of GDP accounting, the fact that imports (e.g., stuff that our citizens buy from abroad) fell faster than exports was seen was a sign of economic strength. We are similarly told not to worry about the fact that Gross Private Domestic Investment as a whole actually subtracted 0.2 percentage points from GDP, as the weakness was solely in the Change in Private Inventories component, which subtracted 1.55 percentage points.
Harm Bandholz, an economist at UniCredit, said in the Reuters article: "The details of the report bode well for the beginning of this year." I'm not so sure. If we step back and look at the year-over-year trends in Real GDP growth and growth in each of the GDP components, the picture begins to look a lot less rosy.
First, Real GDP growth was only 1.61% in 2012 and appears to be decelerating, coming in below potential GDP growth of 1.75% and trending lower from 1.97% in 2011 and 2.39% in 2010.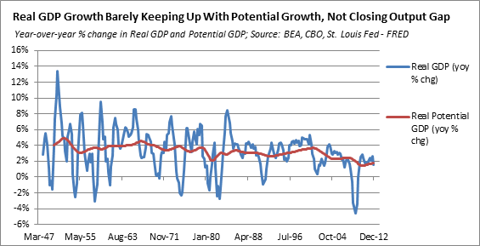 Indeed, the current rate of growth is not enough to close the substantial gap between Real GDP and Real Potential GDP that opened up during the Great Contraction (see chart below).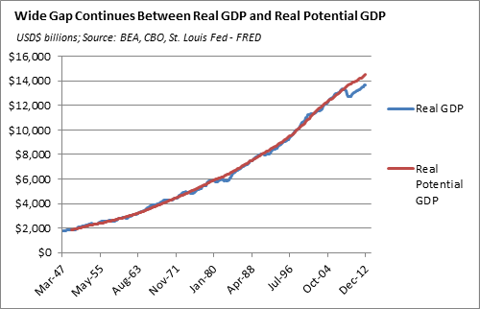 Prior to 2011, a recession followed every time Real GDP growth dipped below 2.0% for a sustained period of time. What about this time?
The chart below plots the year-over-year percentage change in Personal Consumption, Gross Private Domestic Investment, Government Consumption Expenditures and Gross Investment, Exports and, on an inverse scale (because a decline actually adds to GDP), Imports. Periods of recession are highlighted in grey. The picture is not encouraging. Prior to the last six recessions, the growth trend in personal consumption growth, private investment, exports and imports all fell (with the import line increasing on the chart due to the inverse scale), while the trend in government spending increased. That is exactly what has been happening over the last several quarters.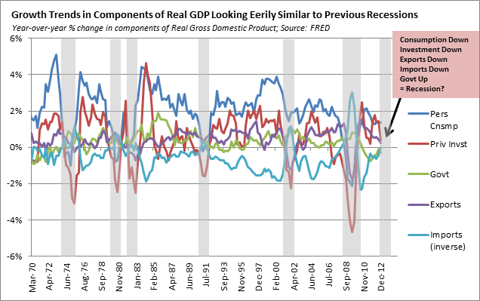 But what about the positive trends and mitigating factors cited in the Reuters article quoted above?
With respect to Personal Consumption, personal income grew at only 0.7% year-over-year in January 2013 after a big, "Fiscal Cliff" driven spike in December (see chart below).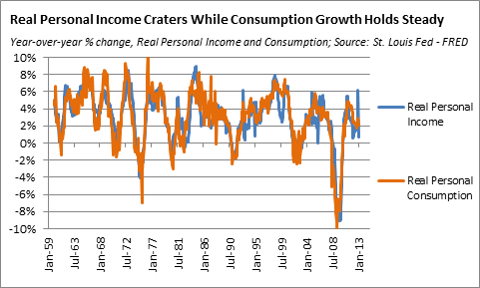 However, consumption in January still grew at a 2.1% rate, meaning that consumers were funding consumption growth out of savings, and not out of income. Indeed, the savings rate, which has been on a downtrend since the financial crisis, plunged in January 2013 to only 2.4%, the lowest since December 2007. With the savings rate back in the pre-financial crisis range and income growth extremely anemic, the consumer does not seem as healthy as one might think.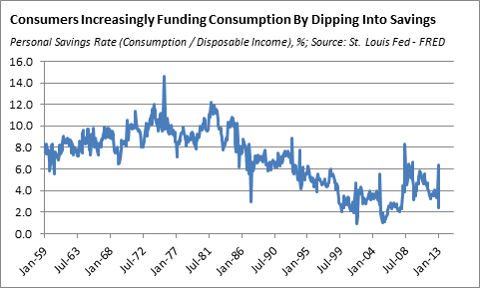 Then there is the argument that the plunge in inventories in the fourth quarter, which caused Gross Private Investment to dip into negative territory, somehow does not count. The chart below of year-over-year growth in Total Business Inventories paints a different picture. Inventory growth has been trending down since the post-crisis inventory re-stocking cycle, and the inventory-to-sales ratio has started to creep back up. Both of these factors have preceded recessions in the past.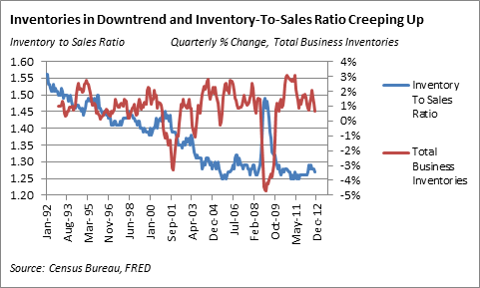 Indeed, today's January factory orders data from the Census Bureau showed manufacturer orders of durable goods stuck in a firm downtrend, falling 0.8% year-over-year. Non-Defense ex Aircraft orders were looking a bit better, rising 5.1% year-over-year after a 5% y-o-y drop in December, though growth is still depressed. And Construction Spending, while growing at a 7% y-o-y clip, showed signs of slowing (see chart below). None of these series show signs of an acceleration of fixed investment growth.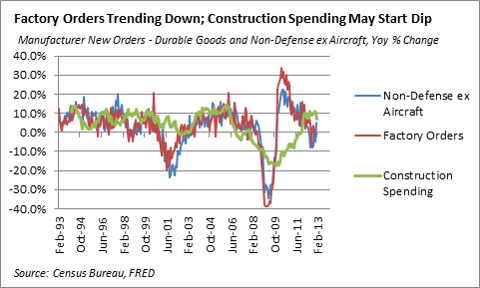 So what are the implications for stocks? S&P 500 (NYSEARCA:SPY) returns are highly correlated with Real GDP growth -- 0.44 coincident correlation between year-over-year changes in Real GDP and S&P 500 since 1970, 0.47 between Real Personal Consumption component and S&P 500 -- though tend to lead Real GDP growth by several months.
The recent 15% year-over-year growth in the S&P 500, amid a relatively stagnant couple of quarters of real growth, could imply that growth will pick up in the quarters ahead. The current period, though, bears striking similarities to 2007, when a sharp increase in year-over-year stock returns preceded a negative outcome both for real growth and stocks (see chart below).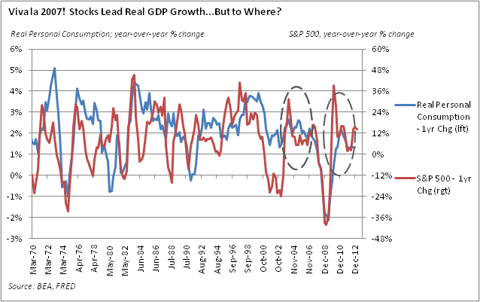 The Federal Reserve's balance sheet -- and by extension, the "Other Deposits Held by Depository Institutions" line -- is growing again, which has been positively related to future S&P 500 returns over the past several years and could continue to drive stocks higher (see chart below).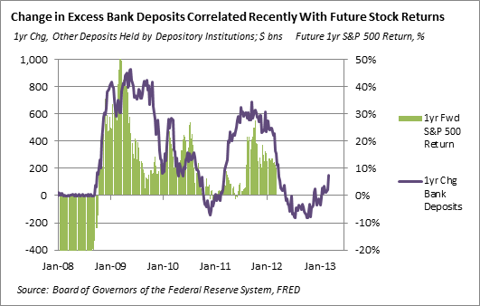 However, the effects of monetary easing on stocks have been shrinking with each subsequent cycle and fiscal consolidation in some form -- even without a government shutdown -- looks set to continue during the coming year, slowing growth further. Combined with signs of slowing in Chinese manufacturing, efforts by the People's Bank of China to cool their property market, and political uncertainty in Italy, this could make the path for stocks uneven. Indeed, recent weakness in commodities (NYSE:DBC) and the Shanghai Stock Exchange Composite Index (NYSE:CAF), as well as strength in Treasury yields (NYSEARCA:TLT) and the U.S. Dollar index (NYSEARCA:UUP) give pause. And, the "Tobin's Q" ratio -- which divides the market value of equities on corporate balance sheets by total corporate net worth, with data from the Federal Reserve's Flow of Funds report -- suggests moderate overvaluation, which has been associated with low or negative forward 5-year S&P 500 returns since the 1950s (see chart below).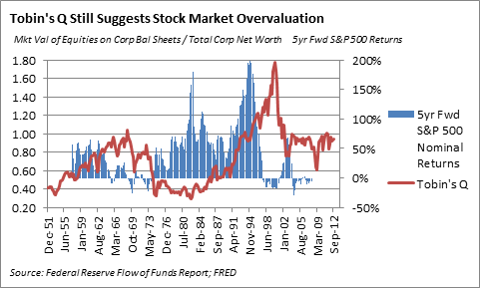 The current secular bear market has been the most benign on record (see chart below). However, other than the case of the World War I secular bear market, which ended in the roaring 20s, entry into a new secular bull phase would be premature, and could be preceded by another down-leg in growth and stocks.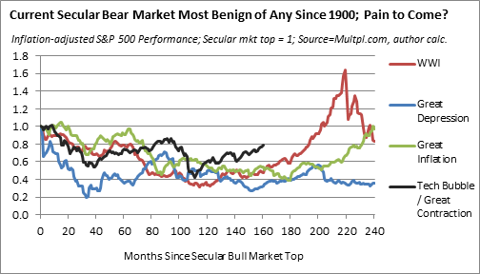 Disclosure: I have no positions in any stocks mentioned, and no plans to initiate any positions within the next 72 hours. I wrote this article myself, and it expresses my own opinions. I am not receiving compensation for it (other than from Seeking Alpha). I have no business relationship with any company whose stock is mentioned in this article.