Some of you may remember that back in January (2013), I wrote a Seeking Alpha article called 2 Love Sick REITs Trying Hard To Recreate What Has Yet To Be Created. In that article, I referenced a Doobie Brothers classic (What a Fool Believes) that went like this:
He came from somewhere back in her long ago
The sentimental fool don't see
Tryin' hard to recreate
What had yet to be created once in her life
Now I will admit. I never really knew what Michael McDonald was saying in the song, but I think he was trying to recount a love sick relationship - a fantasy of sorts. I believe he was saying he was madly in love with a girl who never really existed.
So it was in that previously referenced article that I went in to describe American Realty Capital Trust III (ARCT III) and Cole Credit Property Trust II (CCPT II) - two non-traded REITs - by relating to the fact they had never been able to find a true liquidity event or more importantly, a public stock listing.
Now, since that article was published, there have been recent events for the two "love sick" REITs:
First off, a few days ago ARCT III merged with American Realty Capital Properties (ARCP) to become the fourth largest triple-net REIT. By merger, the combined portfolio now consists of 806 properties with around 77% investment grade rated tenants.
In addition, Spirit Realty Capital (NYSE:SRC) announced that it was merging with CCPT II in a transaction that will top $7.3 billion in assets with over 2,000 properties. As I wrote in the previous article,
CCPT II is a non-traded REIT and the company has grown over the years into a $3.7 billion (enterprise value) company with over 40,000 investors. In order to drive distributions, CCPT II has assembled a portfolio of 822 properties with credits ranging from high-quality (like Walgreen) to low-credits like Church's Chicken.
ARCP, led by veteran non-traded REIT expert Nick Schorsch, has become a dominating aggregator of single-tenant net lease products. Although his externally managed (fund-raising arm) has deep experience in raising "boat loads" of capital, Schorsch is still a newcomer for internalized management products.
But the bottom line is that Schorsch has turned the fantasy of liquidity into reality. That success is most evident by the recent merger with Realty Income (NYSE:O) and American Realty Capital Trust; as well as the more recent merger with American Realty Capital Properties and ARCT II.
Seeking Alpha in Cole Holdings Corporation
Wednesday Cole Credit Property Trust III (CCPT III) announced that the company had executed a definitive merger agreement to acquire Cole Holdings Corporation. This is a massive business deal that will combine CCPT III's 1,014 properties (in 47 states) with Cole Holding's full-scale management platform - consisting of $12 billion of assets (managed) with over 160,000 individual investors.
Like ARCT, ARCT II, and CCPT II, CCPT III commenced as a non-traded REIT and they have all invested in triple-net properties with the hopes of finding full-cycle liquidity. ARC's non-listed REITs have successfully found the magic - ARCT in a merger with Realty Income and ARCT II in a merger with ARCP. Cole's first attempt is underway - CCPT II's planned merger with Spirit and now Cole is on stage to create a transformational transaction that could shape the entire non-traded REIT industry.
First off, I must say, this proposed deal is not just another REIT listing (Cole Holdings has reserved the ticker "COLE"), it is a transformational transaction that is proposed to combine the multi-channel fund raising activities of Cole Holdings (public-private, and hedged investor model) with the durable rental generated by CCPT III.
What is clearly a uniquely positioned portfolio, the combined company will look more like BlackRock or Pimco, except with a pure real estate component. Similar in structure to W. P. Carey (NYSE:WPC), Cole's combined deal will resemble a hybrid REIT model in which investors benefit from an array of in-house capabilities including asset management, acquisitions, leasing, financing, and capital markets.
More to the point, Cole should appeal to a broad range of investors since the proposed new public REIT will offer multiple investment vehicles (i.e. listed shares, non-listed offerings). That translates into new income generators earned from the Cole Holdings management model, including Cole Credit Property Trust IV, Inc., Cole Corporate Income Trust, Inc., and Cole Real Estate Income Strategy (daily NAV), Inc.
CCPT III's portfolio ($7.4 billion in assets) is similar to the portfolio of CCPT II (around $3.4 billion in assets); however, CCPT III is over twice the size. Here is a snapshot below that illustrates CCPT III's industry and tenant concentration: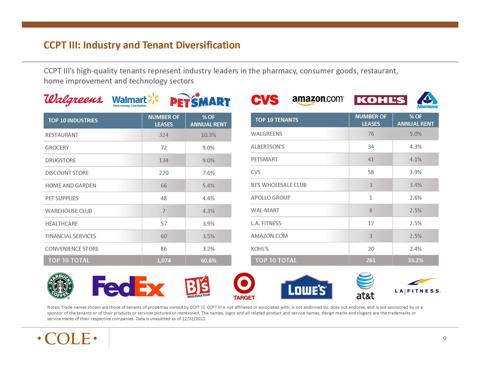 CCPT III is not a pure triple-net REIT. The portfolio is comprised of around 49% of single-tenant properties, 18% in multi-tenant retail properties, 17% in single-tenant office properties, 7% in single-tenant industrial properties, 4.8% in debt instruments, and 2.8% in joint venture/construction.
Also, CCPT III has a portfolio spanning 43.1 million square feet in 47 states. The 99% occupied portfolio has a balanced geographic footprint with the largest exposure in the South Atlantic 21.6%):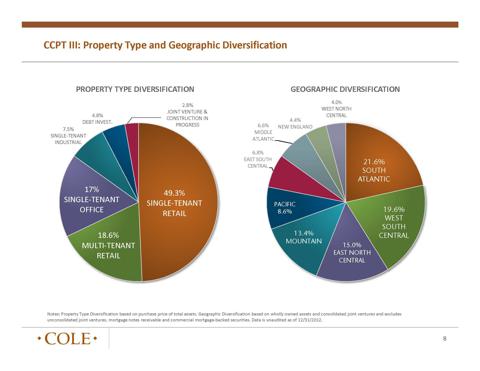 The diversified portfolio has a weighted average lease term of 12.7 years with only 3.1% of the total leases expiring over the next three years. In addition, CCPT III's portfolio consists of around 42% investment grade rated tenants (based on ABR). Around 17.2% of CCPT III's portfolio has tenants with ratings at B+ or lower.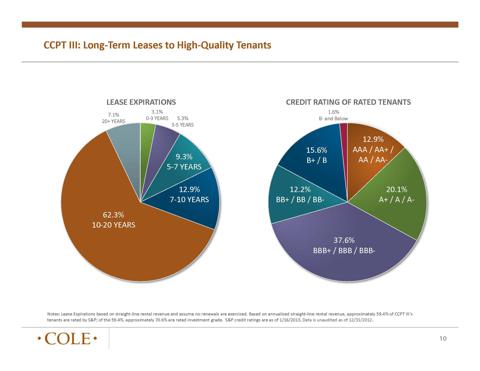 What Is The Value Proposition of the Capital Raising Combination?
Cole is a dominant player in the non-traded REIT world. That means that the company has raised considerable equity (by amassing a broad distribution network). Translated: the company has generated enormous fees. Here is a snapshot of the equity that Cole has raised over the previous five years: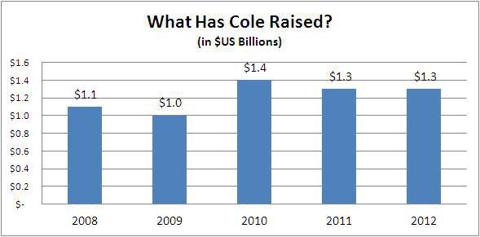 Here is a snapshot of the equity raised in the entire non-traded REIT universe (source: Robert A. Stanger & Co.):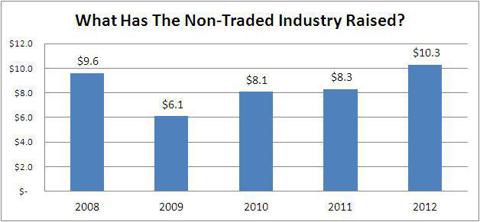 Here is a snapshot of Cole's market share (Note: American Realty Capital was the leading sponsor in 2011 and 2012):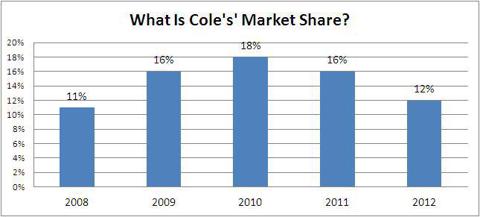 Cole has raised over $6 billion during the past five years. That translates into a consistent selling platform of around $100 million of new capital each month. Assuming that the new public REIT can raise $1.3 billion a year, the asset management business could generate around $90 million in incremental revenue (that excludes the rental revenue of CCPT III). By positioning itself as a "multi-channel" REIT, Cole seeks to scale the conglomerated platform by expanding its reach beyond the current inflows (i.e. current 14% market share) but also by replicating the powerful institutional and sub-advisory model. That potential is enormous, especially when you consider the incremental income that exists in the market.

So Is There Alpha To Owning Cole?
As most of you know, I spend a lot of my time writing and talking about risk control. That means I'm consistently researching the management teams and the more qualitative investment factors such as integrity and uniqueness of the brand. Much like my mentor, Ben Graham, I look at the businesses behind the security as a prospective buyer would of the whole business.
To date, all I know about Cole is the fact the company has been an incredible aggregator of assets. However, I have no knowledge of the company's ability to manage risk - especially in the public arena where Mr. Market has such a powerful effect.
What's clear to me is that Cole is simply the product of an evolutionary trend that is forced to demand for thinner fees (load of up-front commissions) and more frequent valuations (appraisals). We have already seen this with the merger of W. P. Carey and CPA 15 last year (commenced as a REIT on October 1, 2012). Here is snapshot of W. P. Carey's stock performance since the REITs merged (from October 1):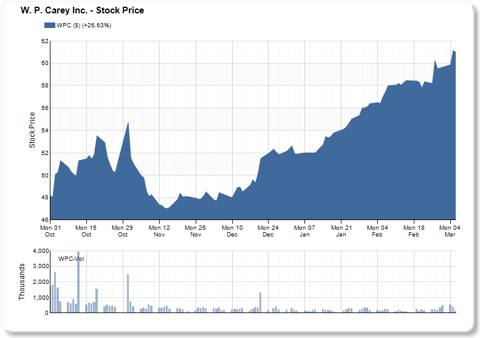 More importantly, the market has evolved in such a way that there is much less of a distinction between the non-traded and publicly-traded REITs and the remaining differentiation is liquidity. Hence, the reason Cole is proposing to execute its transformational new conglomerate REIT strategy.
The compensation for Cole's management team is vague. As I understand it, Chris Cole will receive around 10,000,000 shares (valued at around $100 million). There is an undisclosed "earn-out" amount determined in 2017, and payable at the end of 2017, based on the Cole hitting performance objectives not listed in the company's filing.
My biggest question has to do with Cole's peer affiliation. The company claims it will be the second largest triple-net REIT but (as I referenced above) there are around 49% of the assets that are not stand-alone properties. In addition, the fee-based business will provide considerable revenue, so the structure to me is more like Vornado (NYSE:VNO) with its hybrid "hedge fund" model. Here's a look at Vornado's recent results (30-day stock price):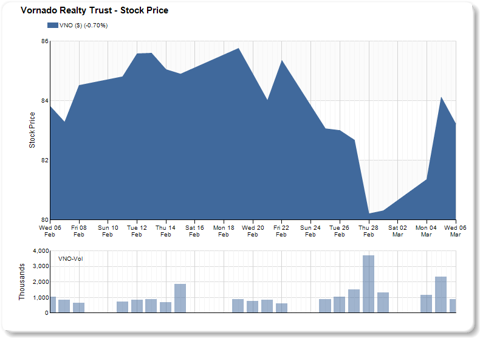 (Here is a Forbes.com article I recently published on Vornado.)
As we know, Mr. Market likes pure-play REITs such as Realty Income and Tanger Factory Outlets (NYSE:SKT). In other words, simple is better. If all goes as planned, Mr. Market will decide in early June (2013) what he thinks about Cole's new "transformational" REIT - anchored by 50% triple-net properties and differentiated with a strategic fee-based engine.
I was able to reach Chris Cole's office Wednesday and was provided with the following quote:
It is my own sincere desire to be known for building the premier, trusted brand in real estate. I believe in a future where investors, individual and institutional alike, can access the real estate asset class in a variety of innovative vehicles across the four quadrants - equity, debt, public and private. This has been my pursuit since working on my first real estate transaction in 1979 and it will be my pursuit until realized. I believe the real estate investment management industry is poised for a transformation.
For current CCPT III investors, congratulations on your possible liquidity opportunity (it looks real). For future investors, get ready for the newest player that - from the looks of it - can play all positions on the team. A versatile REIT; we will soon find out if he can score. Remember though, Mr. Market is a tough competitor and he never slows down.
Whatever you do, make sure you consider the steady free-throw shooters. Consistency always wins. That's why you will never lose with Realty Income, National Retail Properties (NYSE:NNN), W. P. Carey, and the new kid on the block, American Realty Capital Properties. Reserve your seat and make sure to sleep well at night.
Source: SEC Filing, SNL Financial
Disclosure: I have no positions in any stocks mentioned, and no plans to initiate any positions within the next 72 hours. I wrote this article myself, and it expresses my own opinions. I am not receiving compensation for it (other than from Seeking Alpha). I have no business relationship with any company whose stock is mentioned in this article.