If you're in the market for a long-term growth play that has demonstrated significant developments when it comes to stem cell research, then you've come to the right place. In this article I want to take a closer look at some of the catalysts behind my decision to establish a long position in Osiris Therapeutics (NASDAQ:OSIR).
According to the company's website, "Osiris Therapeutics is a leading stem cell company focused on developing and marketing products to treat medical conditions in the inflammatory, autoimmune, orthopedic and cardiovascular areas. Osiris' stem cell products have significant therapeutic potential because of their ability to regulate inflammation, promote tissue regeneration and prevent pathological scar formation." Shares of OSIR which closed at $9.35 on Wednesday trade an average of just 71,630 shares per day and have risen 1.08% since January 1st.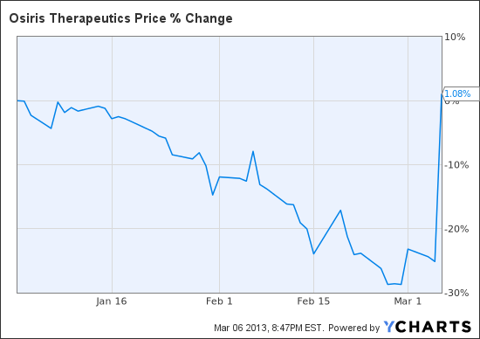 OSIR data by YCharts
There are three things to consider when it comes to Osiris Therapeutics and they are its recent uptrend which could signal a positive near-term upswing, the recent developments surrounding Prochymal's orphan drug status in the European Union, and its most recent quarterly results which demonstrated impressive revenue numbers [see earnings call transcript].
Uptrend Status: Based on Wednesday's closing price, shares of OSIR are trading 27.74% above its 20-day simple moving average, 13.08% above its 50-day simple moving average, and 3.92% above its 200-day simple moving average. That indicates a short-term, mid-term and long-term uptrend for the stock which generally translates into a buying mode for traders.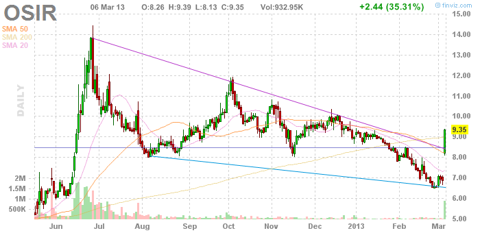 Prochymal Update: On February 19th Osiris Therapeutics announced that the European Medicines Agency has designated Osiris as the Orphan Drug title holder for Prochymal (remestemcel-L). According to the company's press release, "In the EU, the Orphan Drug designation for Prochymal is for the treatment of acute graft versus host disease (better known as GvHD). Prochymal, a first-in-class allogeneic stem cell therapy, has already received approval in Canada and New Zealand for the treatment of acute GvHD in children." Prochymal, which is available in a total of seven countries (including the United States under the Expanded Access Program), benefits pretty substantially as the EU's designation grants the drug market exclusivity for a period that could extend up to 10 years.
Most Recent Quarterly Results (Q4 2012): On Wednesday March 6th Osiris Therapeutics announced its fourth quarter and full year 2012 results. The company noted that "revenues during the fourth quarter of 2012 were $3.1 million, including bio-surgery product revenues of $2.9 million compared to $0.8 million over the same period of 2011. Gross margin during the fourth quarter was 70% compared to 58% during the fourth quarter of 2011. Gross profit was $2.1 million during the fourth quarter of 2012 and $0.4 million during the same period of 2011. The company also reported a net income loss of $2.6 million in the fourth quarter of 2012."
By examining the numbers in further detail we'll notice that OSIR surpassed analysts' EPS estimates by 46.66% (-$0.08/share actual vs. -$0.15/share estimated) and analysts' revenue estimates by 6.89% ($3.1 million actual vs. $2.9 million estimated). According to the company's President and CEO C. Randal Mills, Ph.D., "It was also a year of commercial transformation, having four products on the market and expanding capabilities in development, manufacturing, sales and marketing. Osiris is now a fully integrated commercial cell therapy company, well-positioned for future growth."
Conclusion: When it comes to those who may be looking to follow my lead in establishing a position in Osiris, I'd keep a watchful eye on the company's revenue growth. If the company can continue to show strength in terms of revenues from not only its bio-surgery products but its entire portfolio of products (especially those which came to market in 2012), I think we will continue to see strong revenue growth for some time.
With solid earnings over the past 12 months and the potential to increase its international presence in both the United States and the European Union especially when it comes to Prochymal, I think Osiris has the potential to be a significant long-term investment.
Disclosure: I am long OSIR. I wrote this article myself, and it expresses my own opinions. I am not receiving compensation for it (other than from Seeking Alpha). I have no business relationship with any company whose stock is mentioned in this article.