In business, there are three ways to increase assets for growth: you can build it, buy it or borrow it (lease). Global Partners (NYSE:GLP) has taken the 'buy it' attitude by buying assets to facilitate earnings growth. The company has recently closed on several acquisitions that are projected to help facilitate an increase in earnings per share (EPS) of 109% in 2013. Being a master limited partnership (MLP), this means more distributions to shareholders in the near future. The powerful combination of high earnings growth and high yield is unique in today's market.
Global Partners is well positioned on the growth curve with a very strong year over year profit increase forecasted, as well as a growing high dividend yield and expected earnings-accretive contribution from several projects.
On February 19, 2013, Global Partners announced the completion of its acquisition of 100% of the membership interests of Cascade Kelly Holdings LLC, a West Coast crude oil and ethanol facility near Portland, Oregon. The transaction includes a rail transloading facility serviced via short-line track by the BNSF Railway, 200,000 barrels of storage capacity, a deepwater marine terminal with access to a 1,200-foot leased dock and the largest ethanol plant on the West Coast. Situated along the Columbia River in Clatskanie, Oregon, the site is located on land leased under a long-term agreement from the Port of St. Helens. The purchase price, subject to post-closing adjustments, was approximately $95 million.
In early February 2013, Global completed the acquisition of a 60% membership interest in Basin Transload LLC for approximately $85 million. To finance both transactions, Global increased its bank credit facility by $115 million and closed a senior unsecured five-year note of $70 million from funds managed by GSO Capital Partners LP, the credit arm of The Blackstone Group.
The result of these transactions is projected to produce significant growth in 2013. According to First Call analysts' consensus, Global Partners is projected to have EPS of $2.89 in 2013, an increase of 109% from 2012 earnings. Trading at $34 per share, Global Partners is trading at 12x forward earnings which is below the industry average PE ratio. The stock is up 34% year to date so watch for a price pullback as a new entry point.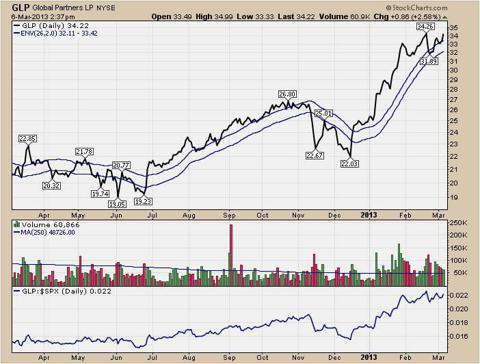 Global Partners is scheduled to release earnings on March 14 before the market open. The First Call consensus is for $0.50 per unit, an 11% increase from the same quarter one year earlier. Global Partners missed its earnings market last quarter so prudent investors will want to watch for positive earnings results this quarter.
Following its recent dividend increase, Global Partners has a current dividend yield of 6.83%. Global Partners announced that the Board of Directors of its general partner, Global GP LLC, has declared a quarterly cash distribution of $0.57 per unit ($2.28 per unit on an annualized basis) on all of its outstanding common units for the period from October 1 through December 31, 2012. The annual distribution of $2.28 is 80% of the projected 2013 EPS of $2.89.
The distribution represents a 7% increase over the quarterly distribution of $0.5325 per unit paid in November 2012 and a 14% increase over the quarterly distribution of $0.50 per unit paid in February 2012.
Global Partners is one of the largest wholesale distributors of gasoline (including blend stocks such as ethanol and naphtha), distillates (such as home heating oil, diesel and kerosene), residual oil and renewable fuels to wholesalers, retailers and commercial customers in the New England states and New York. In addition, the Partnership has a portfolio of approximately 1,000 gas stations in nine Northeastern states.
Disclosure: I have no positions in any stocks mentioned, and no plans to initiate any positions within the next 72 hours. I wrote this article myself, and it expresses my own opinions. I am not receiving compensation for it (other than from Seeking Alpha). I have no business relationship with any company whose stock is mentioned in this article.