Energy Transfer Partners (ETP) management tells investors a complicated story. Of late, unusually high acquisition and capital project activity muddied the financial waters. However, the pieces are beginning to fall into place for this Master Limited Partnership, albeit slowly. Senior leadership has been true to its word: ceasing additional M&A activity, rationalizing sprawling existing assets, and improving cash flows.
In this article, we will walk through some of the recent actions, overview financial metrics, and suggest what investors may wish to keep an eye upon going forward.
Organization and Price Chart
The Energy Transfer organization is in a state of flux. Buckle your chinstrap, it's not a simple tale. Check out this organizational structure chart from their recent 10-K filing: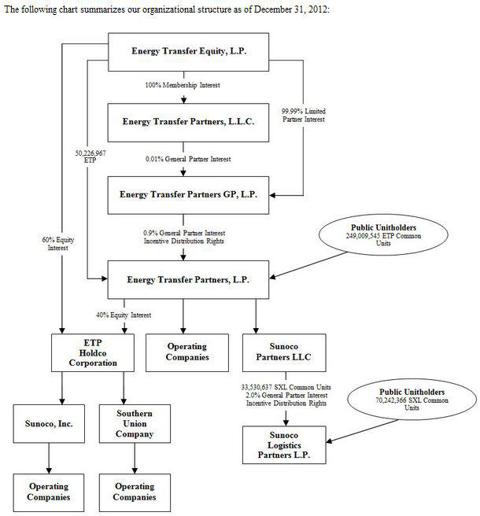 The unit price has gone nowhere for over a year, though the outsized seven to eight percent annual cash distribution has mitigated the stagnant price action. Units have ticked up since the beginning of 2013.
Energy Transfer Partners - One Year Price and Volume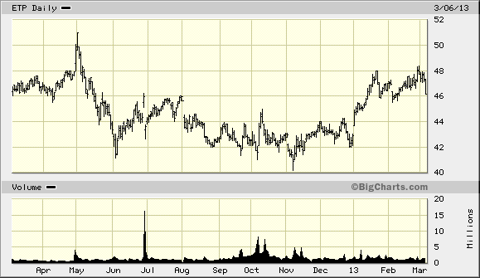 courtesy of bigcharts.com
Recent Activity
ETP management has been working upon several initiatives, but I consider the following four items to be the most significant:
Partnering with Enbridge (ENB) to convert the Trunkline pipeline asset from gas to liquids.
Selling off the Southern Union Missouri Gas Energy and New England Gas assets.
Contributing Southern Union Gathering System to Regency Energy Partners LP (RGP).
Plans to spend some $2 billion of 2013 capital to build out / optimize existing pipeline assets.
Enbridge / Trunkline Joint Venture
I believe the most exciting change is the joint development of Energy Transfer's Trunkline pipeline with Enbridge to provide crude oil pipeline access from the Patoka, Illinois hub to the eastern gulf coast refinery market. The 50-50 joint venture between ETP and Enbridge would include the conversion of a portion of Trunkline from natural gas service to crude oil service. In addition, the project entails construction of a new lateral from central Louisiana to the St. James refinery corridor in Louisiana.
The seven hundred mile pipeline could add capacity between 420,000 barrels and 650,000 per day depending upon crude oil shipped and the level of committed shippers. The project target completion date is sometime in 2015.
Analysis: This move has the potential to place Energy Transfer into the heart of the Bakken and Canadian oil plays. It's a bold move with a capable partner. This is a prime mover catalyst to watch.
Sale of Southern Union Gas assets to Laclede
In December, Energy Transfer announced the sale of Missouri Gas Energy and New England Gas Company assets to the Laclede group for a little over $1 billion. The transaction is expected to close by the end of the third quarter of this year.
Analysis: This move is consistent with senior leadership intent to rationalize far-flung assets. The company intends to use the cash proceeds to reduce debt leverage and maintain an investment grade credit rating.
Contribution of Southern Union Gathering to Regency LP
In a February 2013 spin-off / simplification move, Energy Transfer has contributed Southern Union Gas Services, Ltd. (SUGS), to Regency Energy Partners LP in exchange for $1.5 billion in cash and securities.
In exchange for the assets, Southern Union will receive $750 million of newly issued Regency common units, $150 million of new Class F units, and $600 million in cash. The Class F units will not receive any cash distributions for eight consecutive quarters following the closing and thereafter will convert to Regency common units, receiving distributions at the prevailing rate. In addition, ETP has agreed to forego the $10 million annual management fee paid by Regency for the same time period post-transaction close.
Analysis: Regency units currently yield about 7.7 percent. The transaction affords Southern Union (a consolidated Energy Transfer affiliate) 31.4 million new units. At the $0.46 quarterly cash distribution rate, this provides the Energy Transfer Partners / Energy Transfer Equity (ETE) Holdco entity about $57.8 million a year. Rating agencies considered the move credit rating neutral.
Major Construction Projects
There are a multitude of major construction projects ongoing. In 2012, Energy Transfer spent some $2.7 billion of capital on these projects. Approximately $2 billion more is scheduled in 2013. The work is focused primarily upon ETP's midstream and NGL segments. Within the plan are several new pipelines that concentrate upon the Texas Eagle Ford area: one of the most prolific new shale gas and liquid fields in the U.S.
Analysis: The projects are difficult to assess individually, but collectively I believe they will contribute significantly to distributable cash flow in late 2013 and out. ETP management has a good track record of bringing home projects on-time and on-budget. I see no reason to doubt this record going forward.
Financial Measures
Energy Transfer Partners has a lot of moving parts. Actually, too many. I have found it difficult to analyze comparative data given the level of M&A activity and business machinations. However, please find tables below that appear to offer some insights. A brief comment or two is found afterwards:
Segment Margins and Contributions
ETP business is broken down into six major segments. By reviewing proportional adjusted EBITDA contribution percentages and comparative margins across these segments, one can get a general sense of the scope and direction of the business.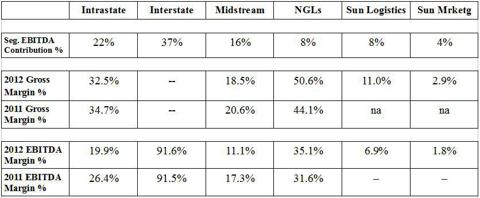 Interstate and Intrastate / storage are currently the largest segments of the business. These are the legacy rump of the "old" Energy Transfer Partners.
Year-over-Year gross margins were generally down. Low margins in the Sunoco marketing segment are not an issue. Industry margins for oil products retail marketing (gas stations) are generally low, but produce ratable cash flows.
EBITDA margin strength was found in the Interstate transportation / storage and NGL segments. This is where the company is plowing a lot of capital going forward. Southern Union companies (i.e., Citrus) are in this group. The Eagle Ford and Lone Star gas / fractionation businesses are focused within the NGL segment.
Return-on-Equity and Return-on-Capital-Employed

Returns are not strong, and the trends are down. I believe this is largely a function of the number of deals and projects ongoing that have not been rationalized or completed.
Debt-to-Adjusted EBITDA and Debt-to-Equity

Long-term debt is high. However, the rating agencies consider ETP's investment-grade rating stable. Specifically, ETP management has specified the Debt-to-Adjusted EBITDA ratio target is 4.00 to 4.25x. While the 2012 annual figure is out of range, if one annualizes the fourth quarter adjusted EBITDA, the metric comes in at 3.79x.
DCF Coverage

ETP management has indicated their intent to keep the distribution coverage ratio above 1.05x. The company has maintained distributable cash comfortably above these levels for the past two quarters.
Keep Your Eye on the Ball
I suggest the ETP news and analysis paint a mixed picture.
While management continues to rationalize and simplify the business, it remains too complex and difficult to analyze. Investors and Wall Street don't like complicated stories. Segment margins indicate a 2011-12 downward bias, though there's a lot of work in progress.
Weak natural gas prices will continue to dog the Interstate transportation / storage business. Unfortunately, this business is a large adjusted EBITDA segment contributor. I do not believe it will improve much in 2013.
Long-term debt is high, but Energy Transfer management is well aware of this. As assets are rationalized, debt is paid down, and new projects come online bringing additional cash flows with them, I believe it's reasonable to assume that ETP will maintain their investment grade debt rating and eventually meet their internal Debt-to-Adjusted EBITDA metric.
Distributable Cash Flow jumped up in the fourth quarter as assets and projects began to gel. There's still a long way to go. Energy Transfer will be in the consolidation and reorganization mode for at least another two years. However, the significant rise in cash is a good thing; the distribution coverage ratio has been sound for the last two quarters.
Management has repeated their intent to increase the cash distribution to unitholders in 2013. I expect they will do so sooner, rather than later. Without a boost in the distribution, I envision no upward movement in the underlying per-unit price. ETP senior staff needs to make good on this.
My personal twelve-month unit target price for is about $53 based upon an anticipated quarterly distribution increase of about $0.03 this year, positive progress on current major projects, and ongoing successful debt management. This would represent an approximate 7% distribution yield; at the high end of their MLP peers; but such a yield compensates investors for the ongoing execution risk involving the relatively complex asset rationalization, project, and debt management processes.
Given all the moving parts, I plan to simply hold my units. Energy Transfer Partners currently offers a free distribution re-investment plan whereas unitholders obtain additional units at a five percent discount to the prevailing price. I like this option while watching for the pieces to fall into place.
There may be easier MLPs with which to make a return, but I submit that Energy Transfer Partners offers greater future returns to go along with a higher risk profile.
Please do your own homework, stay diligent in your analysis, and good luck with all your 2013 investments.
Disclosure: I am long ETP. I wrote this article myself, and it expresses my own opinions. I am not receiving compensation for it (other than from Seeking Alpha). I have no business relationship with any company whose stock is mentioned in this article.