About half way through February analysts felt that auto sales should come in at about 1.189 million units and the auto sector did not disappoint by delivering 1.9 million units. This represents just under a 4% increase in sales over last year.
With 1,190,946 sold Sirius XM (NASDAQ:SIRI) is on a good pace to deliver what should be a decent quarter. Current 2013 auto sales are about 166,000 units ahead of last year.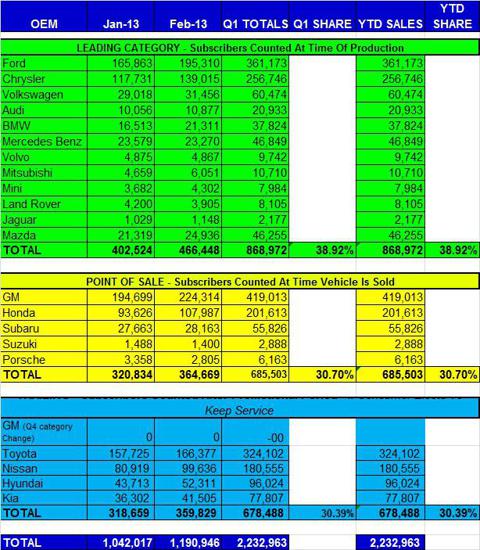 There is a dynamic that we should now begin to consider. Late last year Sirius XM informed investors that there was a major change to an OEM deal that would take place in Q4 of 2013. I, as well as the analyst community, have covered this issue as well as the potential impacts of it. In Q4 of 2013 General Motors (NYSE:GM) will shift from a partner that supplies paid promotional subscribers to none that supplies unpaid promotional subscribers. The difference is that the paid promotional subscribers are counted as subscribers while unpaid are not.
You will notice in the chart that GM is listed twice. Once in the Point-Of-Sale category and once in the Trailing category. When the auto sales for Q4 come in, GM will shift to the trailing category.
If we look at current GM sales and assume a 70% penetration rate we will see an interesting dynamic. In the first two months of the quarter GM has sold 419,013 cars. That would imply that there would be 293,309 counted subscribers from GM. In Q4 those would not be counted as Gross additions. This will cause a substantial difference in the overall NET subscriber number for 2013.
Why begin looking at this now? That answer is simple. First, with auto sales expected to be over 15 million, and with the news remaining positive, some investors many be looking for the company to raise its guidance from its current level of 1.4 million. The shift in the GM deal is a substantial reason why the company will likely be very careful with guidance. It is also a reason why the company is shifting focus to self-paying subscriber additions. A second reason that we should be looking at this now is to condition ourselves for the impact in Q4 and begin to gauge exactly what that impact will be. Savvy investors may play this to their advantage. Essentially we will see the impact in Q4 of this year and it will be a one time impact.
So far in 2013 auto sales are pacing at about 83,000 units more per month. Extrapolated, it would indicate that overall sales will be nearly 1 million more units than the 14.5 million we saw in 2012. This bodes well for Sirius XM, especially over time.
Investors will not likely see awesome headlines related to the auto sector unless there are months like January where the year over year comparison is over 10%. This will be a more quiet issue than years prior and could set up a few subscriber surprises for investors as the year progresses. How do you trade on that? Stay in tune with the auto sales and how they relate to Sirius XM.
Disclosure: I am long SIRI. I wrote this article myself, and it expresses my own opinions. I am not receiving compensation for it (other than from Seeking Alpha). I have no business relationship with any company whose stock is mentioned in this article.
Additional disclosure: I have no position in GM