Western Asset Mortgage (NYSE:WMC) has delivered another fantastic earnings report. This article will examine how it compares to its closest competitors in the hybrid mREIT space - AMTG, MTGE, MITT, as well as the largest hybrid mREIT - TWO.
Earnings Beats
WMC started trading about a year ago on 11 May 2012. Since then it has been beating analysts estimates and 4Q 2012 was no exception. WMC earned 19.8% higher than analysts estimates reporting $1.04 in earnings per share compared to estimates of $.87. In 3Q 2012 they beat estimates by 221.5% reporting $2.27 in earnings per share compared to estimates of $.85.
The Numbers
The spread is relatively lower than its competitors, but combined with leverage it produces the highest single stock yield in the mREIT world. (TWO yield reflects its probable continuance of .40 dividend distributions and not the special .55 dividend of 4Q 2012.)
| | | | | | | | | |
| --- | --- | --- | --- | --- | --- | --- | --- | --- |
|   | Price/BV | BV change in 4Q | Yield | CPR | Leverage | Spread | % Agency | Insider Buying this year |
| WMC | 1.010 | -.09 | 16.4 | 3.6 | 9.2 | 2.05 | 93 | $225,012 |
| AMTG | 0.996 | +1.03 | 12.4 | 5.6 | 3.0 | 2.70 | 80 | 0 |
| MTGE | 1.021 | +.53 | 13.7 | 6.0 | 6.8 | 2.06 | 83 | $327,941 |
| MITT | 1.101 | -.24 | 12.4 | 7.8 | 5.26 | 2.15 | 77.8 | $37,450 |
| TWO | 1.120 | +.10 | 12.3 | 6.6 | 3 to 5 | 2.90 | 81 | $359,344 |
WMC is ranked 4th out of 5 on book value change for 4Q, however it has a higher yield by far, the lowest prepayment rate or CPR (it lowered to 3.1 in January), excellent price to book value and strong insider buying. If you look at the charts, WMC is underperforming the other stocks this year.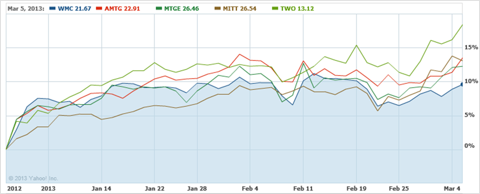 There are some possible explanations - TWO has been exciting investors with its SBY spinoff and elevated dividend in 4Q 2012. WMC is relatively new to the market and investors see it as untested or they just haven't taken a good look at it yet with all the other more well known mREITs out there. The leverage level of 9.2 might also be seen as too risky. WMC is not as exposed to the non-agency RMBS market as the others and non-agency RMBS have been doing well this year.
In response to the leverage, the 4Q conference call included these statements - "We are comfortable taking leverage up to this level at year end due to low volatility and the fact that two of the risk factors that impact the RMBS market prepayments and supply can be fairly muted during the last two months of the year. Subsequent to year-end, we've taken leverage back down to the low eight times range which is where we believe the appropriate level is given current market conditions. If you have yourself hedged right, you can actually have lower risks in a nine times leverage portfolio than an eight times leverage portfolio. It really depends on what's on your liability side. And I think that shows up in how our book value performed in the fourth quarter. Our relatively stable book value performance was better than the agency REIT peer group average decline of 4%."
Regarding non-agency allocation - "Non-Agency RMBS was less than 1% of the total portfolio as of year end. Subsequent to year end, we increased our exposure to this sector of the market as we saw good relative value opportunities and to put it in perspective non-Agency RMBS presently represents less than 5% of the fair value of our total portfolio. Right now today, I think the value is actually in agencies."
WMC may be relatively new, but its management team is not. They mentioned their 25 years of experience in non-agency RMBS and in the TBA market. They see their years of experience in the mortgage sector and their deep bench as key competitive advantages.
I believe WMC is currently undervalued and represents a buying opportunity. All of these stocks have given impressive returns and should do well this year if the spreads and the housing market keep improving.
Disclosure: I am long WMC, TWO. I wrote this article myself, and it expresses my own opinions. I am not receiving compensation for it (other than from Seeking Alpha). I have no business relationship with any company whose stock is mentioned in this article.