About a month ago, I outlined a strategy in this article on how to profit from leveraged ETF decay. I showed the effects of these ETFs having to re-leverage every day, which amounts to selling high and buying low. In this article, I will highlight three pairs of ETFs that provide an excellent opportunity to use this strategy due to the higher-than-normal volatility on the indexes they track, or an index that usually trades sideways. This strategy works best with high volatility and underperforms when the market is making steady, incremental moves either up or down. Here are three pairs that I think are worth shorting.
Pair #1
(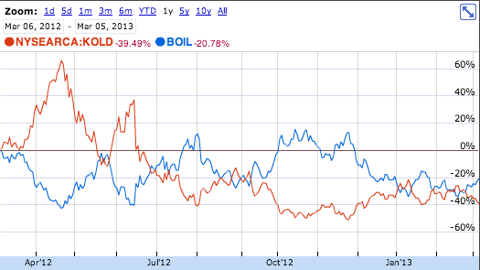 Natural gas is one of the most volatile commodities in the world. Natural gas has a negative historical beta, which means that it moves in the opposite direction of the general market. The regular ETF that tracks natural gas (NYSEARCA:UNG) has made seven big moves in both directions over the past year. With this type of volatility, and the size of the moves the natural gas makes, a leveraged ETF that seeks to double the daily return of natural gas will see greater distortions because of how volatile the underlying commodity is. While we have seen a recent uptick in natural gas futures due to a streak of colder-than-expected forecasts, there are still concerns over inventory levels and the fact that the coldest part of the year is already behind us. I think that this short term run-up will lead to increased volatility in the commodity and now is a good time to put this trade on.

Pair #2
Direxion Daily Energy Bull 3X Shares (NYSEARCA:ERX)
Direxion Daily Energy Bear 3X Shares (NYSEARCA:ERY).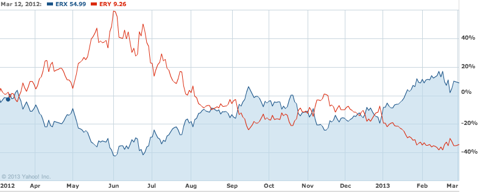 These ETFs seek to triple the daily return of the Energy Select Sector Index. The energy sector includes oil, gas, coal, and renewable energy. Energy as a whole is not nearly as volatile as natural gas, but it is becoming more regulated and it is an ever-changing landscape. I think that shorting this pair is an attractive alternative to picking energy stocks. Geopolitical risks are present all over the world, especially in North Africa and the Middle East, where more energy companies currently have larger presences. We could see higher volatility in the energy sector due to increased tensions in the Middle East, especially between Iran and Israel. I believe that we will see at least two or three global events that will cause spikes in the volatility in energy. The Keystone Pipeline decision has potential effects, as does the changing regime in Venezuela after the death of Hugo Chavez. Geo-political risks in the Middle East, and the threat of the Strait of Hormuz closing are ever present problems in the energy sector that could lead to increased volatility.
Pair #3
Direxion Daily Gold Miners Bull 3X (NYSEARCA:NUGT)
Direxion Daily Gold Miners Bear 3X (NYSEARCA:DUST).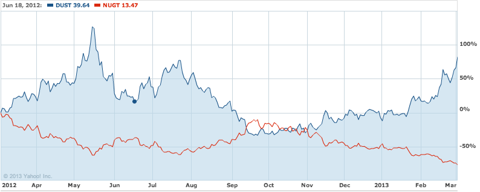 This article does an excellent job of examining the fundamentals behind the gold trade, and if you are interested in the fundamentals, I highly recommend that you read it. However, these ETFs are based on gold miners, not gold, and they tend to be more volatile and make bigger moves. The Market Vectors Gold Miners ETF (NYSEARCA:GDX) three largest holdings are Barrick Gold Corporation (NYSE:ABX), Goldcorp, Inc. (NYSE:GG), and Newmont Mining Corporation (NYSE:NEM). All these stocks have a low beta; however, they still fluctuate a lot, which is good for the pair ETF shorting strategy.
Risks
This strategy works in most markets; however, you do not want the market to be making stained, incremental moves in one direction. The paired shorting strategy requires the market to either be horizontal or volatility to be up. This strategy would not have worked that well if you had shorted a double leveraged S&P 500 ETF pair at the beginning of the year. Take for example the ProShares Ultra S&P 500 (NYSEARCA:SSO) and the ProShares UltraShort S&P 500 (NYSEARCA:SDS). The S&P 500 is up 8.9% over the last three months, the SSO is up 18.98%, and the SDS is down 17.54%. The S&P 500 has gone up steadily, so the strategy would not work well in the market we have experienced for the last three months.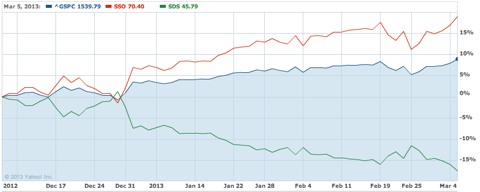 Summary
The ETFs selected here, however, do not generally trade like the S&P 500 has traded the last three months. They are far more volatile, and this increases the likelihood of this strategy being successful. While finding the shares to short the pair can be somewhat difficult to do, it is a very worthwhile trade if you can do it. Another thing to note when putting on the trade is that you need to make sure that each ETF is equally weighted. If you have $1000 you want to dedicate to a trade shorting the gold miner ETF, you would dedicate $500 to each ETF. Since the Gold Bear 3X ETF is trading at $4.90, you would buy around 100 shares. The Gold Bull 3X ETF is trading at $61.48, so you would only short 8 shares, this keeps your weighting the same and maximizes your potential profit, while remaining more risk neutral. Also, this trade requires periodic rebalancing. When one side of the trade makes a sustained move in one direction, you should rebalance the portfolio to keep the 50-50 weighting.
Disclosure: I have no positions in any stocks mentioned, and no plans to initiate any positions within the next 72 hours. I wrote this article myself, and it expresses my own opinions. I am not receiving compensation for it (other than from Seeking Alpha). I have no business relationship with any company whose stock is mentioned in this article.