First of all, it's hard to write anything negative in the midst of a Bernanke market. Even though there might be reasons for apprehension, the endless money printing can easily override them, especially when we're talking about a stock now yielding 3.3% in a yield-hungry world.
That said, there are several emerging reasons which should give pause to those wanting to buy Microsoft (NASDAQ:MSFT) stock, even if they find the valuation compelling. It's my opinion that these reasons are not yet reflected in Microsoft's share price or the sentiment towards the company. Let me tell you why.
Windows 8 adoption is terrible
Multiple sources have already said the same thing: that adoption rates for Windows 8 are very low. At this point in time, they trail even the failed Windows Vista, and the trend is getting worse, not better. (Source: Net Applications)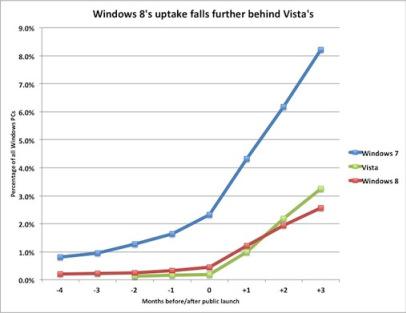 However, Microsoft said that license sales for Windows 8 have been comparable to those for Windows 7 at the same point in time. This brings us a dilemma. If the licenses were sold but the computers are not being used, then there's a likely inventory glut sitting somewhere. The end result can easily be a quick drop in ongoing Windows 8 sales as inventory is cleared. This constitutes a large risk for Microsoft as the Windows division still represents 25.8% of its last 6-month revenues and, more importantly, 41.9% of its last 6-month operating income.
Not only that, but if the lack of Windows 8 adoption represents a delayed or missed upgrade cycle, it might also have a downstream impact on the Microsoft Business Division, its largest division (it markets Microsoft Office).
As a further example of just how bad things are turning, we're even hearing that Samsung quit selling ATIV Windows 8 RT tablets in Germany and other European countries, due to sheer lack of demand.
Earnings estimates
This lack of demand for Windows 8 is happening at the same time that earnings and revenue estimates don't yet seem to reflect this weakness. For the March quarter, revenues are still expected to grow 19.3% versus the same quarter last year, and earnings estimates fluctuated as follows during the last 90 days: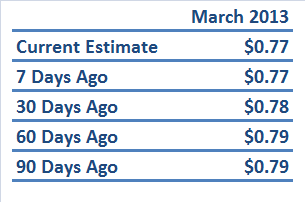 As is readily evident, although there has been a slight downward bias, it's minor. This is especially true if a major inventory glut is indeed taking place. At this point, there seems to be significant risk both for revenue and earnings estimates due to this possibility. As a reminder, Microsoft should report on April 18.
Very low short interest
While the risk to estimates seems obvious, the sentiment regarding Microsoft doesn't seem particularly negative. There hasn't been any great movement towards shorting Microsoft as the short interest over the past year shows (Source: Nasdaq.com):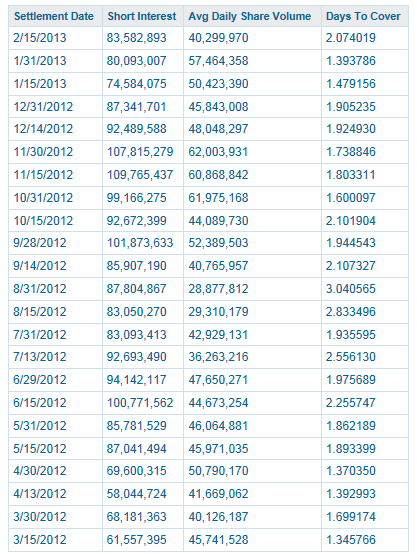 Although the last month saw a slight increase in short interest, overall levels are well below those attained in November last year and not outside ordinary regarding the usual Microsoft short interest. Indeed, right now around 1% of Microsoft's outstanding shares are sold short, which is low (about half of Apple).
Other effects
There might be negative implications for Intel (NASDAQ:INTC) as well as many other PC suppliers. The low Windows 8 adoption is probably indicative of a failed upgrade cycle. The server side might not be as bad, though.
Anyway, an inventory glut of Windows 8 machines would necessarily translate into an unexpected ordering lull for Intel and many other PC suppliers.
Conclusion
There are very clear signs showing Windows 8 failed in the marketplace. There are also signs which might point towards an inventory glut, whose resolution could temporarily impact Microsoft as well as many other PC suppliers.
Microsoft's earnings and revenue estimates still don't seem to be taking this into account. Also sentiment towards Microsoft seems to be ignoring this possibility, increasing the risk of a downside surprise.
Disclosure: I have no positions in any stocks mentioned, and no plans to initiate any positions within the next 72 hours. I wrote this article myself, and it expresses my own opinions. I am not receiving compensation for it (other than from Seeking Alpha). I have no business relationship with any company whose stock is mentioned in this article.