With the economy beginning to revive and mortgage foreclosures decreasing, regional banks are becoming profitable again. Investors have been fairly reluctant to invest in them because of the recent past when banks were losing money during the collapse of the housing bubble and the resulting mortgage foreclosures. This reluctance creates an opportunity for the dividend growth investor to purchase some good dividend paying stocks with the accompanying likelihood of capital gains as well.
Mutual funds allow one to buy one fund and have it allocated among different stocks in order to reduce the risk of just owning one company. Some mutual funds are geared to particular industries to participate in an industry that is doing well. Since regional banks are likely to fare well over the next 12 -18 months (S&P), I suggest creating one's own fund of regional bank stocks. One can avoid the charges associated with owning a mutual fund and choose stocks where income and dividend growth are expected.
Below is a model list of banks that would fit well into a portfolio that is worth at least $350,000. Two hundred shares of each bank would only represent 10% or less of one's portfolio. Here is a list of the banks that I currently hold in my account with links to SeekingAlpha articles: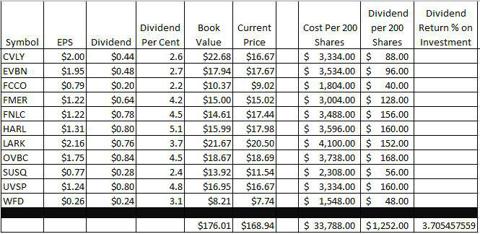 Most of these regional banks have shown recent growth in earnings and several are increasing their dividends. The total book value of the stocks exceeds the current buying price of the model portfolio. Prices of the individual stocks were taken from the last week in February and may be different at the time of publication. The dividend offered on this portfolio is 3.7%.
Find charts below on each company for Income and Cash Flow (taken from TDAmeritrade) and Price and Dividends (taken from Interactive Brokers).
CVLY: Codorus Valley Bancorp Inc.


Please Note: An increase in the dividend from $.09 to $.11 per share as well as a 5% stock dividend for this issue.
EVBN: Evans Bancorp, Inc.


Please Note: An increase in the dividend from $.22 to $.24 per share.
FCCO: First Community Corp.


Please Note: An increase in the dividend from $.04 to $.05 per share.
FMER: First Merit Corp.


FNLC: First Bancorp Inc./ME


HARL: Harleysville Savings Fin. Inc.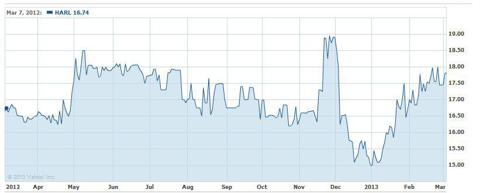 Please Note: An increase in the dividend from $.20 per share to $.21 per share. This stock is thinly traded and should be bought using a limit price. (Chart above take from Yahoo; Interactive Broker chart not available)
LARK: Landmark Bancorp, Inc.


OVBC: Ohio Valley Banc Corp.


Please Note: A special dividend of $.10 was paid over and above the regular dividend this year.
SUSQ: Susquehanna Bancshares Inc.


Please Note: There were 2 dividend increases over the period of a year of $.01 each.
UVSP: Univest Corp. of PA.


WFD: Westfield Financial Inc.


Please note: There were 2 extra $.10 dividend payments during the past year.
Conclusion:
This article offers a model regional bank portfolio as an alternative to purchasing a mutual fund of regional bank stocks. The model is proposed as part of a larger portfolio worth $350,000.00 or more, and offers a 3.7% return on a $33,750.00 investment. One can adjust it to fit one's own smaller or larger portfolio. The model fits well into a dividend growth portfolio because these banks are currently growing profits and increasing dividends. Purchasing the issues personally allows one to control investment costs as well as the issues one buys and sells. While creating one's own fund of stocks requires somewhat more work and effort than purchasing a mutual fund, the returns are better and costs are significantly lowered.
Disclosure: I am long CVLY, EVBN, OVBC, FNLC, WSB, LARK, HARL, FMER, UVSP, FCCO, SUSQ. I wrote this article myself, and it expresses my own opinions. I am not receiving compensation for it (other than from Seeking Alpha). I have no business relationship with any company whose stock is mentioned in this article.