Recent years have shown people trying to be healthier. There is an increase in demand for healthier food options, such as organic selections and other natural alternatives. It's no surprise that some people are looking to improve their health with some sort of supplement in addition to their current diet. That's where companies like The Vitamin Shoppe (NYSE:VSI) come in.
What's it all about?
Stores like The Vitamin Shoppe carry a range of products from multivitamins, to protein powders, and even varying drinks and snacks. These products are all eye catching to consumers who want to be healthy, active, and live better lives. That being said, there are a number of competitors out there, like GNC (NYSE:GNC) and Vitacost (NASDAQ:VITC). Each of these companies caters to their customers' wants and needs, and they may even carry a number of the same products. Of course, because of the consumer interest in The Vitamin Shoppe, GNC, and Vitacost, people want to take a look at how these companies portray their own health, on a financial level.
A Healthy Stock
Just like people worry about how their bodies are, investors like to know how their stocks are faring. Vitamin Shoppe, along with VitaCost and GNC, all reported earnings last month. The Vitamin Shoppe has shown substantial growth over the past year, even taking into account its Q1 report last week, causing a dip in value. Even though this dip was fairly sharp, it is plain to see that The Vitamin Shoppe is a big competitor in the health and wellness stock competition, having held fairly steady since September of 2012. Even now, the value of the stock is around $53, still over a 20% increase compared to the same time last year.
It is also important to take into account that one of the reasons the stock took a tumble is because of its recent acquirement of Super Supplements for $50 million. While that acquisition is costly now, it will allow Vitamin Shoppe to expand more into the west coast and penetrate into the supplement market there.
While GNC reported good earnings earlier last month and the stock rose sharply after the earnings announcement, the stock is still around the same levels as the highs from last year at around $43.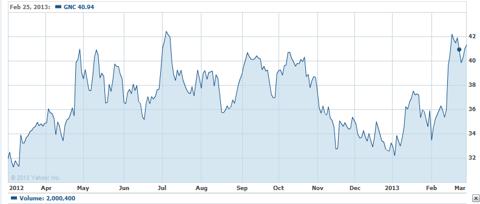 Vitacost, on the other hand, has been slowly climbing back up from last year. However, just like GNC, the stock hasn't had much growth when compared to last year.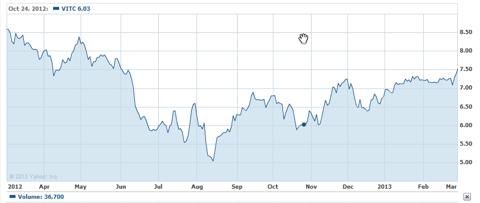 Some people might question whether or not these numbers are indicative of a strong stock. Taking a look at the direct comparison of each company can certainly help dispel any worries.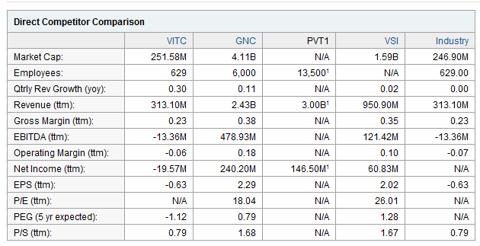 The above chart shows various financial statistics for Vitacost, GNC and Vitamin Shoppe. Vitamin Shoppe falls in the middle when comparing market cap, revenue and EPS. However, its P/E ratio at 26.01 is significantly better than GNC and Vitacost. Same applies when comparing its PEG of 1.28 to the PEG of GNC at 0.79 and Vitacost at -1.12. These statistics indicate what I have referenced earlier, which is that Vitamin Shoppe is expanding and making changes that can greatly improve the company's future outlook.
GNC has been successful being that it has a place in the global market, while VSI is still sitting at a national level. The recent acquisition of Super Supplements, along with its recent expansion to Canada , will enable Vitamin Shoppe to start competing on a more even level with GNC. Vitamin Shoppe also has plans to open 50 more stores this year.
What Makes VSI Special over the Others?
People like having someone to turn to when they need or want advice. They like to have a person there to answer their questions and support them along their shopping experience. Unfortunately, Vitacost is an online retailer. Short of emails and a hotline, there is no real interpersonal experience to be had, and that leaves customers to guessing or having to research products before they pick something.
Having physical retail locations, GNC and The Vitamin Shoppe can provide that experience. It is also important to take into account the target market of each company before comparing that interpersonal experience. GNC is primarily oriented toward sports nutrition (proteins, workout enhancers, etc.), while The Vitamin Shoppe is more holistic (vitamins, minerals, and herbs, as well as proteins and workout enhancers). As a result, it is almost expected that The Vitamin Shoppe would have a knowledgeable staff to serve their customers' needs. Numbers don't lie and these numbers make it apparent that the consumer market would agree that The Vitamin Shoppe is a solid company. The price dip in Vitamin Shoppe's stock from last week presents a good buying opportunity into a fast growing company.
Disclosure: I have no positions in any stocks mentioned, and no plans to initiate any positions within the next 72 hours. I wrote this article myself, and it expresses my own opinions. I am not receiving compensation for it (other than from Seeking Alpha). I have no business relationship with any company whose stock is mentioned in this article.