Apple (NASDAQ:AAPL) hit an all-time high back in September, briefly trading above $700 before tumbling to below $450. I have been racking my brain on whether now would be a good time to back up the truck and load up on Apple stock, but perhaps a "wait-n-see" philosophy would be best for now? Or is now the time to buy up some Apple shares? I am leaning more toward the "buy" scenario, believing that there are is more evidence for "buying" versus "selling".
But why the huge downswing during the fourth quarter? There is the obvious, where the signaling of slowing growth appears to have led to a vicious cycle of "smart money" selling because other "smart money" investors are selling. But there is another case to be made, heeding the advice of billionaire Warren Buffett, "buy when everyone else is selling."
The Smart Money Move
There were a few billionaire hedge fund managers that were selling off their entire stakes of Apple during the fourth quarter. Below are the notable sell-offs:
| | |
| --- | --- |
| Hedge Fund | Shares Sold |
| Leon Cooperman of Omega Advisors | 266,000 |
| Dan Loeb of Third Point | 710,000 |
| Stephen Mandel of Lone Pine Capital | 805,000 |
However, just as these hedge funds were getting out of Apple, there were other notable ones that were getting even deeper into Apple.
| | | |
| --- | --- | --- |
| Hedge Fund | Shares Bought | Notes |
| Ken Griffin of Citadel Advisors | 500,000 | Number one position in Citadel's public equityportfolio |
| David Tepper of Appaloosa Management | 391,000 | Now makes up 10.5% of the fund's portfolio |
| David Einhorn of Greenlight Capital | 300,000 | Now makes up 10.9% of the fund's portfolio |
While betting with the 'smart' money is not always the best bet, neither is betting against it. One of Apple's biggest backers of the fourth quarter was David Einhorn, who made an effort to put pressure on the company to return cash to shareholders. All three of the big billionaires that were taking a renewed interest in Apple: Griffin, Tepper and Einhorn, all have the stock as their largest holding as of the end of 2012. David Tepper was the top earning hedge fund manager in 2012, pulling in $2.2 billion after his Appaloosa Management hedge fund returned 30% for the year. As far as smart money is concerned, I tend to be in favor of those betting on the tech company. For those that would rather go against smart money, they can take solace in the fact that during the fourth quarter Apple dropped from the top spot as the "most-owned stock by hedge funds", conceding to AIG.
Dominating The Competition
As far as the major tech companies go, Apple generated the most revenue by far, dwarfing closest competitor, IBM (NYSE:IBM), by 50% for 2012. Apple has also led all companies in year over year sales growth for each of the last three years:
2012

2011

2010

Company

Amount

Growth

Amount

Growth

Amount

Growth

Apple

156.51

44.58%

108.25

65.96%

65.23

52.02%

Google

50.18

32.37%

37.91

29.28%

29.32

23.97%

HP

3.15

23.90%

2.54

35.66%

1.88

1.70%

Microsoft

73.72

5.40%

69.94

11.94%

62.48

6.93%

IBM

100.27

-6.22%

106.92

7.05%

99.87

4.29%
Apple has also managed to post impressive stats across the board for the last four years, whether it be expanding profit margins or return on equity.
| | | | | |
| --- | --- | --- | --- | --- |
| Metrics | 2012 | 2011 | 2010 | 2009 |
| Net Profit Margin | 27% | 24% | 21% | 19% |
| Return on Equity | 35% | 34% | 29% | 26% |
| EPS | 44.15 | 27.68 | 15.15 | 9.08 |
This is in part thanks to the company's robust presence in the mobile market. Apple is currently second with respect to market share of its iOS operating system.
Mobile Operating System Market Share (4Q 2012, source: Gartner)
Android: 70%

iOS: 21%

Blackberry: 4%
Although Apple is still battling with Android as the top mobile phone operating system, Apple does holds a strong position in the hardware market, coming in third, whereas Google's Motorola is ninth, with 2% of the market share.
Mobile Phone Market Share (4Q 2012, source: Gartner)
Samsung (OTC:SSNLF) 23%

Nokia (NYSE:NOK) 18%

Apple 9%
Valuation
Apple has grown all of its major metrics over the last few years, and has exerted its dominance with regards to revenues and growth, yet it still trades "cheaply." Even if you roll Apple into the same classification as a perpetual "mega-cap" stock, as opposed to a tech/growth stock, the company still trade on the cheap (see more on Apple's industry classification). Of the ten largest companies, by market-cap, Apple has one of the lowest P/E and P/CF ratios, while having the highest five-year expected growth:
| | | | | |
| --- | --- | --- | --- | --- |
| | Return on Equity | Current P/E | Price to Cash Flow | 5-Yr. EPS Growth (expected) |
| Apple | 2nd (highest) | 2nd (lowest) | 2nd (lowest) | 1st (highest) |
However, assuming multiples expansion is not in Apple's future, then the stock is likely to trade around ten times earnings for some time. A 10x P/E on Apple's 2014 EPS estimates suggests the stock will be trading around $500 in a little over a year and a half, which is an annualized return of almost 10%. Not too bad. This doesn't include the 2% plus dividend yield the stock is currently offering. Even still, the average Wall Street twelve month stock price target is $630, with upside of 46%.
Fellow Seeking Alpha contributor Eric Bader, makes an interesting note on valuing Apple's free cash flow. Apple's current trading range of $425 assumes the company's future growth rate is close to zero. By "utilizing the Gordon Growth Model (NYSE:GGM) and Free Cash Flow to the Firm (FCFF)...a cost of capital of 10%, free cash flow of $40 billion, and a stock price of $425, we arrive at an implied growth rate of 0.52%. Question, is this actually Apple's growth prospects?".
There also appears to be a dichotomy that has been grew steadily growing since 2011, where Apple continued to grow its rolling twelve month free cash flow, until the turn down during the fourth quarter of 2012. However, cash flow has since turned back to the positive, but the rebound in Apple's stock price has yet to follow...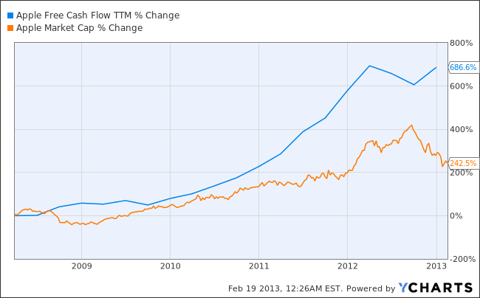 The Bottom Line
It appears that Apple's stock price is trading one period behind its rolling twelve month cash flow growth rate, suggesting that the stock could be ready for a move up during the first quarter of this year. Based on the valuation and Apple's dominant market share with its smartphones and tablets, I would be inclined to consider investing at current levels. No matter how you value the company, it appears cheap on a number of levels. It will also be interesting to see how Apple puts its cash hoard to work for shareholders, but for the time being its 2.5% dividend yield will suffice.
Disclosure: I have no positions in any stocks mentioned, and no plans to initiate any positions within the next 72 hours. I wrote this article myself, and it expresses my own opinions. I am not receiving compensation for it (other than from Seeking Alpha). I have no business relationship with any company whose stock is mentioned in this article.