We are seeing a nice rally in the markets and yesterday the commodity names caught a bid, which we appreciated as a large percentage of our portfolio is tied in some way to commodities. Asia is mixed this morning with Europe surprisingly stronger and green across the board (at least our board and the exchanges we watch). We want to point out to investors that stress tests are upcoming and this could lead to further rallies in the financial sector as the regulators may have to let the banks pay higher dividends or begin share buybacks. Either one would be good for shareholders and the economy as inefficient capital gets pushed back into the market to get reinvested and put to good use.
Chart of the Day:
It is 'Jobs Thursday' again and we want to throw up the Initial Unemployment Claims chart again to show that it appears we are leveling out at this 350k level for now. Not super bullish, but then again not bearish either and quite possibly, just maybe it is just right...like Goldilocks said. Historically this is a level which was acceptable, but with the massive cuts experienced during the 'Great Recession' we will need a long period sustained at this level or for the trend to continue lower.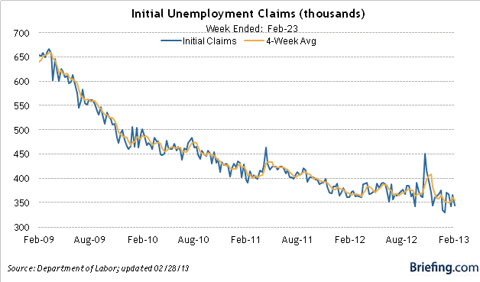 Chart courtesy of Briefing.com.
We have economic news due out today, and it is as follows:
Challenger Job Cuts (7:30 AM EST): N/A
Initial Claims (8:30 AM EST): 350k
Continuing Claims (8:30 AM EST): 3100k
Trade Balance (8:30 AM EST): -$43.0 Billion
Productivity - Revised (8:30 AM EST): -1.6%
Unit Labor Costs - Revised (8:30 AM EST): 4.2%
Natural Gas Inventories (10:30 AM EST): N/A
Consumer Credit (3:00 PM EST): $12.8 Billion
Asian markets finished mixed today:
All Ordinaries - down 0.15%
Shanghai Composite - down 0.98%
Nikkei 225 - up 0.30%
NZSE 50 - up 0.83%
Seoul Composite - down 0.81%
In Europe markets are trading up this morning:
CAC 40 - up 0.42%
DAX - up 0.31%
FTSE 100 - up 0.44%
OSE - up 0.12%
Retail
Yesterday saw shares of American Eagle Outfitters (NYSE:AEO) fall $2.28 (10.11%) to $20.27/share on volume of 15.9 million after the company reported Q4 results and guidance for the 1st Quarter of 2013. The results for Q4 were in line on the top line and the company even managed to increase gross margins, which now stand above 40%. As is becoming a trend in the retail sector though, the company issued Q1 guidance which was underwhelming to put it kindly. The guidance provided for EPS in Q1 is $0.16-0.19 versus the $0.25/share analysts had estimated. It was not all bad news for investors though, because the company did increase their quarterly dividend by about 14% and announced a 20 million share buyback. We still believe that Gap is the better play in the sector right now and for those allocating portions of their portfolio to the retailers that is most certainly the way we would go. It is becoming more and more apparent that they are the premier name right now.
Well this prediction came true rather fast...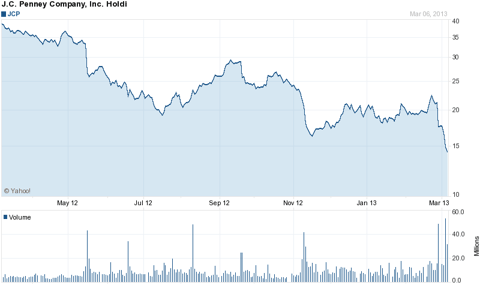 Chart courtesy of Yahoo Finance.
We noticed that JC Penney (NYSE:JCP) shares have already hit a new 52-week low, which is something we predicted after their disappointment for the latest quarter. It seems everything that we read these days concerning the company now has a negative view on CEO Ron Johnson, and rightfully so. We were early doubters in the whole transformation and could not understand how one takes an old, unhip department store to a new, hip and must shop destination while not alienating the current customer. It seems that question has been answered and the answer is that one does not. The one good thing we can say about the company is that their commercials are good and they project a clean, crisp image...a la Apple. Very little time to turn this around remains but if shares fall much lower they may be worth taking a look at for a spec trade.
Technology
Verifone (NYSE:PAY) was a name we were long bearish on and rightfully so. We are happy to have fought the good battle and not wavered on our view of the company and the various headwinds which were appearing to us, even as the bulls argued vehemently against us and said we knew not what we spoke of. After the blow-up a few weeks ago we did say that we thought it was time to possibly switch sides of that trade and so far that too has been correct. We were given extra confidence in this thesis yesterday as the CEO stated that many of the problems were self-inflicted and that the company was looking into shaking up the management ranks. In what we would describe as a non-event, the company beat the reduced EPS figures yesterday which we feel the need to point out had been lowered only a few weeks ago after the pre-announce so it is very hard to get excited over that. Compass Point reiterated their 'Buy' rating on the stock and moved their price target for the shares to $25 from $28 (yes that is correct, no typo there!). Shares rallied $1.65 (8.57%) yesterday on the news to close at $20.90/share.
Banking
We kind of lost track of Regions Financial (NYSE:RF) a few days ago as it was in the $7.60/share range and we were watching others on our watchlists but the move above $8/share did happen yesterday. The financial stocks have been doing well during this recent rally and the regional players have participated as well with Regions and its peers moving higher over the past few days. We thought that when the shares broke through the heavy resistance at $8/share that we would see a nice "pop" higher, and we did see shares get up to $8.20/share before finishing the day at $8.04/share on volume of 28.2 million and also having set a new 52-week high. So the heavy volume and early morning "pop" happened now we just need to see if the stock can make that $8/share level support and move forward from here. Editor's Note: We do have stress tests out today that investors should be aware of.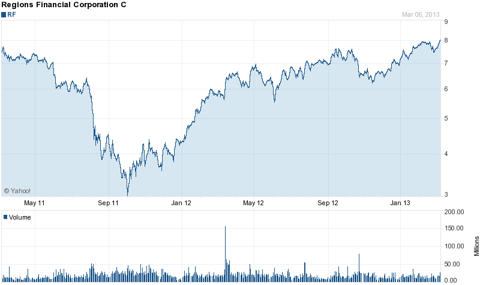 Chart courtesy of Yahoo Finance.
Mortgage Insurers
Hitting a new 52-week high yesterday was MGIC Investment Corporation (NASDAQ:MGIC) which saw shares finish the day at $5.61/share after rising as high as $6.19/share earlier in the day. Volume was extremely high with 117.2 million shares being traded as the entire sector rallies. The company announced after the close that they priced the 135 million share offering at $5.15/share and that underwriters have 30-days to purchase up to 20.25 million more shares at the same price for any overallotments. In a concurrent debt deal MGIC said that they priced $450 million senior notes due in 2020 with a 2% rate and underwriters could purchase an addition $50 million in overallotments for this offering. Readers can find the press release with all this information and more here. The company is increasing liquidity and the industry does appear to have turned a corner, so the question is how much longer investors must wait for the "good 'ole days" to return but with the issues at the Federal Housing Authority, or FHA, it does appear that it could be sooner rather than later.
Disclosure: I have no positions in any stocks mentioned, and no plans to initiate any positions within the next 72 hours. I wrote this article myself, and it expresses my own opinions. I am not receiving compensation for it (other than from Seeking Alpha). I have no business relationship with any company whose stock is mentioned in this article.