A lot of "weird" things have been popping up on our screens lately and between that and some of these conference calls we are going through it is beginning to seem to us that we could very well be at a point where, for commodities at least, the bottom has either been put in or is very near. The gold miners and coal plays looked this way yesterday so that excites us, but we want to remain cautious as we have had numerous fake-outs with the coal names in the past. But that does not preclude us from possibly entering into a trade (although none are planned).
Chart of the Day:
Can WTI Crude find support? One would hope that the railroads and pipelines could find a way to get this to markets on the east coast to drive down the Brent pricing differential, but that may be a few years down the road. Until then we are left to see just how low it will go in this new pricing environment. Thus far $90/barrel has held pretty strong but we would not wish to see that support broken.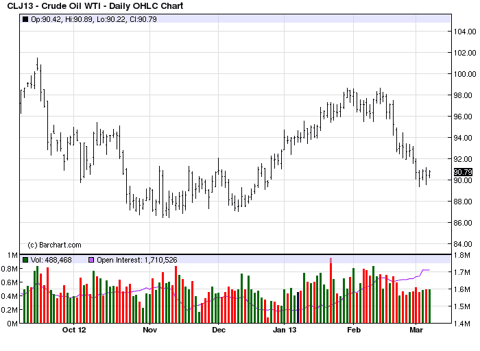 Chart courtesy of BarChart.com.
Commodity prices this morning are as follows:
Gold: $1580.50/ounce, up by $5.60/ounce
Silver: $28.91/ounce, up by $0.107/ounce
Oil: $90.71/barrel, up by $0.28/barrel
RBOB Gas: $3.1224/gallon, up by $0.0023/gallon
Natural Gas: $3.476/MMbtu, up by $0.006/MMbtu
Oil & Natural Gas
We have recently been quite critical of Petrobras (NYSE:PBR) as they are in a situation where the government is a large shareholder and regulates them in a way to keep the politicians in office. So naturally investors suffer as prices are below market value and the company is running into issues with their massive capital expenditure plans over the next five years. Well in the first good sign of news, which said to watch out for, the price of diesel fuel was allowed to rise 5% which alleviated some investor fears and set off a rally in Brazil's Bovespa yesterday. Shares rose $2.19 (15.11%) to close at $16.68/share on volume of 59.8 million in trading on the New York Stock Exchange.
Diversified Miners
Speaking of the rally in Brazil's Bovespa, which rose roughly 3.6% yesterday, the strong showing carried over to all things Brazil and investors even showed some love for Vale (NYSE:VALE), which has run into some headwinds of its own. Shares rose $0.95 (5.28%) to close at $18.93/share on strong volume of 22.5 million shares and the chart was a thing of beauty yesterday as it rose from the bottom left to the upper right. We said yesterday that until the physical commodities can recover pricing power then the world economy cannot be in a real recovery based on real growth, but when we do start to see that recovery in commodity pricing this is one of the names to look at.
We also like Freeport-McMoRan (NYSE:FCX) at these levels and with the pullback in gold prices recently and oil's fall we think that there will be a buying opportunity here. This is no longer a pure-play but we still like it for the copper and gold exposure and simply view the recent oil and natural gas buys as a 'kicker'. The added exposure to domestic production of resources is a plus for shareholders as it drives down overall risk, but we would like to see some share buybacks to drive down the share count in the future to say that the deal will be a big winner.
Precious Metals
Yesterday there were some rather strange happenings in the subsectors of the commodity space and the precious metals were most definitely one of those areas. Granted many of the names are already at or near 52-week lows, but we did notice quite a few names on the new 52-week lows list which are gold miners. Markets were a bit choppy yesterday so it makes sense, but when one looks at the Direxion Daily Gold Miners Bull (NYSEARCA:NUGT) ETF and sees it trading up $0.63 (12.99%) and finishing the session at $5.48/share it does become a bit confusing. It also begins to look like a possible bottom and maybe even capitulation. Rarely do you see a V-shaped recovery, but these are not normal times we live in and the speed at which capital moves and is allocated these days allows for events and potential events such as this to happen. We are watching to see what we can make of this, but readers know the names we like if this turns out to be a new uptrend forming.
Coal
Sticking with the strange things theme, coal stocks lit up yesterday and had a very nice across the board 'pop'. Alpha Natural Resources (ANR), a name we had been looking at earlier but passed up because we could not explain why it all of a sudden did not participate with the general market rally, saw strong gains yesterday. The shares finished the session at $8.45/share after rising $0.76 (9.88%) on strong volume of 17.1 million, so it seems that for now at least the traders are back and once again interested in the volatility. We would note however that shares in Arch Coal, another coal name the traders like to move in and out of, did hit a new 52-week low yesterday of $4.89/share. It might be a situation like we discussed with the gold miners or it might not, however we continue to watch it.
Disclosure: I have no positions in any stocks mentioned, and no plans to initiate any positions within the next 72 hours. I wrote this article myself, and it expresses my own opinions. I am not receiving compensation for it (other than from Seeking Alpha). I have no business relationship with any company whose stock is mentioned in this article.