On March 6, Apollo Residential Mortgage (NYSE:AMTG) released fourth-quarter earnings that wound up being below analyst estimates. The company continued to de-lever the overall portfolio while NIM compressed, and in the end the management team still managed to grow book value. Earnings per share came in at $0.65, $0.07 below the consensus estimate of $0.72. Big deal. Management has positioned this 12.5%-yielding hybrid mREIT for future success. Given what the mortgage market has done in the first quarter of 2013, picking up Apollo Residential at 2012 Q4 book value is a steal.
Portfolio Composition
Apollo Residential's portfolio is broken down into three categories -- Agency RMBS, Non-Agency RMBS, and Cash. As of the fourth quarter, 59% of the portfolio was in Agency RMBS, 25% in Non-Agency RMBS, and 16% in Cash.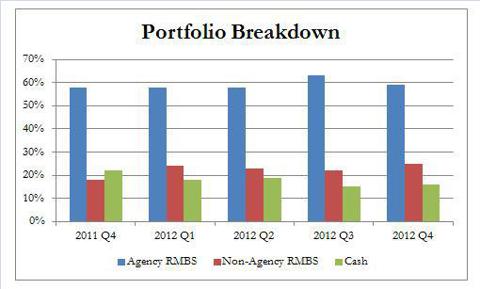 Peer Group
The hybrid mREIT space is full of many successful stories - Apollo Residential had a total economic return of 56% in 2012, American Capital Mortgage (NASDAQ:MTGE) had 41%, AG Mortgage Investment Trust (NYSE:MITT) had 31%, and Dynex Capital (NYSE:DX) had 13.8%. These three mREITs (MTGE, MITT, and DX) are all hybrid mREITs that invest in both Agency and non-Agency RMBS and act as a good peer group for Apollo Residential.
Leverage
Despite an increase in leverage in both the Agency and Non-Agency buckets, Apollo Residential's blended leverage declined from the third quarter to the fourth quarter. This occurred as the portfolio allocation shifted slightly away from Agency RMBS and into non-Agency RMBS. Leverage used for Agency RMBS was 7.6x (up from 6.5x) but allocation declined from 63% to 59%. For non-Agency RMBS, leverage increased from 2.2x to 2.4x as allocation increased from 22% to 25%.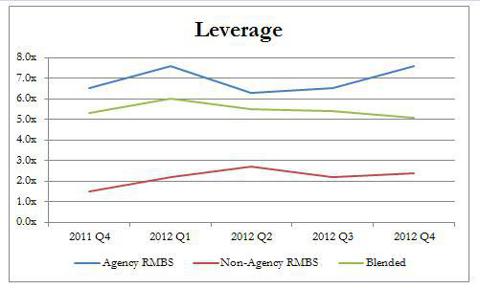 Leverage Comparison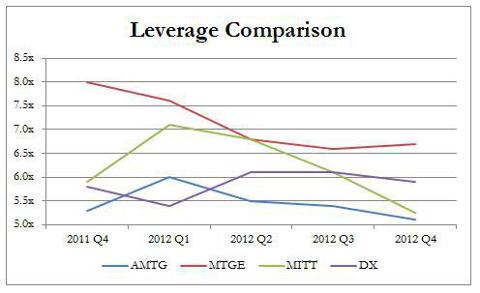 Apollo Residential continues to be the least leveraged mREIT of the peer group. Of the four, only American Capital Mortgage saw its blended leverage increase from the third quarter. Dynex, AG Mortgage, and Apollo Residential all have leverage ratios below 6.0x - the most drastic change belonging to AG Mortgage as it dropped from 6.1x in the third quarter to 5.3x in the fourth quarter.
Asset Yield
RMBS yields tightened throughout 2012. This is evident in Apollo Residential's portfolio as their Agency positions went from yielding 2.90% in Q1 2012 to 2.70% in Q4 2012 and their non-Agency positions went from 9.40% to 7.90% during the same period. From Q3 2012 to Q4 2012, however, Apollo Residential managed to maintain a steady yield as there was no change in the Agency, non-Agency, or the overall portfolio yield.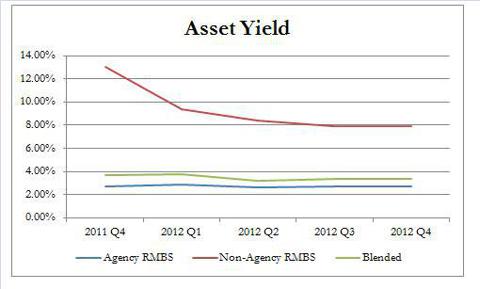 Asset Yield Comparison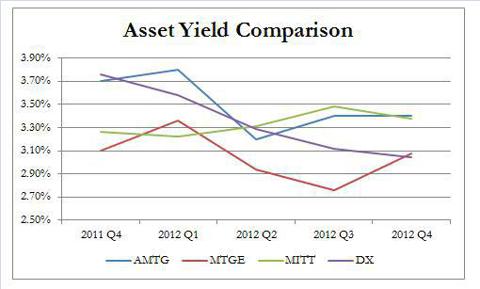 Among their peer group, Apollo Residential has the highest yielding assets at 3.40%. AG Mortgage is a close second at 3.38%, although this is down from 3.48% in the third quarter. Dynex was also down in the fourth quarter to 3.04% from 3.12%. The only peer that increased asset yield in the fourth quarter was American Capital Mortgage, which went from 2.76% to 3.08%.
Net Interest Margin
Even though asset yield remained steady from the third quarter to the fourth quarter for Apollo Residential, their cost of funds increased slightly. This resulted in a lower net interest margin across the board - the Agency portfolio went from 2.30% to 2.20%, the non-Agency portfolio went from 5.90% to 5.80%, and the overall portfolio went from 2.80% to 2.70%.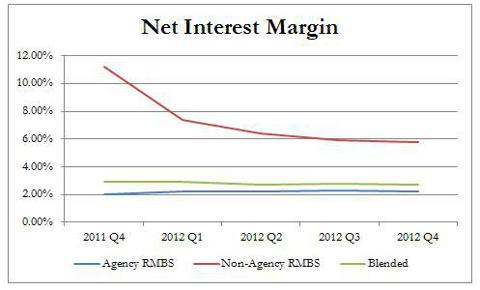 Net Interest Margin Comparison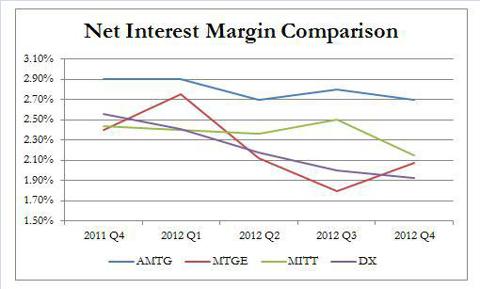 Even with the slight dip for Apollo Residential, they still have a much higher NIM than their peer group. At 2.70% they are 55bps higher than AG Mortgage at 2.15%, 63bps higher than American Capital Mortgage at 2.07%, and 77bps higher than Dynex at 1.93%. Looking at it from a different perspective, Apollo Residential's NIM is 26% higher than AG Mortgage (2.70% / 2.15%), 30% higher than American Capital Mortgage (2.70% / 2.07%), and 40% higher than Dynex Capital (2.70% / 1.93%).
Net Book Value
Apollo Residential grew Net Book Value in 2012 from $19.31 per share in the first quarter to $22.49 per share in the fourth quarter.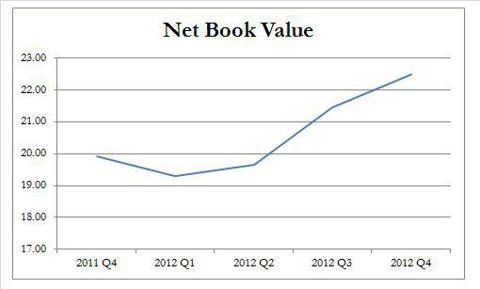 NBV Quarter-over-Quarter Change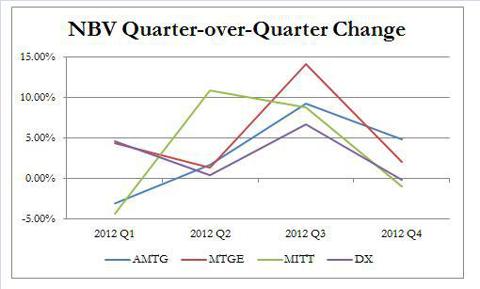 From the third quarter to the fourth quarter, Apollo Residential grew Net Book Value by 4.80%. This is more than double American Capital Mortgage's 2.10% increase, and much better than Dynex Capital's and AG Mortgage's 0.10% and 1.01% decreases, respectively.
Price to NBV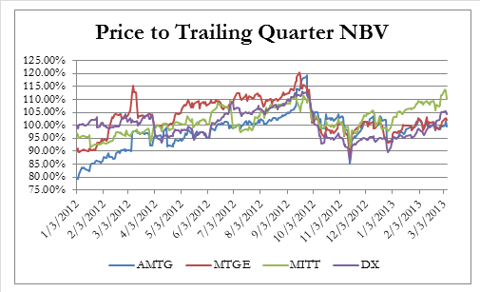 When looking at the price to NBV from the trailing quarter, it's clear that this peer group trades in the same direction and that a couple of outliers exist from time to time. Currently AG Mortgage is the clear outlier trading at 110% of Q4 2012 NBV, while Dynex Capital at 104%, American Capital Mortgage at 102%, and Apollo Residential at 99.7% are more closely aligned (on the close at March 5, Apollo Residential was trading at 101.9% of Q4 2012 NBV).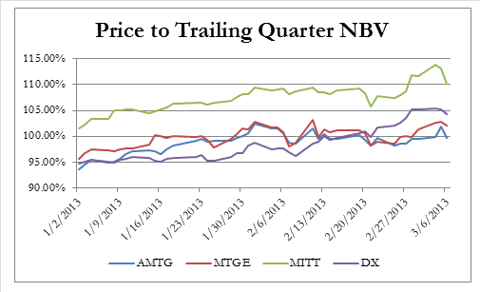 How did Apollo Residential Miss EPS Estimates?
Everything seems to be pointing to Apollo Residential as a fantastic investment at this point, but the bottom line is that they still missed analyst EPS estimates in the fourth quarter. Is this something you should worry about? Absolutely not.
Apollo Residential missed analyst estimates because of their increased Operating Expenses. For the three months ended September 2012, Total Operating Expenses were $3.889 million. For the three months ended December 2012, they were $4.987 million.
This happened as Apollo Residential began to focus on the whole loan market and started ramping up their team. In the fourth quarter 2012 earnings press release, CEO Michael Commaroto highlighted that "we have expanded our focus in the first quarter, having completed our first purchase and securitization of a whole loan pool."[1] This doesn't happen overnight and the startup costs hit in the fourth quarter. The purchase and subsequent securitization was also highlighted in more detail in the press release:
2013 Activity
In February, the Company completed its first securitization transaction contemporaneously with the purchase of a pool of 755 residential mortgage loans with an approximate aggregate unpaid principal balance of $155 million. The securitization was completed through a wholly-owned subsidiary of the Company and approximately $50 million of debt was privately placed, with the Company retaining the remaining interests in the securitization.
Final Thoughts
Apollo Residential is a compelling investment from many angles. The $0.70 fourth quarter dividend is currently an annualized yield of 12.5%. This also doesn't take into consideration the $0.35 special dividend that was paid out at the same time. Apollo Residential is currently trading at fourth quarter book value, utilized the least amount of leverage of its peer group, has the highest asset yield and NIM of its peer group, and grew Net Book Value throughout 2012. Apollo Residential's 56% total economic return for 2012 is going to be very hard to match. By setting up a securitization platform and continuing to have a strong investment portfolio, Apollo Residential is doing a great job of aligning themselves for another strong year.
[1] Apollo Residential Mortgage, Fourth-Quarter and Full-Year 2012 Financial Results press release is available on the investor relations portion of the Apollo Residential Mortgage website.
Disclosure: I am long AMTG, MTGE, MITT, DX. I wrote this article myself, and it expresses my own opinions. I am not receiving compensation for it (other than from Seeking Alpha). I have no business relationship with any company whose stock is mentioned in this article.
Additional disclosure: This article is for informational purposes only, it is not a recommendation to buy or sell any security and is strictly the opinion of the author. Investors are strongly encouraged to do their own research and discuss potential investments with an investment professional.