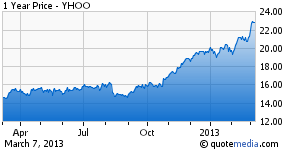 I was extremely happy when Yahoo (YHOO) announced the appointment of Marissa Mayer to the top post of CEO. She was a clearly a very capable candidate for the job and coming from Google (NASDAQ:GOOG), seemed to have just the right type of experience to lead a search engine company.
Since she got to Yahoo, she seems to have begun the process of trying to fully understand the company and then slowly making her changes - the natural evolutionary cycle for a new CEO in a troubled company. She has made some key resource changes, signaled a renewed interest in strategic small company acquisitions and has rescinded a very liberal work from home policy for the company.
She has also succeeded in getting a lot of media attention for Yahoo - maybe not for all the right reasons (pregnancy, work from home, etc.) but at least the gloom and doom media speculation has died down a bit.
This morning, I was somewhat shocked to learn that Yahoo had paid Mrs. Mayer a million dollar bonus. Now while the sum of money isn't particularly huge and Mrs. Mayer is a wealthy woman already (she has Google stock wealth), it does serve as a nice checkpoint for us to take a look at what she has done.
Basically, her accomplishments at Yahoo to date can be summed up as the following:
Executive changes
Indicating interest in acquisitions
Giving employees free food
Giving employees smartphones
Ending work from home policies

I think this has been a very cautious six months and she should get a pass because she's (relatively) new.
Looking Forward
However, in the next six months I believe we have a right to expect the CEO to draw a line in the sand and tell us exactly what her vision for Yahoo is and how she plans to lead the company to accomplish that vision. All the changes she has made to this point are cosmetic and Yahoo needs real, clear leadership and a renewed vision.
Adam Hartung (in a Forbes article) sums things up beautifully:
Yahoo doesn't need a "tough" CEO. Yahoo needs a CEO with the insight to create, and implement, a new strategy. And a series of tactical actions do not sum to a new strategy. Equally important, the new strategy - and its implementation - must augment trends. Not go against trends while demonstrating the clout of the CEO.
I am looking to see Mrs. Mayer do something bold and brave in the next six months. Not acquiring small companies, not more trimming of fat around the edges and not trying to motivate employees but something really bold.
Something bold would be finding a way to partner with a Facebook (NASDAQ:FB), Amazon (AMZN) or Apple (AAPL) in some mutually beneficial manner. I am looking to see her make definitive moves that define or redefine Yahoo going forward. This is, after all, still a company with a website that roughly 700 million users visit every month.

Mrs. Mayer and Facebook's Mr. Zuckerberg have a similar problem - monetizing customers. As an investor, if you don't see Yahoo make any substantial, big picture strategic moves by September of this year, sell as fast as you can. It would indicate that the previous year may have been yet another well intentioned but misguided attempt to save the Titanic. As soon as the market comes to that conclusion, the stock will implode.
I like Yahoo and for mostly nostalgic reasons, I wish Mrs. Mayer well and hope that she can make this work. Today, she has a million more reasons to try harder.
Disclosure: I have no positions in any stocks mentioned, and no plans to initiate any positions within the next 72 hours. I wrote this article myself, and it expresses my own opinions. I am not receiving compensation for it (other than from Seeking Alpha). I have no business relationship with any company whose stock is mentioned in this article.