The worries have mounted over Facebook (NASDAQ:FB) and its ability to monetize its mobile user base, with key future growth drivers for the social network being Instagram Graph Search. The stock came public at $38 per share, but fell to a low of $17.55. It appears that investors have now come back around with a bullish stance on the stock that management can not only grow its user base, but also capitalize on it.
Google In The Crosshairs
Facebook has the largest database of user's personal data in the world, including users' birthdays, interests, employment and education. The company is an aggregator of user information. The question is; how can the company capitalize on all that information and justify a huge market cap.
The answer lies in Graph Search, Facebook's challenge to Google (NASDAQ:GOOG). With Graph Search, users can search and find anything that's been shared on the site within one's own network (read more on Facebook's Graph Search). You can find people, places, photos and the likes of your friends. Chances are you will take the opinion of one of your friends on a place over a stranger that you would find when you search Google. Facebook's strategy is to have the user search Facebook before they turn to Google. By taking on Google, Facebook also challenges Yahoo (YHOO) and Microsoft (NASDAQ:MSFT), the other major search engines: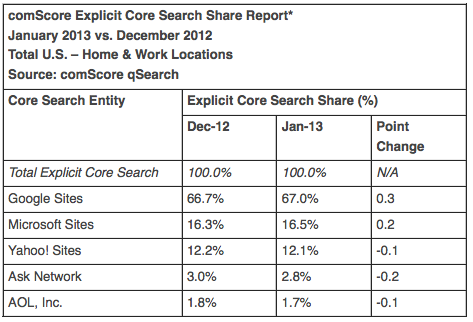 So with Facebook's big venture into the search industry, it is taking Google and others head on. What's more is that there is little diversification in Google's revenue stream, which makes the company very motivated to maintain market share in search. Yahoo too is heavily dependent on search, with 44% of revenues derived from search and 38% from display ads. However, just as Yahoo's search market share is dwindling, so is Yahoo's leading position in the display ad market. eMarketer places Yahoo as the top mobile ad revenue generator, with Facebook in second and Google in third. However, this is expected to change over the coming years. eMarketer expects Google to be the fastest growing mobile ad platform in the near term, capturing 22% of the market by 2014, where Facebook will be second with 17% of the market, Yahoo third at 8%.
Microsoft, despite being in second with respect to search market share, has little reliance on its revenues. Less than 4% of revenues were from search in 2012. Although Microsoft has managed to capture a sizable part of the search market in just a few years, Google still dominates there and in the mobile operating system segment, while also challenging Microsoft in the internet browser and PC operating system markets with Chrome. What's more is that Microsoft's deal with Yahoo, where Microsoft powers Yahoo's search results, may come to an end, with Yahoo CEO Marissa Mayer noting that the deal is underperforming by Yahoo's standards.
So how can Facebook really compete in the search market? With Graph Search businesses they can pay to have their rankings higher than competitors the same way they do with Google search. Since the user's information is localized, businesses can target the user and provide the nearest location for the customer to purchase. In comparing the two companies, Google last year had $50 Billion in revenues versus Facebook's $5 Billion. If Facebook can capture just 5% of Google's search business, revenue will increase by 50%.
One of the ways Facebook is seeking to monetize this data is through the use of the Facebook Gift Card. This is a potential game changer in the growing gift card industry. Facebook users can search a user's likes and then purchase a gift card tailored to their interests. This eliminates the hassle of figuring out what to get someone for their birthday or an occasion. So far the program is only available for the Olive Garden, Jamba Juice, Target and Sephora. Look for many more companies to join the program as Facebook grows the business.
The Growth Of Instagram
Instagram has been a growth phenomenon. When Facebook purchased Instagram for $1 billion, Instagram had 27 million users. Almost one year later, Instagram has over 100 million users. Instagram has 90 million active monthly users that upload 40 million photos per day. Users make more than 1,000 comments per second and over 8,500 Likes per second.
If you compare the growth of Instagram to Facebook, you'll find that Instagram is growing at a much faster rate than Facebook did. It took Facebook 4 and a half years to reach 100M users. Instagram reached this milestone in only 2 and a half years. Making this feat even more impressive is the fact that the photo-sharing application is limited to iPhone and Android devices (see more about Facebook mobile).
The immense popularity of Instagram is being led by teenagers. Teenagers are typically at the forefront of the latest and greatest. They were the first ones to get on Facebook and then their parents and grandparents followed. Now they're spending more time on Instagram and their parents and grandparents are likely to follow as well.
"Smart Money" Is Coming Back Around
Some of the smartest investors in the world have been recently buying Facebook stock as of the fourth quarter. Among those buying are billionaires. SAC Capital's Steven Cohen, bought 8.5 million shares, during the fourth quarter, billionaire Leon Cooperman of Omega Advisors bought 3.2 million shares, and Lone Pine Capital's Stephen Mandel bought 10.9 million. Last quarter the number of funds owning Facebook stock increased from 48 to 67. The buying interest in the stock by the big funds is a positive sign for long-term holders of Facebook stock (check out all hedge funds in love with Facebook).
Disclosure: I have no positions in any stocks mentioned, and no plans to initiate any positions within the next 72 hours. I wrote this article myself, and it expresses my own opinions. I am not receiving compensation for it (other than from Seeking Alpha). I have no business relationship with any company whose stock is mentioned in this article.