The market continues to grind higher on its way up to exceed its 2007 highs on the S&P. The market is feeling more and more overbought here given the negative growth expected out of Europe this year, tepid economic growth domestically and a still acrimonious political environment. One stock that I think is ideally positioned here is Microsoft (NASDAQ:MSFT). If the rally continues it will need to spread out to sectors and equities that have not participated fully in the rally over the last three months. On the other hand, a decline should impact high yielding blue chip equities on a lesser basis than the overall market.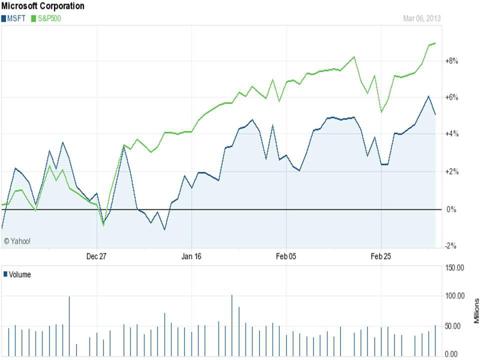 In addition, Microsoft is cheap on a valuation basis. The shares sell for under 9x forward earnings and you also get that 3.3% dividend yield. The company has also more than doubled its dividend payout over the past five years, a trend I expect to continue. Finally, the company has a higher credit rating (AAA) than the Federal Government and it holds approximately 25% of its market capitalization in net cash and short term market securities.
Technically, the shares seemed to have bottomed recently, less than 5% below the current stock price (See Chart).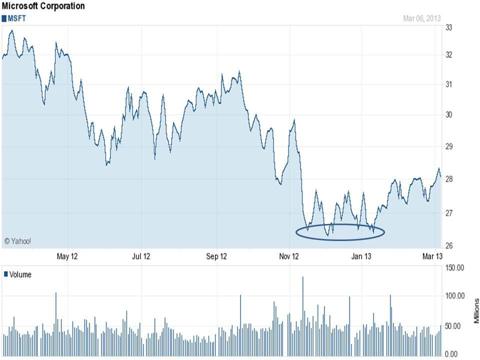 On the product front, I think Microsoft 365 will gain traction and provides a lot of nice features to consumers. The company is aggressively marketing this cloud version of Office, which is the biggest contributor to Microsoft's profits. This version of Office has a lot of important benefits to Microsoft. (A) It provides a great recurring profit stream as customers pay a $100 or $150 annual subscription, (B) it could lessen the impact of declining PC sales and (C) its important effort to lessen piracy in the developing world (Ex, approximately 90% of the software operating in China is pirated). It also is making slow but sure progress with growing its smartphone OS share. Finally, Microsoft's Xbox is also slowly morphing into a home entertainment portal, another reason for hope for shareholders.
Microsoft right here seems a lot like Cisco Systems (NASDAQ:CSCO) back when I was recommending it when it was selling at $15 back in late 2011:
Both companies were former highflyers whose stocks had done basically nothing for a decade.
Both stocks had gone from growth stocks to value stocks where dividend growth was starting to be as important as revenue growth.
Both had CEOs that seemed to have vastly overstayed their welcomes.
Each of these blue chip competitors were facing increasing competition from younger, more nimble competitors.
Both stocks were selling at dirt cheap valuations.
Since then, Cisco stock is up some 45%, not including dividends. A performance Microsoft's shareholders would be overjoyed to experience over the next 18-24 months.
Disclosure: I am long CSCO, MSFT. I wrote this article myself, and it expresses my own opinions. I am not receiving compensation for it (other than from Seeking Alpha). I have no business relationship with any company whose stock is mentioned in this article.