Nokia (NYSE:NOK) has made a stream of continuous mistakes to warrant my suggestion to "Think Twice Before Betting On Nokia At Current Price," based on quantitative probing of the company. Currently, it seems as if Nokia is not aiming to correct itself in the near future. It felt crucial to me to scrutinize why my once personal favorite -- in fact, everyone's preferred -- mobile manufacturer has done to pave its way to losses. How did Nokia lose its market share, and is there a slight opportunity for it to return back to its throne? This article shares my own views and findings.
Current Scenario
The tech sector has created its niche in continuous innovation, and over time the industry has been poured in with competition, dense and cutthroat. Once the giant in the field, Nokia has now been in the market for a long time -- stammering, balancing, and fighting on its way. The industry is dominated by giants like Apple (NASDAQ:AAPL) and Samsung (OTC:SSNLF). They have taken over the market with their high-end smartphones that have become a symbol on their own.
Once the biggest manufacturer of mobile phones, Nokia is now left with only a market share of 5% in the smartphone industry. The former giant now aims to carve out new niches, but to unseat the Google (NASDAQ:GOOG)/Apple duopoly is not an easy task, even with its partnership with Microsoft (NASDAQ:MSFT).
Which stock price trend has Nokia experienced over the last five years? Let's look at the chart below and think about the possible future trend for the coming years.
Click to enlarge images.

Source: Data from Morningstar -- March 7, 2013.
2012 Vs. 2011 Market Shares
Let's look at the pie charts that display the data for the last quarters of 2011 and 2012.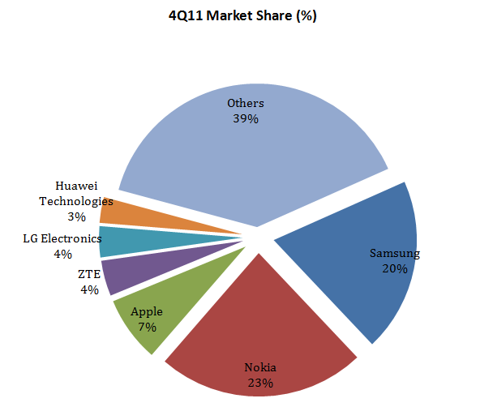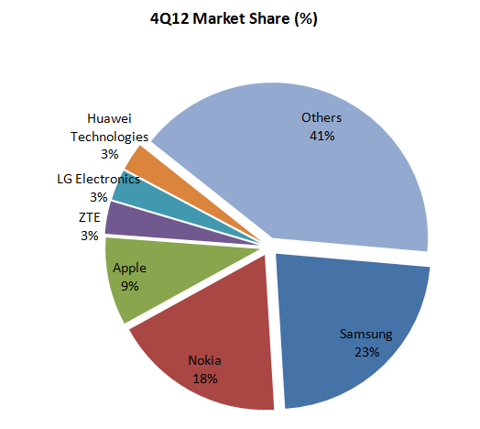 Source: Gartner -- February 2013.
It is evident that within a year Samsung has captured the market share of Nokia, and it has taken its place in terms of market share of 23% -- whereas Nokia has dipped far below to a market share of 18%. Apple's market share in the mobile sale segment only has picked up the pace, reaching a level of 9% market share. However, if only the smartphone market is scrutinized, Samsung and Apple have reached a combined share of 52% in the market, and Nokia has dropped to a mere share of 5%.
The Stubborn Mistake
Nokia has failed to accept that survival in the technology industry is based on the ability to innovate and avail itself of opportunities at the earliest possible time. Nokia kept the throne of market leader until 2008, but then the industry shifted its trend and Nokia failed to keep pace with the innovating industry. It made the strategic error of not moving toward smartphones, which were taking over consumer preferences, and it lost an early adoption advantage to its competitors. When the company realized that adoption was crucial at that moment, Nokia entered the smartphone segment, joining hands with Microsoft and launching a Windows-based phone that had been declined by consumers previously.
Though Nokia introduced high-end smartphones that contained high-end cameras, music downloads, and other perks, it was quite late in tapping the market with its innovations. It didn't realize the major shift in consumer demand from hardware to software (apps), and it stuck to the long-flopping technology of Windows that was just not up to consumers' taste.
Deep Into the Cheap
Nokia has tried to play it smart and has shifted its strategy from targeting high-end users and has focused on producing cheap-end phones in an attempt to capture the segment of the market that has not been completely tapped by the giants. Company sources said it would introduce cut-price basic phones to compete with the likes of Huawei and ZTE, as well as a new, lower-priced model of its Lumia smartphone. This was a strategy for Apple that came out as a rumor awhile back, but it seems as if Nokia is apparently heeding the advice originally meant for Apple - probably in an attempt to profit from first-mover advantage in low-priced smartphones.
This shift in strategy gave a small bit of hope for Nokia as the stock seemed to gain some momentum at the beginning of the month, which unfortunately could not be sustained. By offering low-cost phones, Nokia is opening new horizons for competition. Whereas now it competes with the big giants mainly, in the future it will be introduced to Chinese competitors like ZTE and Huawei, which can prove to be a vital blow to Nokia as Chinese companies are generally cutthroat competitors in terms of pricing and operate at lower margins, further hurting the already declining margins of Nokia. We cannot ignore the fact that the customer base that will be addressed at that price segment is quite large compared to the costly mobile manufacturers market. However, if somehow Nokia is able to mark its place in the low-cost smartphones market, it could be just what the struggling handset maker needs to stay afloat.
Struggling Market Share
The company sold only 4.4 million Lumias in the last quarter of 2012, as total mobile phone sales fell to only 86.3 million, compared with 113.5 million total units in the year-earlier period. The company also sold 2.2 million smartphones based on the European Symbian OS, which it plans to stop supporting over time.
Worldwide Mobile Phone Sales to End Users by Vendor in Q4 2012 (Thousands of Units)

Company

Q4 2012

Q4 2011

Year-Over-Year Change

Units

Units

%

Samsung

106,957.70

93,830.30

14%

Nokia

85,054.80

111,699.40

-24%

Apple

43,457.40

35,456.00

23%

ZTE

16,160.60

18,915.10

-15%

LG Electronics

14,981.30

16,938.30

-12%

Huawei Technologies

13,679.10

13,966.10

-2%

TCL Communication

11,097.60

10,695.30

4%

Lenovo

8,305.40

5,206.30

60%

Sony Mobile Communications

7,946.60

8,935.70

-11%

Motorola

7,822.20

10,075.30

-22%

Others

156,613.70

151,985.10

3%

Total

472,076.40

477,703.00

-1%
Source: Gartner -- February 2013.
To better analyze the market position of Nokia, we can look at the units sold of the major mobile vendors over the past two years. It seems as if Samsung has proven its dominance in a period of merely one year by marking a growth of 14% in its units sold, which undoubtedly is an achievement to behold. Apple has lead the market with an increase in market share of 23% in its units sold when the whole industry lost sales compared to previous years. Nokia, on the other hand, had the largest dip as its units sold decrease by almost 24% in a period of one year.
Samsung not only overtook Nokia in overall shipments, it also took back the position of top smartphone vendor from Apple. Its Galaxy line -- which covers several types of devices, screen size, and price points -- led to a new record in the number of smartphones shipped in a quarter. Strong user demand for iPhones and their availability with additional carriers put Apple in second place, well ahead of Nokia. The Finnish maker witnessed a huge drop in Symbian sales and Windows-based phones aren't up to speed yet. Nokia just doesn't seem up to the task of adopting the Android OS, but it is changing strategies in its latest attempt to survive. This data is as of Q4 2012 only to demonstrate the drop in market share of the former giant, which according to research is expected to dip more over time.
Nokia Margins Comparison With Its competitors
Margins of Nokia are deteriorating, whereas margins of its competitors are getting better as depicted in the following table. I expect the margins for Nokia to deteriorate even further in the coming quarters, as the decline in nominal sales will weigh heavily on its relatively fixed expenses.
FY 2011

FY 2012

Motorola

Samsung

Apple

Nokia

Motorola

Samsung

Apple

Nokia

GP Margin

49.0%

32.0%

40.5%

29.0%

50.0%

37.0%

43.9%

28%

NP Margin

14.1%

8.3%

25.6%

-3.0%

10.1%

11.9%

26.7%

-10%
| | | | | |
| --- | --- | --- | --- | --- |
| Growth Est | NOK | Industry | Sector | S&P 500 |
| Current Qtr. | 40.0% | N/A | N/A | 11.1% |
| Next Qtr. | 90.0% | N/A | 875.5% | 17.9% |
| Past 5 Years (per annum) | -37.94% | N/A | N/A | N/A |
| Next 5 Years (per annum) | 5.0% | 14.42% | 17.54% | 8.78% |
| Price/Earnings (avg. for comparison categories) | 53.86 | -9.6 | 9.85 | 17.96 |
| PEG Ratio (avg. for comparison categories) | 10.77 | -4.86 | 0.91 | 2.22 |
Analyst Estimates
Over the last five years, Nokia sales have experienced a dip of 38%. Analysts expect it to book a growth rate 5% for the next five years, but I believe otherwise.
| | | | | |
| --- | --- | --- | --- | --- |
| Percentage | 2012 | 2011 | 2010 | 2009 |
| Gross Profit | 28% | 29% | 31% | 33% |
| Net Profit | -10% | -3% | 4% | 2% |
| ROA | -10% | -3% | 5% | 2% |
| ROE | -39% | -10% | 13% | 1% |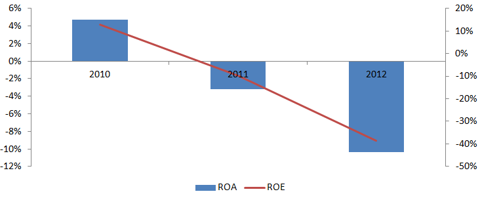 Nokia's gross profit has been on a declining trend since 2009 and has reached a level of 28% from 33%. Its net profit has become negative 10%, with a negative return on assets and return on equity of -39% in 2012. Out of nine Wall Street analysts evaluating Nokia, one recommends a Buy, one indicates an Outperform rating, four prefer the neutral Hold, one an Underperform, and the last two a Sell rating. This situation creates a bit of uncertainty for the average investor -- should he or she jump in with both feet (buy) or remain on the sidelines (hold) for the time being until additional guidance is received?
Final Verdict
Unfortunately for Nokia followers, I currently consider Nokia a "Sell." More likely, the sales of Nokia will witness additional declines over the coming years, further deteriorating the margins and returns of Nokia. That is why I would strongly recommend investors think twice before betting on Nokia at the present time. I love Nokia, but I love facts the most.
Disclosure: I have no positions in any stocks mentioned, and no plans to initiate any positions within the next 72 hours. I wrote this article myself, and it expresses my own opinions. I am not receiving compensation for it (other than from Seeking Alpha). I have no business relationship with any company whose stock is mentioned in this article.