The rapid growth of the global smartphone industry, adoption of mobile security and privacy solutions by consumers worldwide is a trend with exceptional investing prospects in the future. One small company to watch in the mobile landscape is NQ Mobile (NQ). The Company just reported revenue growth of 126% in its first year as a public company. NQ Mobile is well positioned to capitalize on the significant size and growth of the mobile Internet services market for both consumers and enterprises.
NQ Mobile is a mobile security pioneer with proven competency to acquire, engage and monetize customers globally. NQ Mobile's portfolio includes mobile security and mobile games and advertising for the consumer market and consulting, mobile platforms and mobility services for the enterprise market.
Through the acquisitions of mobile solution provider NationSky and mobile game developer Feiliu, NQ Mobile has expanded its product and service offerings, customer base, and diversified their revenue streams. NationSky provides its customers end-to-end solutions from mobile data strategy consulting, architecture design and deployment, to mobile device, content and application management. NationSky also provides industry-specific solutions as well as complete platform integration services.
On March 4 2013, the stock received a nice price boost as the company said it will start offering its flagship security products, including NQ Mobile Security, NQ Mobile Vault, and NQ Family Guardian, to America Movil's broad subscriber base, which counts 262 million subscribers throughout 18 countries.
The total number of cumulative registered user accounts were 283.4 million as of December 31, 2012, compared with 146.7 million as of December 31, 2011, and 241.6 million as of September 30, 2012. Including Feiliu's 67.4 million registered user accounts, NQ Mobile had total registered user accounts of 350.8 million as of December 31, 2012.
Average monthly active user accounts for the quarter ended December 31, 2012, were 97.7 million, compared with 52.4 million for the corresponding period of 2011 and 84.5 million for the quarter ended September 30, 2012.
In the Company's first full year as a public company, it grew revenues by 126% from $41 million to over $92 million. Net revenues in the fourth quarter of 2012 were $30.0 million, up 134.1% year-over-year and up 16.4% sequentially.
Consumer Mobile Security revenues increased 69.4% year-over-year and 7.0% sequentially to $19.6 million in the fourth quarter of 2012. The increases were primarily due to the growth in the number of paying user accounts. Enterprise Mobility revenues increased 49.1% sequentially to $6.7 million in the fourth quarter of 2012 due to the strong growth in the enterprise business and new customer gains.
Mobile Games and Advertising revenues were $0.7 million for the month of December in the fourth quarter of 2012. The Feiliu acquisition was closed on November 30, 2012, when the Company fully controlled Feiliu, thus only the December month of its financials were consolidated.
NQ Mobile had net income of $4.9 million in the fourth quarter of 2012, compared with $3.2 million in the same quarter a year ago and $0.3 million in the previous quarter. Non-GAAP net income attributable to NQ Mobile was $12.3 million in the fourth quarter of 2012, up 88.4% year-over-year and 51.5% sequentially. Excluding the net income contribution of $0.4 million from Nationsky, the non-GAAP net income for NQ Mobile increased 82.1% year-over-year and 49.9% sequentially to $11.9 million.
The Company expects net revenues to be in the range of $32.8 million and $33.3 million for the first quarter of 2013 and raises the full year 2013 net revenue guidance from the previously issued range of $150 million to $155 million to a range of $178 million to 183 million.
While NQ Mobile has no long-term debt, it does not pay any dividends as it is still in the high growth phase of development. NQ Mobile's board of directors has authorized a share repurchase plan under which the Company may repurchase up to $20 million of its American Depository Shares over the next 12 months. As of February 28, 2013, the Company has purchased a total of 523,269 ADSs amounting to approximately $3.2 million.
NQ Mobile is a small-cap stock with a total market cap of $416. While this small cap has a high growth rate around 30%, trading at $10 per share is only 10.5 times 2013 earnings per share projections. This is a cheap valuation for a small cap with an extremely high growth rate in a trending industry.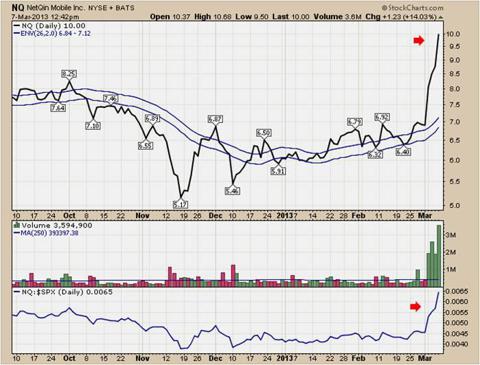 First Call analysts' consensus is for 2013 EPS of $0.95, a 43% increase from 2012. For 2014, EPS is projected to be 1.18, a 25% increase from 2013. First Call has a "strong buy" recommendation with a 1.5 rating.
Disclosure: I have no positions in any stocks mentioned, and no plans to initiate any positions within the next 72 hours. I wrote this article myself, and it expresses my own opinions. I am not receiving compensation for it (other than from Seeking Alpha). I have no business relationship with any company whose stock is mentioned in this article.