As the market has soured on REITs, I have become intrigued by the prospect of finding quality REITs at huge discounts. Earlier this week, I examined Winthrop Realty Trust (NYSE:FUR), a REIT that I felt might be a huge bargain for investors. I also took a look at Colonial Properties Trust (NYSE:CLP), a REIT that does have some liquidity concerns, but that I believed might be significantly undervalued all the same.
This is Part III of my "Quest for Value REITs" series. This article focuses on yet another small cap REIT, Agree Realty Corporation (NYSE:ADC).
Agree's Business
There are a lot of things to scare investors away from Agree right now. In one of my previous articles, I stated the attributes I am searching for in REITs:
Relatively low leverage

Insider buying and a substantial amount of inside ownership

High levels of liquidity

Properties in markets near a bottom

Strong asset quality on Balance Sheet
I should also add a sixth attribute in that I prefer to search for residential REITs as opposed to commercial REITs. REITs focused on the retail sector frighten me, in particular. Of my six factors, Agree only appears to meet two criteria for certain. With a 46.4% Liability/Value ratio, they appear to be one of the least levered REITs I've been able to find. They also have a decent chunk of inside ownership at about 6%. Those figures alone were enough to make me want to take a deeper look. However, there's also a lot of things going against Agree.
For one, Agree's liquidity is debatable. They don't have a particularly high cash balance and their accounts receivable balance isn't all that terribly high. However, they do have substantial operating cash flows that might offset this concern.
Whether or not their properties are concentrated in markets near a bottom is debatable. Their biggest holdings are in the state of Michigan, so property values may only have so much room to fall there. However, with GM's current situation and the dismal state of the Michigan economy, I'd question the value of commercial property investments in that region.
As far as the "asset quality" goes, I'd evaluate it as very low due to the areas they operate in and some of Agree's major tenants: Borders (BGP), K-Mart (SHLD), and Rite-Aid (NYSE:RAD). Let's take a closer look at that issue:
Tenants and Occupancy
Agree currently has a very high occupancy rate as 99.2% of their properties are currently leased out. Not bad, eh? Lease expirations are also spread out fairly well. Only 8% of their leases expire this year; 12.5% expire in 2010, 16% in '11, 8.6% in '12, and 10.9% in '13. The remaining 44% expire in more than 5 years with a large portion of those expiring in over 10 years. This should at least ease any concerns that they might be overly exposure at any particular time period.
The bigger issue is the quality of their tenants. From ADC's last 10-K filing, it's stated that approximately 31% of their annual rent is derived from Borders, 23% from Walgreens and 12% from K-Mart. Walgreens should provide some relative safety, but Borders worries me considerably as there is some bankruptcy risk involved there. Borders also has recently closed several unprofitable stores, which is probably good if you're a Borders investor, but bad if you're an Agree investor.
While K-Mart is now owned by Sears Holdings, I'd still have significant concerns about the survival of many K-Mart stores, particularly in an area such as Michigan, where a potential General Motors (NYSE:GM) bankruptcy could put even more jobs in jeopardy. K-Mart is still closing stores and there's no particular reason to believe that those leased out by Agree are any safer than others.
Potential K-Mart closings might even be more troubling than potential Borders closings since large department store-type spaces will likely be more difficult to find lessees for. Off the top of your head, how many businesses can you think of that require such a large space? Also, keep in mind that a lot of these K-Marts are in northern Michigan, not in a major city where there might be a wider variety of businesses that could have a use for such a space.
Finally, Rite-Aid is also on my list of worries. I have more concerns about Rite-Aid's bankruptcy risks than either Borders or Sears Holdings (parent company of K-Mart). Despite this, however, drug stores require smaller space and it may not be all that terribly difficult to find replacement tenants for any Rite-Aid stores that might hypothetically close. Moreover, Rite-Aid accounts for a much smaller portion of Agree's rental revenues.
Overall, I'd prefer to see a less risky quality of tenants for Agree, but perhaps that's one of the major reasons this stock may be available at a significant discount. And with risk comes opportunity.
Equity and Asset Impairments
The one thing that makes Agree appealing to me is their high equity balance (low leverage). They have $137 million in equity, compared to $119 million in liabilities. For a REIT, that is not bad at all. It means that even if they experience significant deterioration in their asset values and their revenues, the company still might have some worth.
Looking at Agree's balance sheet, over 98% of their assets are in real estate properties. The number one question to me is how much value can these properties lose in the next few years? This question is made more difficult to answer due to the nature of the properties and Agree's business. Residential REITs have a more predictable market for their properties than the commercial REITs; particularly commercial REITs dealing with large retail properties where a large portion of rental revenue is dependent on a few clients with questionable prospects.
Here is the table I made considering potential losses in value in Agree's total real property portfolio (taking into account the minority interest). Impairment charges and adjusted equity figures are in millions. The last column is an "Adjusted Book Value" after potential impairment charges: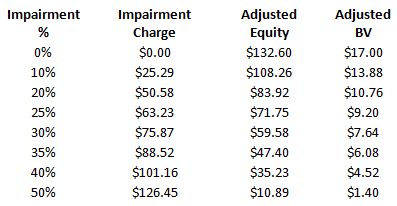 This table alone shouldn't be much of an indicator of whether this is a buy or not, but it does give us some insight on how the company's equity might be negatively impacted if the commercial real estate market gets significantly worse.
The one thing that particularly concerns me about ADC's asset values is that when I glance back through their financial statements over the past couple years, I see no evidence that they've taken significant write-downs. Yet, almost undoubtedly, the values of their underlying properties have declined.
Dividends, FFOs, and Cash Flows
From their most recent quarter, Agree paid a 50 cent dividend. Funds from Operations (FFOs) were 66 cents per share. For the fiscal year, FFOs were $2.58 per dilute share and Agree's revenues increased 3.4% from the prior year. From looking at ADC's 3rd Quarter financials, annualized operating cash flows appear to be around $2.67 per share, but they have very significant CapEx (acquisitions of real estate investments).
It would be difficult to conclude that Agree hadn't managed their properties well given their revenues and cash flows, but whether or not the stock is overvalued or undervalued depends on many factors and it's not necessarily clear that they can maintain these cash flows if there is a major bankruptcy amongst their tenants or if Sears decides to close more K-Mart stores.
Valuation
In my two previous REIT-related articles, I ultimately concluded that Winthrop (FUR) was undervalued and Colonial (CLP) also appeared to be undervalued. An analysis of Agree seems much trickier than one for FUR and CLP. I've decided that a 30% write-down in their assets is necessary to play things on the conservative side. While a write-down in RE asset values would not necessarily impact Agree's operations, it is important for my valuation purposes to have some idea of the market value of those assets in case they needed to be liquidated and separate that from cash flows.
With this 30% write-down, I've decided to look at three different scenarios. All scenarios assume a 3% growth rate in dividends and cash flows:
Scenario #1: Annualized dividends and added value are equal to $2 per share. This would be close to the current reality since ADC is paying a $2 annualized dividend as of right now.
Scenario #2: Annualized dividends and added value are equal to $1.25 per share.
Scenario #3: Annualized dividends and added value are equal to $0.75 share.
Scenario #4: Annualized dividends and added value are equal to $0.25 per share.
When I use the phrase "added value", I simply refer to all positive cash flows beyond dividends paid out to investors. However, the dividends are the most important aspect of this analysis. Based on historical performance, all my scenarios are conservative --- so keep that in mind.
I have used a cost of capital of 12% for all scenarios based on the assumption that interest rates will rise significantly. This could end up being an aggressively low estimate or a conservative high one. My reason for going with 12% is that I believe costs of capital will rise significantly in the upcoming years, even if Agree is probably able to secure loans at a lower rate right now. Here are the results for my four scenarios: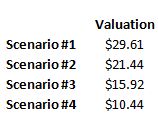 Keep in mind, I would not take these numbers at face value. Plugging some numbers into Excel can never yield an accurate valuation in and of itself. I more or less use the numbers I get as a guide on what can happen. I've also plugged some more alternate scenarios in to get a greater sense as to how the numbers will change given the circumstances. One thing important to realize here, however, is that there are a lot of risks with this company's portfolio right now and given the uncertainty in the market, this might require additional discounts.
Concluding Analysis
It is difficult to draw dramatic conclusions on Agree. From my own quick analysis on their business, management, and financials, I'd come up with a valuation in the $16 range. I believe that they can maintain dividends greater than $1 per share in the upcoming years, but I also believe the underlying value of their properties might be somewhat impaired and I believe a substantial discount is necessary for the uncertainty in the commercial real estate market coupled with the risks associated with their particular concentration of tenants.
With my $16 valuation, that would suggest the stock is slightly undervalued in the $10 - $12 range it has recently been trading in. I would assess downside risk to be in the $4 range and upside potential at $35. This might be a worthwhile holding in a highly diversified high-risk/high-growth portfolio, but I would not go far as to recommend it at this point. While I personally plan to keep away from this one in real life, I've decided that it might be worthy of a 0.2% - 0.5% position in my simulated $10 million portfolio on KaChing. If it drops down below the $7 - $8 range, it will become much more intriguing.
Compared to the two REITs (Winthrop Realty Trust and Colonial Properties Trust) I've analyzed thus far, Agree seems to be the most speculative of the bunch. While it is possible that Agree could eventually end up being the best investment of the three, the considerable deal of uncertainty leads me to discount the stock price significantly. Therefore, I believe Winthrop (FUR) and Colonial (CLP) are better investments for the time being and should be a little bit less speculative than Agree. All the same, Agree is intriguing enough that it might be worth a closer look for some investors looking to take a chance. If you believe management can continue to deliver for the next few years and can maintain their high occupancy rate, this would be an absolute steal. In this market, however, those are big *ifs*.
Disclosures: Author holds no position in ADC