By John Spence and Tom Lydon
Investors nervous about falling gold prices have yanked more than $5 billion from the largest ETF tracking the precious metal so far this year.
SPDR Gold Shares (NYSEARCA:GLD) is down about 6% the past month as futures have dropped below $1,600 an ounce.
The gold ETF has experienced net outflows of $5.4 billion year to date, according to IndexUniverse data.
GLD and other gold ETFs such as iShares Gold Trust (NYSEARCA:IAU) and ETFS Physical Swiss Gold Shares (NYSEARCA:SGOL) saw heavy redemptions in February.
"A record $4.1 billion was pulled from gold ETFs in February, the largest single month of net outflows for the group ever. It's almost twice the previous high -- $2.6 billion in January 2011," reports Jason Kephart for InvestmentNews.
Some analysts are blaming gold's recent pullback on automatic spending cuts in the U.S. that are seen reducing inflationary risks.
Continued net redemptions in gold ETFs at this pace pose "the largest downside risk to prices," Barclays Capital analysts said in a Reuters report.
Meanwhile, Bank of America Merrill Lynch analysts cut their price forecasts on gold this week, citing higher U.S. nominal interest rates and improving economic conditions that raise doubts over the metal's safe-haven appeal, MarketWatch reports.
However, other analysts think the factors that drove gold's historic rally are still in place.
The metal's price has been extremely sensitive to speculation on the Federal Reserve's quantitative easing program, notes Jeffrey Nichols, senior economic advisor to Rosland Capital.
"Indeed, gold registered its biggest one-day gain of the year on Tuesday as Federal Reserve Board Chairman Ben Bernanke, in his semi-annual report to Congress, eased market fears of an early reversal in the central bank's super-stimulative monetary policy," he said in a recent note.
Nichols thinks a still-weak economy, uncertainty over tax and spending policies, and political gridlock in Washington will put pressure on Bernanke's Fed to "maintain -- and possibly even step up -- its ongoing program of quantitative easing and extremely low interest rates."
SPDR Gold Shares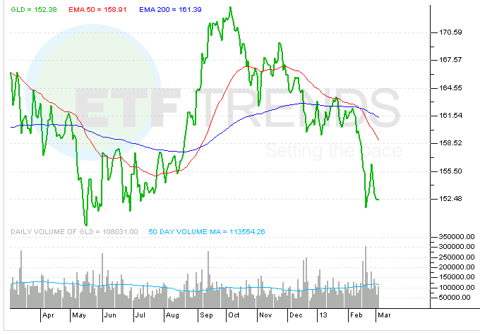 Full disclosure: Tom Lydon's clients own GLD.
Disclosure: I am long GLD. I wrote this article myself, and it expresses my own opinions. I am not receiving compensation for it. I have no business relationship with any company whose stock is mentioned in this article.