Public companies share a common goal: maximize shareholder wealth. They can do a few different things with the profits they earn to increase their value to owners of the stock. Here are the three main ways that a company distributes its earnings.
1. Capital expenditures for growth
2. Dividends
3. Stock buybacks
1. Capital expenditures are a necessary cost for any business to maintain and grow the business. These investments are especially important for smaller, high-growth companies. These companies tend to invest a higher percentage of profits into expansion because they have a high return on equity (ROE). Basically, it is beneficial for the shareholders of the firm to retain earnings if it can get a higher return than the shareholder could with the dividend payments. The benefit of the capital investment outweighs that of a dividend or share buyback. For example, Chipotle Mexican Grill, Inc. (NYSE:CMG) is a high growth restaurant chain. CMG does not pay a dividend because it feels that every dollar it invests in itself will earn a higher return for shareholders in the form of increased profits. With a ROE of over 20% and revenues growing at well over 15% annually over the past few years, it is hard to argue with this strategy. As growth slows, expect CMG to start distributing earnings directly to shareholders.
2. Dividends are a large commitment for a company to make because investors come to expect increased payouts every year. A dividend cut would be seen as a sign of financial trouble and stock prices usually plummet when they occur. It is therefore mostly strong, established companies that pay dividends because they need to make sure they are adequately covered by cash flows. Dividends are usually paid quarterly, and most companies will raise their payouts annually. It is important that companies control their payout ratios so that there is plenty of margin for safety and capital for reinvestment into the firm. Procter and Gamble (NYSE:PG) is a great example of a company with an amazing dividend history. By raising its dividend annually in each of the past 56 years, PG has established itself as one of the premier examples of consistent dividend payors.
3. The third main option that a company has is buying back its own stock. Stock buybacks would be a great choice for a company with excess cash and volatile cash flows that did not want to create too large of a dividend to sustain. They are also a tax-efficient way of creating shareholder value. By reducing the number of shares outstanding, investors would own a larger portion of the same company. For example, Cisco Systems, Inc. (NASDAQ:CSCO) had over 7 billion shares outstanding in 2003. After an extensive buyback program over the past 10 years, CSCO has reduced its outstanding share count by almost 25% to about 5.3 billion. This is an example of a company running a successful buyback program to provide the highest possible returns to shareholders.
As a dividend growth investor focusing on a long-term time horizon, I hope to see a consistent increasing dividend payout as well as share repurchases from the companies that I own. Some investors prefer to receive dividend payments, while others like to see companies repurchase shares. I will explore some of the positives and negatives of both options below.
Advantages of Buybacks
Ideally, companies use stock buybacks to shrink the number of outstanding shares. By buying them up and retiring them, the company increases the ownership percentage of the shareholder, provided that the buybacks are not just compensating for dilution due to executive compensation. As a very simplified example, if there were 1,000 shares outstanding and an investor owned 100, he or she would own 10% of the company. If a share buyback occurred and there were now only 800 shares outstanding, the investor would now own 12.5% of the company without any additional investment. Share buybacks also increase earnings per share even when total net income does not grow. This can make dividend payments less of a burden for companies in the future, as there are more earnings to pay out to fewer shares. Share buybacks are also tax-free, a significant advantage over dividends. Buying back shares is not looked upon in the same manner as raising the dividend, however. The dividend will continuously have to be paid out, or risk the wrath of shareholders. A company would not be penalized for buying back a significant amount of stock one year and then none the next.
Drawbacks of Buybacks
Sometimes share buybacks don't accomplish what they are intended to. Oftentimes they are done only to keep the share count steady when lots of shares are issued to executives. So in a way, the shareholders are paying extra to top management in earnings as a form of compensation. Companies also tend to increase stock buybacks when it is not advantageous to do so based on valuation. Since I do not like to buy a stock when I believe it is overvalued, I do not want the company I'm investing in to do the same. However, since companies usually have more cash on hand during bull markets when the stock is priced at a high level, buybacks often occur during times of overvaluation. Below is a chart of the share buybacks from Coca-Cola (NYSE:KO). Notice how the buybacks stopped during the time when it would have been most beneficial to do so: the financial crisis.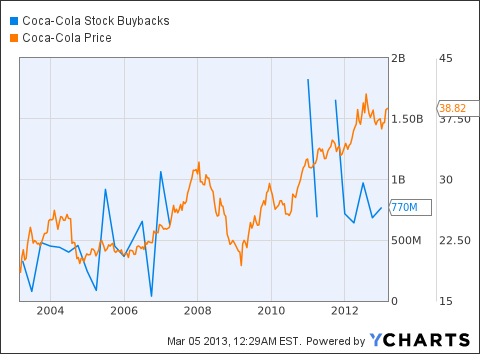 KO Stock Buybacks data by YCharts
Advantages of Dividends
Since I like to invest in individual companies on my own, I prefer to receive cash from these companies so that I can make the decision on how I would like to distribute the funds. I would rather be given the option to distribute all of the dividends that I receive into the company in my portfolio that I deem to be most undervalued at the time. A dividend also signals that a company is committed to providing value for its shareholders and is confident in its future cash flows. Since dividend cuts often result in large drops in stock price, companies that have raised their dividend for many years have incentive to keep growing those payouts. Another aspect of dividends that I like is that the yield provides a floor for the share price. When a stock such as Intel (NASDAQ:INTC) gets beaten down to $21 per share like it is now, the 4%+ yield makes it more attractive for income investors. Combined with the costliness of shorting the stock, a strong dividend provides good support for stock prices.
Drawbacks of Dividends
For me, the biggest disadvantage of dividends is that they are taxed, currently at a higher rate than 2012. Some people argue that dividends are not an efficient way to create value because earnings are essentially getting taxed twice, once initially and then again on the payout. Stock prices are also reduced by the amount of the dividend on each ex-dividend date. Furthermore, some investors see the payment of a dividend as a sign that a company feels growth opportunities are limited. The company is basically conceding that its investors can earn a higher return on equity than they could by using the earnings to grow.
After weighing the positives and negatives of both dividends and share buybacks, I have concluded that while buybacks can be effective, I prefer to receive earnings in the form of dividends. Although they are taxed, I enjoy having the option to distribute the funds as I believe is best. In my next article I will highlight some companies that I believe are running effective stock buyback and dividend programs simultaneously.
Disclosure: I am long INTC, KO. I wrote this article myself, and it expresses my own opinions. I am not receiving compensation for it (other than from Seeking Alpha). I have no business relationship with any company whose stock is mentioned in this article.