While most of the central banks around the globe are wildly stimulating their economies and making investors nervous in the process, the European Central Bank continues with its relatively "sound money" policy.
This morning, ECB chief Mario Draghi announced that rates would be held steady at 0.75%, while many had expected a rate cut given the economic pressures that Europe is experiencing. Draghi went on to encourage indebted countries to take fiscal action to correct their economic problems.
It would appear that Europe, which is largely under the control of austere Germany economic policy, is choosing to take its lumps now rather than risk sacrificing foundational economic security for short-term pain relief.
The run in U.S. equities, which has been fueled by the Federal Reserve's aggressive monetary easing actions, is causing many investors to question the relationship between the near stagnant economic growth in the U.S. and the parabolic rise in stocks. To say the least it bears questioning, as the Fed injects $85 billion per month of liquidity into the system and keeps interest rates near zero for the foreseeable future.
Japan's new Prime Minister Shinzo Abe has vowed to do whatever it takes to fight deflation and has just installed a central bank chief to oversee the new aggressive monetary stance he desires. This comes as tensions between China and Japan have continued to rise. The head of China's sovereign wealth fund has recently warned Japan not to use its neighbors as a "garbage bin" by devaluing the yen.
It may just be that as the world economy continues through this long-term deleveraging process, Europe, by taking the hard road first through forcing fiscal discipline, may start to be seen as the new safe haven for investors. While it is very obvious that many of the challenges that Europe has encountered are far from over, it would appear that their steady path could lead them out of the woods before other countries that operate with a shorter-term view.
The country that catches my eye the most at the present time in the EU for investment is Ireland. This is largely for the simple reason that the worse a situation gets (Irish stock market), the less it takes to turn it around. Ireland went through a massive real estate bubble in the mid-2000s followed by a devastating crash. While Ireland is still struggling with a huge debt load, it is showing signs of recovery.
The European Union is considering a debt agreement to extend loan terms for Ireland, which could be very beneficial.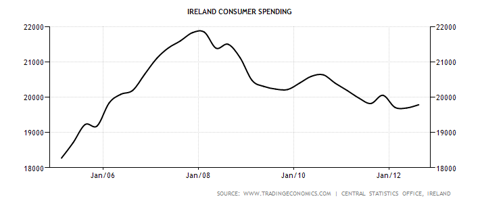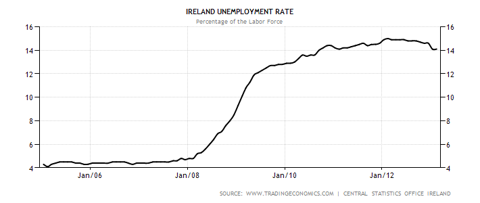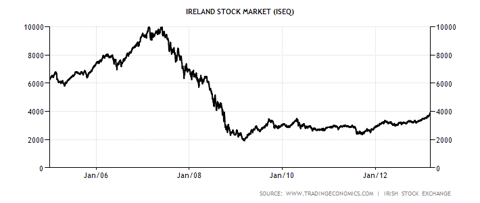 I would consider investing in Ireland for the long term. Ishares has an Irish ETF, ticker symbol (NYSEARCA:EIRL).
There is also an ADR for the Bank of Ireland (NYSE:IRE).
Disclosure: I am long IRE. I wrote this article myself, and it expresses my own opinions. I am not receiving compensation for it (other than from Seeking Alpha). I have no business relationship with any company whose stock is mentioned in this article.