In this article, I describe what Maverick Capital bought in the last reported quarter. Maverick manages $7 billion and is one of the top performing funds. I took Maverick's portfolio from GuruFocus. According to the specialized website Hedgefundletters, Maverick Capital practices a long/short equity investment philosophy with a fundamental, bottom-up approach with great emphasis on the quality of management teams.
Rather than trading bonds, currencies, commodities or options, the fund relies on old-fashioned stock picking to generate profits. It is a pure stock picker hedge fund buying what it reckons will beat the market and selling what it thinks will underperform. Before investing in a business, Maverick Capital focuses on understanding the management team. It insists on spending an exorbitant amount of time learning the quality, aptitude and motivation of the management team. This is a practice shared by other portfolio managers (for example Andreas Halvorsen) who worked with Julian Robertson: they are sure that the market under appreciates the value of a strong management team. Let's review 2 interesting picks from Maverick:
A strong pick for a weak growth economy
Maverick allocates 4% of its equity portfolio in Family Dollar Stores (NYSE:FDO), a company the fund has been buying since the second quarter of 2012 at an average price of $66. I think that discounter retailers will perform well in a low-growth US economy.
Family Dollar has several positive profitability metrics which shows that the business has been performing strongly:
Return on equity [ROE] of 32.5% which is higher than 84% of the 49 Companies in the Discount Stores Industry
Return on assets [ROA] of 12.5%, higher than 82% of its competitors
Return on capital [ROC] of 21.6% which is very high
3 year average revenue growth of 10.8%
3 year average EPS growth of 14.8%
I think that Dollar stores are the clear winners in this economic environment. The economic cycle and material changes in consumer behavior clearly favor the dollar store concept. Economic pressure has resulted in consumer trade down, a shift to smaller pack sizes, smaller baskets and increased trips according to a Credit Suisse report. Structurally high gas prices have disrupted the value proposition of big box retailers. Consumers spent much of the last decade consolidating trips to big box retailers, but the economic downturn and higher gas prices has caused re- fragmentation to multiple channels. This cycle clearly favors dollar stores in my view, given their value emphasis, small pack sizes, and convenience. Neither Credit Suisse nor I expect this trend to change soon.
Dollar Stores have also room to expand as the concept remains under-penetrated in densely populated U.S. regions such as the Northeast and West Coast (see picture).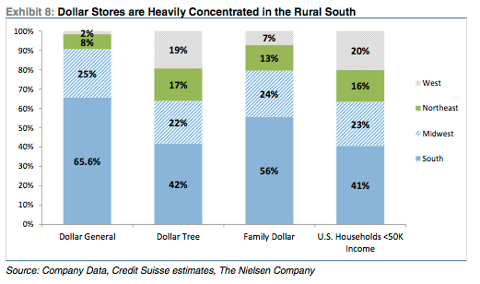 The entrance of new competitors is not an issue for these stores. While increased potential competition from Wal-Mart (NYSE:WMT) is not to be taken lightly, it is not a mid-term risk for the leading Dollar stores. Wal-Mart currently has 219 Neighborhood Markets and 16 small formats, and plans to open 80-100 this year. This is small in comparison to approximately 10,000+ Dollar General (NYSE:DG) and 7,000+ Family Dollar stores. It will take years for this issue to become material, if it is even successful.
Family Dollar has recently changed its management and accelerated the roll-out of multiple initiatives that could revalue the stock. Key initiatives include an aggressive remodeling program, the further addition of new traffic driving items, and improved store operations.
In terms of valuation, shares are cheap trading at a P/E of 16x compared to Dollar General and Dollar Tree, which trade at 17.5x and 18x respectively. Family Dollar is trading at the low end of its P/E multiple range and I think that this represent an opportunity as the market is skeptical of the recent management team change. I am confident that Maverick spent countless hours analyzing FDO management team and is giving its vote of confidence with a 4.2 million share position.
Citrix Will Improve Its Earnings in 2013
Maverick increased its existing position in Citrix Systems (NASDAQ:CTXS), a leading application software company at an average price of $64.5. Citrix has great profitability metrics, an interesting investment thesis and an attractive valuation.
Citrix Systems, Inc. designs, develops, and markets technology solutions to deliver IT services on-demand. Citrix offers successful cloud services such as NetScaler, GoTo services and ShareFile which continue to lead the market and gain share. This company has a strong profitability profile:
EBITDA growth of 17.8%
EPS growth of 18%
Net margin of 16%
Strong FCF
The investment thesis for this company is simple: the business has been performing strongly but in the mid part of 2012 CTXS growth rates dipped down pretty dramatically because several non-skilled customers hold off purchases of highly value-added Citrix products due to economic volatility. Those customers that stopped buying Citrix products last year are finally coming back which is starting to be reflected in Citrix's earnings reports.
In fact, last quarter Citrix reported Q4 earnings of $0.90 per share, $0.06 better than the Capital IQ Consensus Estimate of $0.84 while revenues rose a strong 19.5% year/year to $740 million vs the $705.89 million consensus. Almost every category grew at double-digit rates:
Product and license revenue increased 17%;
Software as a service revenue increased 18%;
Revenue from license updates and maintenance increased 22%;
Professional services revenue, which is comprised of consulting, product training and certification, increased 20%;
Citrix reported strong revenue growth from every region it operates:
Pacific region revenues increased by 52%;
EMEA region revenues increased by 19%;
America's region revenues by 14%
Citrix management projects FY13 EPS of $3.12-3.15. Considering that CTXS has been trading in a P/E range between 30-40x in the last 5 years, this EPS projection could translate into a target price of $95.
Disclosure: I have no positions in any stocks mentioned, but may initiate a long position in CTXS over the next 72 hours. I wrote this article myself, and it expresses my own opinions. I am not receiving compensation for it (other than from Seeking Alpha). I have no business relationship with any company whose stock is mentioned in this article.