Google (NASDAQ:GOOG) has been an incredible story for most investors since its IPO in 2004. The stock began trading nine years ago at $85 and made a precipitous four-year run to the mid-$700 level by late 2007, but just one year later was trading at levels $500 less when it reached a bottom of $247. Since touching those lows in late 2008, the stock has rallied to its current trading level of $830. The run has been fantastic - the stock has handily outpaced the broader market on the post-recession rally, more than tripling its value in four years. Is there room left to run? Or has the run just begun? Let's take a look.
What Has Driven The Run From $247-$830?
There are a number of driving factors in the four-year performance of the stock. On a macro level, those lows were touched during the Great Recession. The economy has largely recovered since the collapse and GOOG has followed suit.
The broader market indices are up sharply over the past four years. The Nasdaq Composite is trading at levels over double the lows it saw in early 2009. The relative market strength has surely been a positive catalyst behind the rising price of GOOG.
The introduction of the Android operating system has been perhaps the most significant catalyst for the company's growth. While originally introduced in 2007, the operating system has gained significant traction and market share during the past four years.
Upside
The growth story is still very much intact. Like many of its industry counterparts, GOOG has shifted its focus to mobile, and it's in a very unique position to capitalize from not only one mobile segment, but several. Smartphones and tablets continue to outpace PC sales, and by 2015, mobile usage will nearly double stationary usage.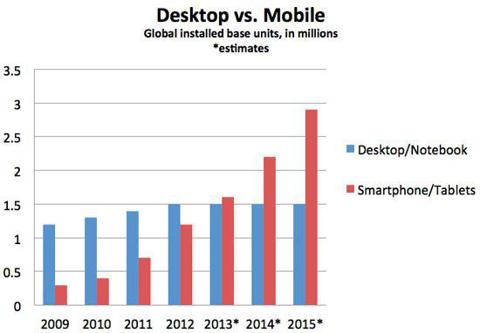 Here's how GOOG is exploiting the continued growth in mobile:
Android: According the research firm Canalys, Android dominated the market in Q4 2012. Android-powered smartphones accounted for nearly 34% of all global mobile phone shipments and an astonishing 69% of all smartphone shipments. The Chinese market continues to see significant growth - the country accounted for 73% of worldwide mobile shipments during the quarter. GOOG continues to penetrate the Chinese market on Samsung phones while rival Apple (NASDAQ:AAPL) suffers because of price sensitivities to the iPhone 5.
Site Revenues: Site revenues were $8.64 billion in Q4 2012, up 18% year over year. The site continues to dominate the advertising space, and is poised to capitalize on the shift to mobile advertising because of the infrastructure it has built out with the Android operating system.
Search: GOOG continues to be the global leader in search, once again outrunning competitors Yahoo! (YHOO) and Microsoft (NASDAQ:MSFT).
YouTube, Gmail, and Google+: According to the 10-K, GOOG has tightened integration between all three properties and now has 235 million users actively engaged.
One of the most attractive figures from the company's annual report is the continued growth in employees. It reports that it continues to build a fundamental base of the best employees in the world (aided, of course, by its world class company culture and exceedingly high retention rates). Additionally, of the 53,000+ employees, 36.7% of them are employed in research & development, which shows that GOOG has a continued focus on innovation and new product creation, an exciting tell to continued growth.
Downside
It is always tough to bet on a stock that has made such an astonishingly significant run up. Discounting valuation, the law of large numbers and investor perception can often halt a stock in its tracks, even if the fundamentals are pointing skyward. Here are a few potential risk factors that stand in the way of GOOG reaching a $1,000 price point:
The Law of Large Numbers: investors become wary as stocks approach quadruple digit prices. Rational or not, it is a common truth and something that needs to be addressed.
Competition: Because GOOG is made up of a fairly diverse set of businesses within the technology sector (advertising, search, video, social media, software, etc.), it has to contend with a bevy of competitors. AAPL is beaten down in the trenches now, but with the introduction of a lower-priced iPhone for the Chinese market, the stock could see a turnaround. If iOS begins to regain market share in China, that could significantly impact GOOG's growth story.
Lower Margins: GOOG currently has industry-leading margins (Gross Margin: 58.88%, Operating Margin: 25.43%, Net Profit Margin: 21.5%) and stands to see those begin to decrease due to the aforementioned competition. Increased levels of competition drive prices lower and lower prices beget lower margins.
China Slowdown: there is a chance that Chinese growth numbers are inflated and mobile demand will not grow at the exceptional forecasted rate for the next few years. There is no doubt that Chinese demand will continue to soar, but the question lies in the fact of whether or not the analyst numbers for growth will be met.
Fundamentals
GOOG is still growing, and continuing to do so at a very fast rate. During the four years of this recent bull run, revenues have increased at an accelerating rate of 24%, 29%, and 32% each year through 2012. Basic normalized EPS have grown, too, up 29%, 19% and 7%. The decrease in percentage growth from 2011 to 2012 can be attributed to the acquisition of Motorola, which was financially accounted for as a net loss in 2012, but stands as a business that can significantly add to revenues in the coming years.

Source: Google 10-K
Looking forward is exciting for GOOG investors, as well. Analysts forecast earnings growth of 14%, 17% and 14% year over year through 2015. At that point, GOOG is forecast to be earning $62.13 annually per share; it earned $39.82 in 2012. The stock is trading at a 20.9x trailing P/E and 18.3x forward P/E. For one of the most innovative companies in the technology space that's anchored with a terrific balance sheet and nearly $50 billion in cash, you as the individual investor must make the choice if the growth prospects and fundamental buoyancy seem strong enough to warrant a $1,000 valuation. I believe they do.

Additionally, for the past three years, shares of GOOG have exceeded quarterly earnings estimates by an average of 1.5%. Such low levels of volatility on beats/misses tell to accurately priced estimates on the part of GOOG analysts. Investors can feel confident (given past performance relative to analyst expectations) that the analysts are spot on with regard to growth forecasts.
The Chart
The trend is your friend, and in the case of GOOG, it is an investor's best bud. After sliding on the big Q3 2012 earnings miss, GOOG quickly recovered and continued its upward trend. The stock is trading nicely within its moving average envelope with an upward bias and has seen consistently high momentum since the Q3 miss. A potential point of concern could be the 'overbought' indicator that the stock is trading to a resistance level of 80 on the RSI. It has remained consistently above the level of 60 and below 80, but when analyzing the 150-day chart, the only time the stock really broke through that support level of 60 was during the Q3 miss and it quickly recovered. If investors were worried about 'overbought' conditions at $640 per share, they have missed over 30% in gains.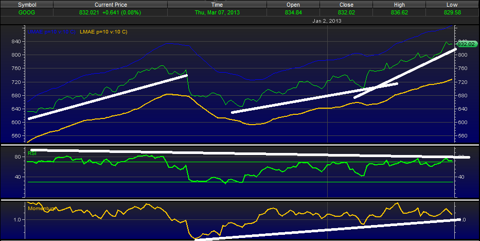 The Call
Bottom line: the trend continues upward. There aren't many macro issues in the near future that should turn this trend around. There might be a dent in the trend, but the general bias upward will continue. Look to begin building a position at these levels ($830), and add significantly to that position on any pullback. The market is due for a small correction. Even if GOOG gets a 3% correction that's still $25 - buy up a larger position on these dips and hold through the end of the year to reach $1,000 per share.
Disclosure: I have no positions in any stocks mentioned, but may initiate a long position in GOOG over the next 72 hours. I wrote this article myself, and it expresses my own opinions. I am not receiving compensation for it (other than from Seeking Alpha). I have no business relationship with any company whose stock is mentioned in this article.