Over the past few trading sessions, Vivus (NASDAQ:VVUS) has gone from about $9.90 to an impressive $11.50. Investors love this kind of action, and the upward move can initiate confidence in your investment decision. However, there are some important considerations to look at. Is this move a short term pop or an indication that the company is gaining traction? My bet, at least in the near term, is that this move was due, but is also about to top.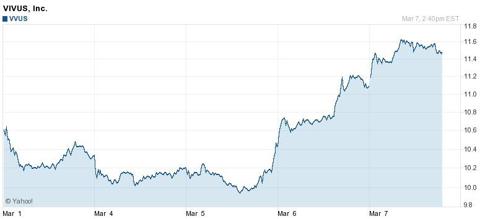 Vivus has its anti-obesity drug Qsymia on the market. Initial sales were slow. Vivus reacted by initiating a free trial program. The program has delivered success, but is still not yet at levels that can alleviate investor concerns, especially with competitor Arena (NASDAQ:ARNA) getting ready to launch its own anti-obesity drug Belviq.
It seems that while the actions of Vivus management may be helping with traction, that they are also reactionary and defensive in nature. Vivus recently announced a second price reduction and today announced that the company has developed an app for weight management and exposure for Qsymia. While the concept of an app is a sound one, the execution of the launch is very questionable. When I downloaded the app onto my personal Android based phone it was almost unable because it lacked a zoom function. This leads me to believe that the app was rushed to the market in reaction to an anticipated competitor launch. Simply stated the app was not properly vetted out prior to issuing a Press Release and launching it. That is bad management.
Thus far it appears that Vivus decisions are all reactions to events that may not be perceived as good. Playing defense is a business strategy, but sometimes it can also be a sign of an overall weakness.
Vivus is a bigger story than just Qsymia, but it is the anti-obesity drug that investors were hoping would make Vivus a blockbuster. In the first three months, Vivus had garnered just $2 million in revenue from the drug. That type of revenue does not pay the bills for additional research and development. January and February sales numbers are better, but the sales of the drug need to get more impressive more quickly for the company to turn the ship into the correct direction.
This does not mean that there is not opportunity or potential here, but I would say that investors need to be cautious. Cash burn at the company is happening faster than cash intake. A secondary offering is likely in the cards if sales do not increase substantially.
I saw the slow start as a mild concern. I saw the free trial program as a good business decision to kick-start sales. The second price reduction and the app seem more like reactionary defensive moves that may not have been executed in the best possible manner.
Overall there is caution warranted as a whole in the prescription anti-obesity sector. A slow start for Vivus on a weight loss pill is a symptom. If Arena has a slow start with Belviq, it will indicate a bigger problem. One challenge that Arena, Vivus, and Orexigen (NASDAQ:OREX) investors have faced is very lofty expectations. These have been tempered lately, but the next key are early channel checks on Belviq.
Savvy investors may want to take some money off of the table with this recent run in Vivus. A defensive move by an investor is entirely different than one by a company. Cautious optimism may be the phrase du jour for the prescription anti-obesity sector.
Disclosure: I am long ARNA. I wrote this article myself, and it expresses my own opinions. I am not receiving compensation for it (other than from Seeking Alpha). I have no business relationship with any company whose stock is mentioned in this article.