The News: Smith & Wesson Holding Corp SWHC reported its most recent quarterly earnings of $.26 per share Tuesday, beating analyst estimates of $.23. The company also raised guidance for the current quarter. The market seemed unimpressed, however, as shares of SWHC ultimately declined by $.47 (-4.6%) during Wednesday's trading session, closing at $9.75.
"What gives?" you might ask. "Shouldn't investors be pleased?"
Well, basically, yes they should be.
The Rumor ("The Reports" may be more accurate): After the recent, tragic school-shooting in Newtown, Connecticut, several large institutional investors like the California State Teachers' Retirement System ($155B) decided to liquidate their positions in gun manufacturers, leading to a steep decline in share prices across the industry. SWHC tumbled from a high of $11.25 on December 7, 2012, to a low of $7.67 during the December 18, 2012 trading session, a -32% loss. While many may agree with the institutional sell-off for moral and/or ethical reasons, there was really no justification from an investor's standpoint. The fundamentals of the company had not changed drastically for the worse overnight.
To the contrary, while lawmakers nationwide were busy passing new gun-control measures last quarter, it was reported that gun enthusiasts across America poured into stores in an attempt to buy more firearms and accessesories. Gun buyers clamored to acquire guns that will be, or potentially could be, unavailable as the result of recently passed or currently pending new gun laws. Manufacturers reportedly could not keep up with demand, even while running at full production capacity. In January the FBI reported over two million firearms background checks requested, a staggering 81% increase over January 2012.
The Trade: I felt that the institutional sell-off of gun makers was understandable, but it was also an emotionally motivated knee-jerk over-reaction, and therefore was fundamentally unjustified. I could not accept that SWHC was somehow worth almost 1/3 less than it was prior to the Newtown tragedy. I had been watching gun stocks for several weeks prior this latest massacre and thought SWHC was fairly valued at that time. This opinion, coupled with the reported surge in gun sales pushed me to take an even closer look at gun stocks. I found the SWHC's fundamentals were still very attractive, with valuation ratios that remained below the industry averages, and financial stats in-line with or better than its peers, despite the recent decline in share price. By February 15, SWHC had technically recovered from the sell-off, closing above both the medium-term 50-day MA and the long-term 200-day MA (see chart below). I concluded that with SWHC's next earnings report just a few weeks away, opportunity was now knocking. I opened a long position in SWHC at a price of $9.43 per share. I bought the rumors.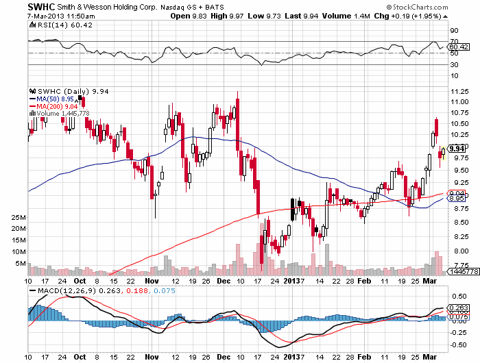 SWHC proceeded to walk up and down for several days after I opened the position. On Wednesday of last week, the market began to anticipate a positive Q3 earnings report and the stock advanced $.39 for a one-day gain of +4.36%. This was followed by gains of +2.25% and +2.83% on Thursday and Friday, respectively. This trend continued Monday, on what could be considered 'Earnings Eve,' when SWHC surged $.46 higher, for an additional +4.68% gain. This series of gains calculates to a healthy cumulative gain of +14.19%, in just four trading sessions.
SWHC opened higher yet again on Tuesday, reaching a high of $10.63 early in the day before ultimately closing in the red at $10.22. At this point I was more than satisfied with my gain, and I began to suspect the trade had run its course. I closed my position at a price of $10.57 for an 18-day holding period gain of 12.09%, exiting my position hours before the earnings were actually announced. I sold the news.
The Day After: Despite the positive earnings beat reported at the outset of this article, SWHC stock gave back -4.60% in post-announcement trading on Wednesday, losing $.47 per share.
It seems there are at least three viable explanations for this market reaction:
I'm not the only person who decided to do some profit-taking after the previous week's substantial gains.
The market essentially priced-in a good earnings report before it was actually released, leaving no justification for further gains.
The market was expecting an even better report than it received from SWHC, and sold shares in disappointment.
In reality, the truth is probably some combination of all three and probably involves several more factors not mentioned here. Regardless, the point is that market reactions on any given day are unpredictable, if not more so on the day earnings are released.
I am still bullish on SWHC, but am also quite happy that I decided to take a profit prior to the earnings announcement. I could have missed out on further gains had the price continued upward, but I was willing to accept that in order to guarantee a very solid 12% short-term profit. Fortunately, there now exists an opportunity to re-open a position in SWHC at a cheaper price. I will, of course, review the numbers again and factor in any new information prior to opening a new position.
Buy the rumor, sell the news. Old sayings, are old sayings for a reason. While there are no sure bets in the stock market, some tried-and-true axioms still hold water. The gains in this case were all made in anticipation of the earnings report. Had I waited to buy until the day before, or worse yet, the day after, I would have lost money trading on a positive earnings report that beat analysts estimates. What a let-down that would have been.
Disclosure: I have no positions in any stocks mentioned, but may initiate a long position in SWHC over the next 72 hours. I wrote this article myself, and it expresses my own opinions. I am not receiving compensation for it (other than from Seeking Alpha). I have no business relationship with any company whose stock is mentioned in this article.