Thus far, there are now three law firms, about which I am aware, that have launched investigations into the very questionable practices of the officers and directors of the utility company, Atlantic Power (NYSE:AT). Those firms, and their contact information, can be found by following the links listed below:
AT is a small utility company based in Boston, MA that holds a portfolio of assets in the United States and Canada. Until recently, it was also one of the best dividend paying utility companies in the public marketplace. The company's stock trades on U.S. exchanges under the ticker symbol AT, and it trades on the Toronto Stock Exchange under the ticker symbol ATP.
On February 28th of this year, the company announced disappointing fourth quarter and year-end results, and it announced the reduction of its once lofty dividend payments. To make matters worse, the company also announced that it was seeking to adopt a shareholder rights plan, also known as a "poison pill," which, in most cases, is designed to protect the company's officers and directors.
After the announcements were made, the stock's price plummeted as investors ran for the doors. The stock's price had been hovering around the $10.00 per share range but, following the announcements, it quickly plunged to around $5.00 per share where it seems to have settled. The most egregious part of this story, however, and the real reason for the plunge in price, is the fact that the company's CEO had been touting the sustainability of the dividend prior to the announcements. (For a very good recap of the company's shenanigans, I am going to direct you to an article that was published by a fellow Seeking Alpha contributor which can be found here.)
Though I fully expected legal proceedings to commence, I am very happy to see such swift action being taken. Personally, I have put myself in-touch with the three law firms listed above and, for anyone out there who is still a shareholder, I would encourage those reading this article to do the same. At this point in time, it would be my best guess that the poison pill will not be adopted and that lawsuits will commence in the very near future.
Approximately one to one-and-one-half years ago I had a conversation with a representative in AT's Investors Relation Department. At that time, many of the company's highlights were touted and I was told that the company was a favorite investment amongst retirees, given its very generous monthly dividend payments. Now, I can only imagine the pain those retired investors must be feeling.
With its market cap cut in half (more than half if one ventures back to November of last year), I would strongly suspect that AT will now be a viable take-over target, especially given its very "green" portfolio of assets.
For arguably the cleanest portfolio in the business, investors can turn to Atlantic Power , which offers a portfolio that's 96% clean and a dividend yield near 7%. No matter where you look, the industry is working hard to clean up its generating capabilities. (Link)

(Note: Though the above quote was taken from an article that was published as recently as yesterday, on the Web site The Motley Fool, the dividend data is outdated and may be due to the article being composed prior to the company's announcement of a dividend reduction.)
Those clean assets would be quite appealing to companies such a Duke Energy (NYSE:DUK), NextEra Energy (NYSE:NEE) or Exelon (NYSE:EXC). So, for those still invested in AT, holding on to your shares to allow further developments to take shape may be a prudent thing to do. That said, however, AT's problems are far from over. As can be seen in the chart below, AT's stock price decline began as far back as November of last year, which raises some questions surrounding the idea that certain investors may have known about recent developments in advance.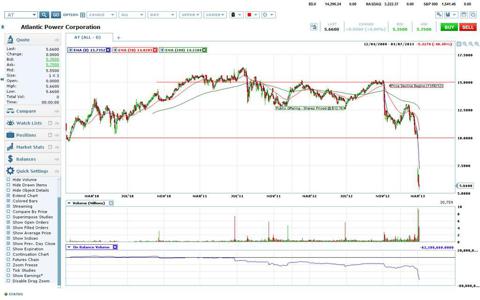 Disclosure: I am long AT. I wrote this article myself, and it expresses my own opinions. I am not receiving compensation for it. I have no business relationship with any company whose stock is mentioned in this article. At the time of this post, I owned shares of AT and I was enrolled in a dividend reinvestment program with my online broker.