The commodities-versus-stocks debate took an interesting turn last Friday. The Market Vectors Hard Assets Producers ETF (NYSE Arca: HAP), which tracks the Rogers - Van Eck Hard Assets Producers Index, ended its week 13.1% lower, at $18.58 per share, but the raw materials in which many of HAP's constituents deal hardly shuddered.
Shares of the GreenHaven Continuous Commodity Index ETF (NYSE Arca: GCC) edged 0.3% lower, to close at $20.75 by Friday. GCC mirrors a benchmark of 17 commodity futures contracts, including metals, agriculturals and livestock, petroleum products and foodstuffs.
The contrast between the two funds couldn't have been more stark as trading concluded Friday. HAP closed on a down note, off 7.1% on the day, while GCC shares ended on a high note with a 1.2% gain.
Last week's worries about equities reflected a 13-tick punchdown in the HAP/GCC ratio to a .90 new low.
Commodity Stocks (NYSEARCA:HAP) Vs. Commodities (NYSEARCA:GCC)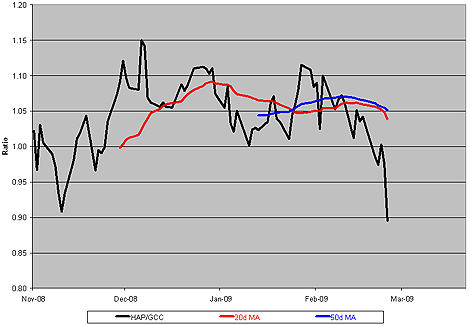 HAP's break is another notch in an intermediate downtrend that began in early February. The fund toppled to $18.01 in October, more than halving its price, raggedly trading in a $10 range since then. With momentum clearly favoring the bears, chart followers are puzzling the prospects of another test of the $18 level.
It wasn't the heavyweights in HAP's portfolio that sunk the fund Friday, though a couple of the large agricultural stocks were pressured by profit-taking ahead of the weekend. Monsanto Co. (NYSE: MON), 8.5% of the ETF's capitalization, eased 0.5%, and Potash Corp. (NYSE: POT), worth 4.3% of the portfolio's weight, dropped 4.6%. Other ags, though, were pretty much flat. Depositary shares of Syngenta AG (NYSE: SYT) picked up 0.5% and Archer Daniels Midland (NYSE: ADM) gained 0.2%.
The big oil stocks didn't torpedo HAP's return, either. Exxon Mobil Corp. (NYSE: XOM) rose 2.9%, Chevron Corp. (NYSE: CVX) increased 3.2%, BP plc (NYSE: BP) gained 2.3% and Total SA (NYSE: TOT) jumped 3.5%.
Rounding out HAP's top ten, Deere & Co. (NYSE: DE) edged 0.8% higher, while BHP Billiton Ltd (NYSE: BHP) leapt 4.5%.
No, it wasn't the big guys that did in HAP last week. It was lower-tier issues, 61% of the portfolio's weight, many of which trade on foreign bourses. Last Friday's action was really a play on rubles, yuan and rupiah.
HAP's sensitivity to foreign exchange is both its strength and its weakness. A strong dollar, anathema to commodities, is a double-drag on this portfolio.
GLD/GDX Ratio
The other closely watched commodity/stock ratio doesn't have a foreign exchange back story. Well, not directly anyway. Investor sentiment about gold, as an alternative to gold mining stocks, is reflected in the GLD/GDX ratio. The ratio's turned back in favor of the bullion-backed SPDR Gold Shares Trust (NYSE Arca: GLD) as skittish investors lumped mining shares, represented by the Market Vectors Gold Miners Index ETF (NYSE Arca: GDX), with all the other equities being tossed over the side in the hope of righting their portfolios.
The ratio's 1.7% uptick is all the more remarkable, given the flatness in bullion prices last week. GLD slipped but 0.3% to $92.33 by Friday's close. GDX, though, ended the week 1.4% lower at $32.88.
Gold (NYSEARCA:GLD) Vs. Gold Mining Stocks (NYSEARCA:GDX)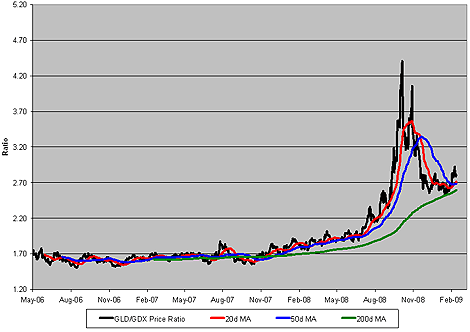 It's equities now dominating the two commodities/stocks ratios if only in a negative sense - which leads ratio followers to ponder the quotients' prospects when the equities market at last finds its legs.
If nothing else, at least some of the volatility will be sucked out of the ratios.