The first time I saw a Square card reader was few years ago at a small coffee shop in Cedarville, Ohio. I thought it was really cool but, like many people, I wasn't really sure if it would catch on. In July of 2011 it was reported that Square was processing $3 million in transactions per day. In November of that year the number reportedly increased to $10 million; I realized that Square had indeed caught on. Fast forward to November 2012, and the number is over $27 million in transactions every day. That amount translates to Square processing about $10 billion in transactions annually, and excludes the transactions now processed for Starbucks (NASDAQ:SBUX).
It is no surprise that investors and analysts alike are concerned about the future of companies like Visa (NYSE:V) and MasterCard (NYSE:MA). Most of the articles I've read recently cite concerns that Square and concepts like the Google (NASDAQ:GOOG) Wallet are a major headwind for the card issuers. I recently had the opportunity to talk with a salesman for a credit card processor about how the process works, the conversation really changed my view on the role that these new processors and services might play.
It is important to understand that Visa and MasterCard use multiple parties to process transactions, and the model is different than those of American Express and Discover. Pictured below is a graphic obtained from MasterCard showing how the process works.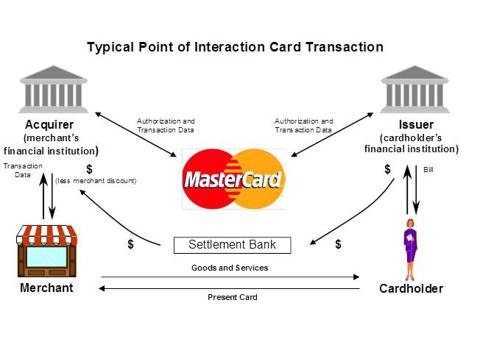 The real competition between processors is in the acquirer space (which, many times, represents more than one company.) and the settlement bank. Some companies attempt to be more competitive with vertical integration of these steps. Square only plays a part in these steps, nothing more. According to Square's founder, Jack Dorsey, Square has no intention of ever trying to cut the credit card companies out of the picture, it is just not what they are interested in. (Read full article here)
When I looked for what the real headwinds facing card issuers are, I found this in MasterCard's most recent annual report:
Potential future changes in the competitive landscape, including disintermediation from other participants in the payments value chain, also could harm our business.

We also expect that there may be other changes in the competitive landscape in the future, including:


| | |
| --- | --- |
| | |
| • | Parties that process our transactions in certain countries may try to eliminate our position as an intermediary in the payment process. For example, merchants could process transactions directly with issuers, or processors could process transactions directly between issuers and acquirers. Large scale consolidation within processors could result in these processors developing bilateral agreements or in some cases processing the entire transaction on their own network, thereby disintermediating us. |





•
Rapid and significant technological changes could occur, resulting in new and innovative payment programs that could place us at a competitive disadvantage and that could reduce the use of

MasterCard products.





| | |
| --- | --- |
| | |
| • | Competitors, customers, governments and other industry participants may develop products that compete with or replace value-added services we currently provide to support our transaction processing which could, if significant numbers of cardholders choose to use them, replace our own processing services or could force us to change our pricing or practices for these services. |





| | |
| --- | --- |
| | |
| • | Participants in the payments industry may merge, create joint ventures or form other business combinations that may strengthen their existing business services or create new payment services that compete with our services. |
To me, this says that there are really two main concerns:
If others are able to overcome the enormous barriers to entry in our market, we will be in trouble.
If someone comes up with a better user experience, we will lose out on the revenue that or extra services provide.
I believe that concern number one is highly unlikely, but number two is highly likely.
I'll start with my first concern, that other parties will be able to band together and disintermediate the card companies and make them useless. This is much tougher than it seems. I don't know very many people who don't have a single card with either a Visa or MasterCard logo, many of their cards are issued by banks as debit cards. Below is some key information about the top card companies. (source: Visa, figures as of year 2011)
Company
Payments

Volume

Total

Volume

Total

Transactions

Cards
(billions)
(billions)
(billions)
(millions)
Visa Inc.
$
3,768
$
6,029
77.6
2,011

MasterCard

2,430
3,249
39.8
1,059
American Express
808
822
5.3
97
Discover
114
122
1.9
59
JCB
160
166
1.4
77
Diners Club
28
29
0.2
6
Visa and MasterCard already control most of the transaction volume around the world, and they are growing every day. The proliferation of card use is so widespread that cash is disappearing, I know people who can't pay for anything if their card stops working because they never have cash. Visa and MasterCard have collectively issued over three billion active cards, and clear over $100 billion in payments per year. In order to compete, someone would have to build their own massive data network, and then convince people to use their service instead. This would require a lot of capital, and probably wouldn't be profitable for a long time. It is also important to note that most of the world is equipped to accept this type of payment already, so changing would require a significant benefit to the end users.
Now on to the second concern, others who want a piece of the action in payment processing. Companies like Square are not nearly as interested in the money they can make processing payments as they are with the information they can gather while doing it. If you read the same article I referenced earlier, Jack Dorsey believes that "We think there is something much broader in the experience that has very, very little to do with payments."
Another concept in this arena is the Google Wallet. I personally love to buy new wallets, I do it all the time. The single thing my wallets have in common is that they hold my credit cards in them, and that extends to the Google Wallet as well. I personally have not used the service, but I would definitely be interested in it. I currently use a Starbucks app on my iPhone to pay for my coffee, but I still have to use a credit card to reload the virtual gift card I pay with. I have not found anything new in the works that will circumvent the use of MasterCard or Visa cards completely.
The companies have tried at these value added ventures in the past, and it does not seem that either of them was very successful. The thing that these companies do best is build and maintain networks that process and authorize payments in the blink of an eye, and that is what they need to stick to.
Looking at the financial statements, it is clear that both companies are investing a lot of money in the future of their networks. They both stand to gain a lot from companies like Square and Google adding value to their services and enabling people to make more payments. Some will point out that the card issuers face increased regulatory risk and some financial headwinds, but I believe these risks are well known and already baked into the stock price.
One last note is that both of these companies benefit from strength in the U.S. dollar. More foreign countries are working, one way or another, to devalue their currency, but the U.S. is already doing so and does not seem to be speeding that up. There seems to be a consensus that other worldwide currencies have seen their run, and the dollar will be finding more strength in the months to come.
I believe both companies will perform very well in the years to come. Benefiting from higher payment volume provided by the value added services that others produce, and from an overall increase in the use of electronic payments. I suggest you do a bit of your own research to pick who you think will be more successful in adapting and evolving with these value added services.
Disclosure: I have no positions in any stocks mentioned, but may initiate a long position in V over the next 72 hours. I wrote this article myself, and it expresses my own opinions. I am not receiving compensation for it (other than from Seeking Alpha). I have no business relationship with any company whose stock is mentioned in this article.