Apollo Global Management LLC (NYSE:APO) and its subsidiaries is a global alternative investment manager. APO is a contrarian, value-oriented investor in private equity, credit, and real estate, with significant distressed expertise. This last one is very important to me. APO has been performing well in a Fed stimulated market, but even a Fed stimulated market turns south eventually, especially when there is significant evidence both in the US and in Europe that both economies are still troubled. If APO is an expert at operating in distressed times, it should still do well. This thought is comforting to an investor.
How distressed are current times? The US GDP growth for Q4 2012 was only +0.1%. This was a considerable drop from the +3.1% growth in Q3 2012. The EU GDP growth was down by -0.9% in the Euro Area and -0.6% in the EU 27 in Q4 2012. These numbers were down significantly from the -0.6% and -0.4% in Q3 2012 respectively (year over year figures). For the OECD (most western developed countries) GDP contracted by -0.2% in Q4 2012. With this environment as a back drop, the US raised the payroll taxes in January 2013 by 2.9%. Plus it raised a number of taxes on the rich, including a 3.8% ObamaCare surtax on investment income. These new taxes are estimated to pare as much as -1% or more (Mark Zandi of Moody's says -1.4%) from US GDP growth in Q1 2013.
Since then Obama has put the sequester into effect. The CBO, a historically conservative organization, estimates that the sequester will knock -0.6% off US GDP growth in 2013 and the sequester will lead to the loss of 750,000 US jobs. Adding the above GDP growth losses together, you get a loss of about -2% in US GDP growth from whatever the number would have been otherwise. In other words, there is a high probability of a US recession in 2013, especially given the meager +0.1% GDP growth in Q4 2012.
In the current environment APO has been performing fantastically. It produced total economic net income of $697 million in Q4 2012 and $1,634 million for the year. This was a huge improvement over the year earlier quarter and year of $357 million and -$301 million, respectively. On a per share basis the above four figures were $1.69, $3.82, $0.80, and -$0.86, respectively. US GAAP net income was $172 million, $311 million, $11 million, and -$469 million, respectively for the same periods above. Total assets under management grew to $113.4 billion as of December 31, 2012 compared to $$75 billion a year earlier (51% growth).
APO had great results from virtually every part of its business:
APO's Management Business revenue was $223.2 million for Q4 2012 -- up 40% from Q4 2011. FY2012 revenues were up 31% from FY2011. For FY2012, advisory and transaction fee revenue was up $67.7 million (+82%) to $150 million.
APO's Incentive Business reported $962.3 million of total carried interest income for Q4 2012. This was an increase of $473.1 million or 97% year over year. There were $561.6 million of realized gains from the carried interest income for Q4 2012. This was an increase of $283.4 million (102%) year over year.
APO's Private Equity Segment had $609.0 million in economic net income in Q4 2012 compared to $232.4 in Q4 2011. Several of its funds have been hugely successful.
APO's credit segment had $90.0 million in economic net income for Q4 2012 compared to $139.6 million for Q4 2011.
APO's real estate segment had an economic net loss of -$2.1 million for Q4 2012 compared to a -$15.4 million loss for Q4 2011. This was at least a big improvement.
For Q4 2012 APO declared a distribution of $1.05 per Class A share. This comprises a regular distribution of $0.07 per Class A share and a quarterly distribution of $0.98 per Class A share primarily attributed to fund realizations and interest and dividend income earned by APO's funds.
This last item deserves further clarification. APO intends to distribute all of its after tax cash flow in excess of amounts needed to conduct business. For the FY2012 the total distribution was only $1.94 (or 8.09%). This is substantially lower than the yield cited in the title, which is the result of annualizing the latest (Q4) $1.05 distribution. The 8.09% figure is still a good dividend. However, it is instructive to look at the recent distribution history.
The distributions for FY2012 were $1.05, $0.40, $0.24, and $0.25. For FY2011 the distributions were $0.46, $0.20, $0.24, and $0.22. For FY2010 the distributions were $0.17, $0.07, $0.07, and $0.07. The totals have been $1.94, $1.12, and $0.48. The gain year over year in each case has been 133% from 2010 to 2011 and 73% from 2011 to 2012. If one assumed a relative progression, one could estimate a gain of 30% to 50% for 2013 over the $1.94 result in 2012. This would yield a distribution of $2.52 to $2.91. The midpoint of this would be $2.72 (or about an 11.33% distribution) with a range of 10.50% to 12.13%. These are only estimates, and they cannot be taken as solid. However, given the last few years' performance, the actual result may be close to these estimates. Of course, there is also the possibility that the $4.20 dividend (17.5%) listed on Yahoo Finance will be the distribution for FY2013; or it is possible the distribution could be substantially higher or lower. The year over year AUM growth of 51% might virtually assures strong growth.
Regardless of the exact figure, APO management is doing a great job. There is no reason to believe this will change. Plus they claim to be experts in distressed assets. One is inclined to believe this. That means APO may be a great stock if the US economy goes into recession in 2013.
Further, its seems a bargain now. APO has a P/E of 11.65 and an FPE of 7.92. It has an average analysts' recommendation of 2.2 (a buy). It has a Price/Book (mrq) ratio of 1.20. This is high compared to Goldman Sachs' 1.07; but it is low compared to Kohlberg, Kravis, Roberts & Co.'s (NYSE:KKR) 2.38, The Blackstone Group's (NYSE:BX) 1.85, and Fortress Investment Group's (NYSE:FIG) 2.31. KKR, BX, and FIG have relatively comparable businesses; and their Yahoo Finance dividends are listed as 14.90%, 8.80% and 3.70% respectively. These are all lower than the dividend Yahoo Finance lists for APO (17.5%).
After what I said above about APO's dividend, one might think that one of the other's might in reality have a higher, more sustainable dividend. This could turn out to be true, but at the moment APO's dividend and dividend growth looks more sustainable than that of KKR, which is its closest competitor in terms of yield. If the many people who think 2013 will be the year of the asset manager are right, 2013 could be a banner year for APO. Further analysts give APO a 17% EPS growth per annum estimate for the next five years. It should see good dividend and profit growth. It is a buy.
The two year chart of APO provides some technical direction for a trade.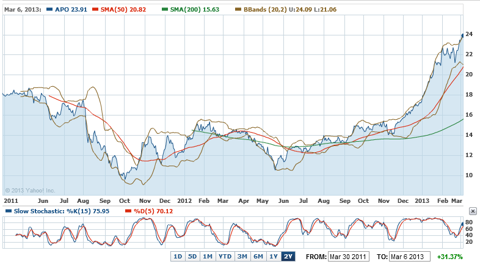 The slow stochastic sub chart shows that APO is near overbought levels. The main chart shows that APO is in a strong uptrend. The 50-day SMA is far above the 200-day SMA. The price line is far above the 50-day SMA. Normally this would indicate that APO is far overbought. However, the recent dividend payout and the still relatively low PE of 11.65 and FPE of 7.92 indicate that this is not the case. Fundamentally APO can easily move higher. It is still technically a buy.
Still, the overall market is at overbought levels. Plus the SPY (as a proxy for the S&P500) has run up about 41% from its low in October 2011 of $109.93. Meanwhile EPS in Q4 were only up 4.2% year over year for the S&P500 (with 478 companies reporting). There seems to be a huge disconnect here. The overall market is ripe for a pullback. At this point I would likely wait for that pullback before buying APO (for technical reasons).
The investor could take a partial position at that point. Then the investor could average in over the course of 2013. It will take at least until July or August for the US to officially enter a new recession (if it does). It will likely be near the point of entry into an official recession that the overal1 market hits bottom. At least that is a good guess. APO will likely hit bottom about the same time. That should be a good time to buy in.
NOTE: Some of the fundamental financial information above is from Yahoo Finance.
Good Luck Trading.
Disclosure: I have no positions in any stocks mentioned, but may initiate a long position in APO over the next 72 hours. I wrote this article myself, and it expresses my own opinions. I am not receiving compensation for it (other than from Seeking Alpha). I have no business relationship with any company whose stock is mentioned in this article.