Southeast Asia is home to the best performing emerging markets led by the Philippines and Thailand.
Two year chart: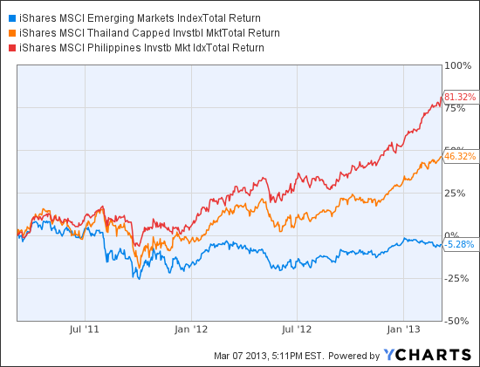 Lots to like
The region offers some attractive features. Equity market structures are relatively balanced and give exposure to growing domestic demand. None of the markets is overly dependent on one sector - like Russia is to energy or Taiwan to IT. Government ownership is lower than many emerging markets and public support of private investment is strong. Importantly demographics are large, young and middle classes are growing.
The region has been in a sweet spot benefiting from relatively low inflation and low interest rates that have stimulated investment. Governments have been crucial enablers of investment through structured initiatives. The knock-off effect has been increasing domestic investment, confidence and consumption. They know about Mr. Keynes.
Of course companies face policy risks and economies depend on exports and healthy external environment as most emerging markets do. Skills shortages, reliable infrastructure and corruption are also challenges. Overheating and inflation are risks. This may be the first part of the world to see it.
There are several ETFs investors can consider for exposure to the Southeast Asian markets.
Southeast Asia ETFs

iShares MSCI Thailand Capped (NYSEARCA:THD) holds mainly financials (41%), energy and consumer sector stocks. Thailand has seen a strong economic recovery following major flooding in 2011. Investment and consumption have been strong behind a supportive government. Minimum wage hikes, lower income tax rates and fiscal stimulus have all been positive for the domestic economy. Earnings have also followed through and banks, for example, are seeing loan growth and margin expansion.
Politics has also improved with the current government backing away from possibly controversial constitutional amendments. Inflation is the main risk given recent wage growth and strong domestic demand. Thailand is a manufacturing base for foreign multinationals and an agricultural exporter. Any disruption to global demand or farming could have negative effects for the economy.
THD follows the MSCI capped index which is a new methodology designed to limit any single issuer to a 25% weight in the fund and limit the sum of all issuers representing more than 5% of the fund to not exceed 50% of the fund's total assets. This is to protect the fund from being too concentrated in a few holdings. THD is somewhat top-heavy with its top 10 holdings representing 52% of the portfolio but is not at risk of breaching the 'capped' limitations. The fund is also fairly deep with 90 holdings.
iShares MSCI Malaysia (NYSEARCA:EWM) offers relatively broad sector exposure for an emerging market. Financials still represent the largest part of the portfolio, around 30%, but investors still have meaningful exposure to the industrials, telecoms, consumer and utilities sectors of the country. The investment case for Malaysia has been driven by government initiatives to boost investment in infrastructure which has spilled over into private sector. This has insulated the economy from the weaker global backdrop. Political uncertainty is the main concern with general elections due no later than this summer.
iShares MSCI Indonesia (NYSEARCA:EIDO) is one of two ETFs covering Indonesia. EIDO's sector exposures are led by financials (35%) and consumer sectors. The fund's largest holding, Astra Group, is the country's largest automotive and motorcycle distributor. It is also involved in other industries like heavy equipment and mining and agribusinesses.
Market Vectors Indonesia (NYSEARCA:IDX) is a similar fund to EIDO and a look at the funds' top holding shows almost identical exposures. There are some slight differences. Firstly, IDX's direct exposure to Astra is smaller (8% compared to 12% for EIDO). IDX also holds certain Singapore listed companies with exposure to Indonesia which are excluded in EIDO. IDX is a more concentrated fund with 41 holdings compared to over 90 for EIDO. Market Vectors also offers Indonesia Small Cap (NYSEARCA:IDXJ) for exposure to the small cap segment of the market.
With a population of nearly 250m, Indonesia is the 4th most populous country in the world. GDP grew by around 6% last year and is expected continue expanding at a similar rate despite some moderation recently. Consumption and investment have been major economic drivers that have offset recent weakness in commodity export prices. Inflation has remained relatively benign at 4-5% and the interest rate picture looks stable. Government finances are also strong with debt/GDP around 30% and the country was upgraded to investment grade by Fitch and Moody's last year.
Indonesia still faces challenges addressing infrastructure bottlenecks, skills shortages and corruption. The government also maintains fuel subsidies that are a risk to fiscal and current account balances should oil prices rise and a potential risk to growth and inflation if addressed.
Market Vectors Vietnam (NYSEARCA:VNM); Vietnam is a true frontier emerging market with a large population (90m) and young low cost work-force that is attractive for foreign manufacturers. Vietnam's macro policies, however, can be characterized as heavy handed and erratic. The government is interested in supporting growth but at times has been reluctant to tighten fiscal policy to tame relatively high inflation rates which approached 20% in 2011. The currency operates under a crawling peg system, which results in some uncertainty over the timing and degree of any devaluation. A related problem is a lack of trust in the banking sector due to misleading or under-stated bad debts, many to large state-owned enterprises. The country also faces infrastructure deficiencies and a high level of corruption. Nonetheless the country holds great promise as a member of the WTO. Much will depend on government competency.
VNM gives investors exposure to banks, insurers, conglomerates, developers and energy companies; some of which are listed in foreign jurisdictions. VNM currently has 31 holdings.
The equity market is still in the early stages of developing so can be volatile. Regulators exercise tight rules about foreign participation on the exchange such as requiring single broker agency and advance payment for securities. A loosening or tightening of these restrictions could add to market volatility.
Finally, iShares MSCI Philippines (NYSEARCA:EPHE) holds larger exposure to financial conglomerates, developers and property companies in relation to other emerging markets. The Philippines, the world's 12th most populous country with around 100m inhabitants, is seeing similar positive macro trends like rising investment and consumption. The government has aggressively pursued development through a public private partnership (NYSE:PPP) program that continues to gain momentum. Historically low interest rates (3.5%) have been a further support. Earnings have followed through on the back of this favorable macro backdrop supported by rising property prices.
Global X FTSE ASEAN 40 (NYSEARCA:ASEA) is the only pan-regional Southeast Asian ETF available to US investors. The fund is fairly concentrated with 40 holdings and has its greatest exposure in Singaporean listed companies which represent 39% of its holdings. The fund's main exposures are in financials, industrials and telecoms.
Liquidity
All the funds a liquid with the exception of ASEA which trades less than $1m/day. Of the big funds IDX trades over $10m/day while EWM trades over $30m/day. The other funds trade within the $10-30m/day range.
Mostly good performers
Two year chart: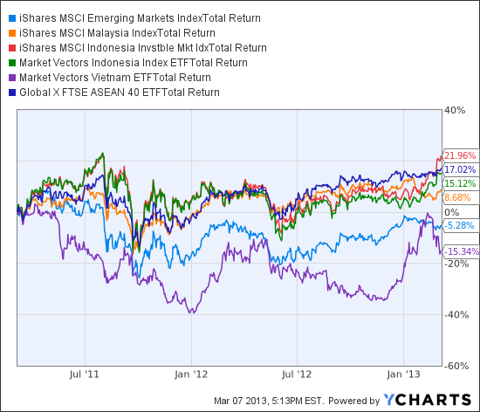 A look at the returns of the remaining Southeast Asian funds shows EIDO as the top performer giving a more than 6% higher return than its Indonesian peer IDX. ASEA has also performed well with relatively low volatility. EWM has outperformed broader emerging markets while VNM has been a generally unpleasant rollercoaster ride for shareholders.
Not a tough call
Things still look good in Southeast Asia. The question for emerging market investors is whether to stick with the winners or bottom-fish for 'value' in BRICs. Lately Brazil has perked up thanks to a policy tweak. For long term investors market structure and demographics are crucial considerations. Southeast Asia stacks up well in that regard. Pick your spots.
Disclosure: I have no positions in any stocks mentioned, and no plans to initiate any positions within the next 72 hours. I wrote this article myself, and it expresses my own opinions. I am not receiving compensation for it (other than from Seeking Alpha). I have no business relationship with any company whose stock is mentioned in this article.