This is my third look at a part of the market that I believe is in a bubble, with many seemingly uninformed investors speculating that the change in the regulatory landscape for both medical and recreational marijuana will lead to small fortunes for a handful of companies trading publicly. To be sure, small fortunes are being made, but not by the investing public. In my first article, I examined the whole space, sharing the analogy that this phenomenon is similar to the dotcom mania. In my second article, I offered my perspective on a transaction involving the best-known marijuana play, Medical Marijuana Inc. (OTCPK:MJNA), and a new play, CannaVEST (FCLS.OB). Today, I want to share my perspective on Hemp, Inc. (OTCPK:HEMP), which I believe at .06 per share may be almost .06 overpriced. The presence of a massive amount of preferred stock dilutes shareholders who appear to be unaware of the capital structure.
What is Hemp Inc.?
This is how the company describes itself:
Hemp, Inc. focuses on the vast market created by the quickly emerging, and growing, multibillion dollar industrial hemp industry. Hemp, Inc. is not involved in the cultivation or marketing of medical marijuana. It is the company's belief that legalization of hemp in all 50 states and at the federal level will come to pass. With that in mind, the company is building infrastructure with the potential to gain substantial market share before and after industrial hemp prohibition ends. (Pending any federal licensing or other requirements, that may be enacted after hemp prohibition ends).
The company was formerly known as Marijuana Inc., having changed its name last August.
If you want the positive story, it's really not hard to find, as the company is highly promotional. I will share links to some of the more recent information.
Hemp, Inc. Signs $750,000 Distribution Deal with KUSH, Inc. (3/7) (Note: Deal included 10mm HEMP.PK shares to Kush)
Industrial Hemp and Medical Marijuana Industry Stocks Create Massive Volume As America's Investment Community Rushes To Get In On The Green Rush Industry Explosion (2/19)
Hemp, Inc. Gains More Momentum as Industrial Hemp Prohibition Continues to Weaken in the United States (2/15)
Industrial Hemp and Medical Marijuana Industry Hits All-Time High in 2013 (2/4)
Hemp Inc: YourBev.com Spin-off Announcement (1/23) (Note: No info on new securities from either spin-off)
Hemp, Inc. Launches MarijuanaIncorporated.com (1/18)
Hemp, Inc. Update Regarding its Spin-offs (12/24) (Note: This was a very embarrassing revelation regarding their lack of understanding of basic security laws)
Hemp, Inc. Announces BioSwan, Inc. (12/20)
After America's Multi-decade Experiment with Cannabis Criminalization Ends The Hemp and Marijuana Industries Flourish (11/27)
News of Hemp Inc.'s plan to spin off subsidiaries encourages investors to buy stock (10/31)
Plan to Spin-Off Four Robust Subsidiaries Set in Motion (10/29)
Hemp and Medical Marijuana stocks set to spike as election approaches (10/16)
You can click on the dates to read the press releases. I get the sense that the company is highly optimistic. Disturbingly so (bold emphasis is mine):
Hemp, Inc.'s (OTC: HEMP) CEO, Bruce Perlowin, has accumulated over twenty-two million shares of stock in Rapid Fire Marketing, Inc.; eight hundred thousand in Cannabis Science, Inc.; two million in Grow Life, Inc.; and, twenty-one million shares in Medical Marijuana, Inc. Even though his favorite is his own (Hemp, Inc. (OTC: HEMP)) he has started strategically investing in other marijuana industry stocks. "I know these stocks are going to go through the roof," says Perlowin.

While some are courageous enough to open dispensaries and grow, most tend to play it safe and invest in marijuana stocks. Simply put, it is a mature and aged industry reality in the American marketplace. The massive publicity will not only attract the average American investor, it will also attract newbie investors (from your auto mechanic workers to your stay-at-home moms) and foreign interests. "Everybody wants in on 'the next big thing.' Think of it as another dot.com explosion," says Perlowin.

He adds, "The smart investor will start accumulating now before that explosion begins." Perlowin's investment strategy seems to be already paying off. The two million shares he bought of Grow Life, Inc. the first ten days in October increased 39.9% on October 11, 2012 and then 29.9% on October 12, 2012. (These spikes are around the same time the pre-election spike started two years ago when Prop 19 in California was on the ballot). That's almost $20,000 profit in a matter of days. Perlowin's investment strategy also netted him over $6,500 with Rapid Fire Marketing, Inc. as their stock climbed 10% in one day (October 12, 2012). Analysts agree with Perlowin that it's just the beginning of this particular company's pre-election spike.

(see 10/16 p.r.)
My sense is that the company sees itself as some sort of clearinghouse of information for the hemp industry and as an option to play a similar role as marijuana becomes more legalized, whether for medicinal or recreational use. CEO Perlowin has likened it to Amazon.com (NASDAQ:AMZN).
A Look at the Products
While I am not sure if this is an exhaustive review, what follows is a look at some of the different products that the company offers.
HerbaGenix
You can learn more here. The company doesn't really play the marijuana or even hemp angle here:
HerbaGenix™ gives you enough ingredients to make the supplement work for you. Our supplements are abundant in phytonutrients, powerful antioxidants, minerals, vitamins, and other beneficial natural ingredients.

Finally, after bottling liquids we turn to quantum physics for a healthful boost. We treat these drinks using a patent pending non-invasive process that imbues the beverage with energy and structures the drink.

HerbaGenix™ drinks are the world's first structured herbal supplement; healthful ingredients energized using techniques derived from quantum physics - there has never been anything like it.
Its products are offered around three different categories: Nutrition, Energy, and Love. They cost about $50 each: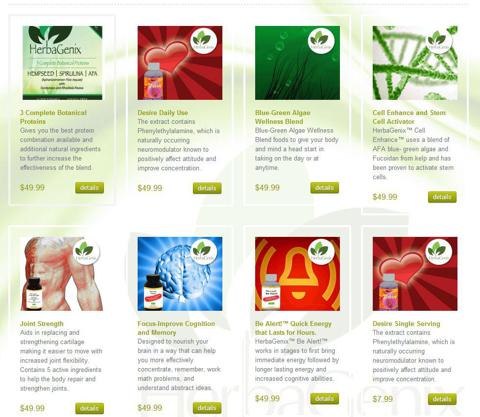 MJ Lover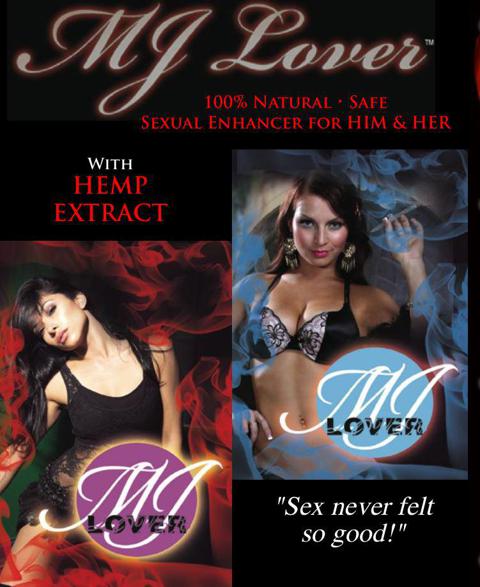 You can learn more here. The website is aimed at distributors, citing all sorts of health-related and sexual benefits. The website accepts retail orders - a two week supply for men is approximately $56 ($84 for extra-strength).
Basic Hemp
This is another nutraceutical - nothing "marijuana" about this: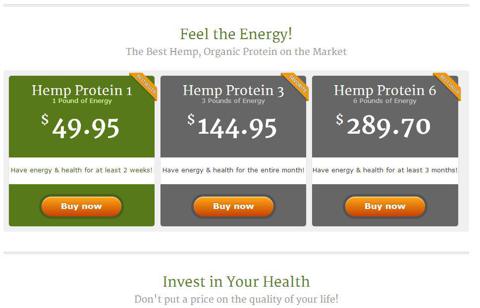 You can learn more here. It's basically a powder for smoothies with hempseed, spirulina and AFA (Aphanizomenon flos-aquae).
While all of this stuff may sound great, it's not resulting in much revenue from what I can tell. In the financial discussion below, I discuss what appears to be $182.5K of sales in Q3 (the most recently reported quarter), but $179K is from "stock sales" (of MJNA.PK):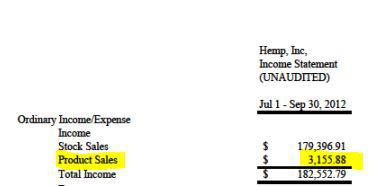 Very Detailed Review of OTC Disclosures
Just kidding! This will be a "Cliff Notes" version of the filings, all of which are available here. Boy am I spoiled, as I am used to reading SEC filings. The disclosure level is much lower here, and the filings lack much information that I view as important. Keep in mind that all numbers are UNAUDITED. Also, to the best of my knowledge, the only place to get its numbers is here, as I haven't seen any sort of financial press releases. The company talks about a lot - just not things like sales, earnings, etc.
I have reviewed two documents related to the most recent quarter for which it has reported (ending 9/30) and for the year ending 12/31/11. I am not sure why it hasn't yet reported Q4-12. Specifically:
The first document lays out some history regarding the capital structure. The company issued 25mm shares for social network software. On January 21, 2010, it issued 100mm Preferred shares to New Compendium, 100mm to Bruce Perlowin and 100mm to Harmony Financials. These can be converted into 2.5 shares each. Perlowin received another 31.5mm Preferred shares for payment for "silver medallions and for the dies to stamp the medallions." This was deemed to be reimbursement for $31.5K in expenses, suggesting the stock was worth .001 at the time (5/12/11). During 2011, the company issued 402mm shares: 87.55mm to President David Tobias (62.55mm of which was in exchange for MJNA.PK shares), 78.1875mm shares to New Compendium (exchange for MJNA.PK), 75.05mm to James Scheltema (62.55m in exchange for MJNA.PK), and 62.5mm to Perlowin (in exchange) and 41.7mm to Richard Stewart (in exchange). For 2011, the company reported net income of -$1.2mm.
The biographies of CEO Perlowin and President David Tobias indicate that both worked at MJNA.PK, Perlowin as CEO and Tobias as VP, Marketing. Perlowin was listed as holding 62.55mm shares and 131.5mm preferred shares, while Tobias held 87.55mm. The total shares at year-end 2011 were 732.5mm plus 331.5mm Preferred shares. Assuming conversion, the full share-count would have been 1.561 billion. The equity value of the company at year-end 2011 was $389K. 78% ($22K) of total income came from selling MJNA.PK stock. How can this be income???
At 9/30, the share count had increased to 882mm, with 281mm Preferred stock and another 235mm in Preferred stock K. K converts to 10 shares, suggesting a total share count of 3.935 billion shares:
Note 8 - Preferred Shares
The company has three types of preferred shares. The first, Preferred, is convertible to common shares at a ratio of one preferred share to two and one half shares of common shares. There are currently 281,000,000 preferred shares outstanding. The second, Series K, is convertible to common shares at a ratio of one preferred share to ten shares of common. There are currently 213,452,051 preferred series K shares outstanding. The third, Series Q, is convertible to common shares at a ratio of one preferred share to one hundred shares of common. There are currently no preferred series Q shares outstanding.
For those who aren't following, here is the math:
882mm + 2.5*281mm + 10*213.452mm
One last item - this was filed as a supplement in October. It's funny, because one has to wonder how this one slipped by Perlowin, who signed the original disclosure.
Item 1 - The Initial Company Information and Disclosure Statement erroneously listed Svetlana Ogorodnikova as Bruce Perlowin's wife and as an affiliate of the company. Mr. Perlowin was previously married to Ms. Ogorodnikova but they were divorced on August 23, 2006. Ms. Ogorodnikova has never been an officer or director of the company and has never owned more

than 10% of the company's publicly traded stock and is not now and has not been an affiliate of the company.
What is HEMP.PK Worth?
According to the most recent data I could find, the company says that there are 1.121 billion shares outstanding as of 1/31. I suspect it is higher - I mentioned above 10mm shares issued in the KUSH deal. If we add these additional shares (1.131 billion less the 882mm is 249mm), there appear to be 4.184 billion shares. Interestingly, the preferred can't all be converted, as there are only 3 billion authorized shares.
I have shared some background information that suggests that there isn't too much of a business here. It looks like a bunch of websites and overpriced hemp-based products. Further, there isn't substantial income or equity in the business.
At .06 per share, it appears that the company is being valued at $240mm or so if all of the preferred shares were converted to common. This is more than MJNA.PK! I would think that a company with basically no revenue, no income ($182K income before expenses in Q3 included $179K of "stock sales") and no assets ($2.4mm total equity) but run by the "King of Pot" might get a very generous valuation of $20mm. This works out to less than half a penny!
Here's an interesting way to check. According to the Q3 filing:
On August 15, 2011, ten million five hundred thousand (10,500,000) freely trading shares of Medical Marijuana, Inc., ("MJNA") were exchanged for 307,537,500 shares of HI common stock, subject to 144 restriction (which requires these recipients to hold the shares for a year prior to the shares being able to be sold).
The company took in 10.5mm MJNA.PK and exchanged it for 307.5mm HEMP.PK. That works out to be a ratio of 29.29 shares per one MJNA.PK. Applying that ratio to today's price would suggest HEMP.PK is worth less than .01. I would argue less - MJNA.PK has put up better numbers than HEMP.PK.
While six cents may seem like nothing and being able to buy 1000 shares for less than you can feed a family of four at a sit-down restaurant may make the investment trivial, the reality is that a $1000 investment in this company could cost you up to $1000. While I am not predicting that this is the only potential outcome, I do think that very few owners of HEMP.PK realize how little of the company their shares represent or how little economic value is being created.
Conclusion
HEMP.PK is extremely overvalued by the market in my opinion. I sympathize with many individuals looking to capitalize on such an obvious positive long-term investment theme, but I can't recommend any of the stocks that I have yet reviewed thus far, especially HEMP.PK. I am quite interested in MedBox (MDBX.PK), so stay tuned.
Disclosure: I have no positions in any stocks mentioned, and no plans to initiate any positions within the next 72 hours. I wrote this article myself, and it expresses my own opinions. I am not receiving compensation for it (other than from Seeking Alpha). I have no business relationship with any company whose stock is mentioned in this article.