World markets now sit at their highest levels since 2008, and the fact that we are rising as we are with the headwinds already blowing in our faces tells us something is up. Either capital is being reallocated in a big way and it just has not shown up yet, or we are seeing investors anticipate that companies are going to have to begin creating real growth through expansion rather than the "balance sheet growth" via cost cutting and other maneuvers which has been the case over the past few years.
Editor's Note: Yesterday there were 115 all-time highs and ZERO all-time lows. Pretty impressive stuff.
Chart of the Day:
Japan has entered its own world with the recent election of a new parliament and their leadership changes that appear to have set the table for economic growth. Yesterday we saw reports that the country may be coming out of its recession and that would be welcome news for the world economy. More consumers would greatly add to overall growth and if the country can get their birth-to-death ratio back to 1 or above then it would be a positive for the country moving forward long-term.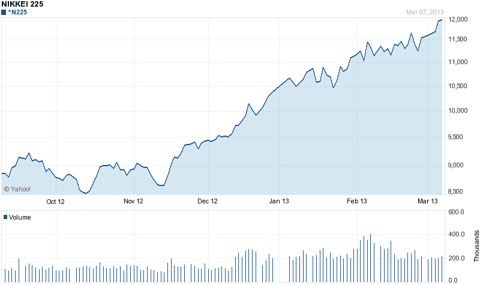 Chart courtesy of Yahoo Finance.
We have economic news due out today, and it is as follows:
Nonfarm Payrolls (8:30 AM EST): 165k
Nonfarm Private Payrolls (8:30 AM EST): 178k
Unemployment Rate (8:30 AM EST): 7.9%
Hourly Earnings (8:30 AM EST): 0.2%
Average Workweek (8:30 AM EST): 34.4
Wholesale Inventories (10:00 AM EST): 0.2%
Asian markets finished higher today:
All Ordinaries - up 0.28%
Shanghai Composite - down 0.24%
Nikkei 225 - up 2.64%
NZSE 50 - up 0.47%
Seoul Composite - up 0.08%
In Europe markets are trading up this morning:
CAC 40 - up 0.87%
DAX - up 0.56%
FTSE 100 - up 0.41%
OSE - up 0.72%
Retail
The Gap (NYSE:GPS) shares were halted yesterday after the sales call transcript showed up here on Seeking Alpha during the session and not after the market close as was scheduled. It was a mix up due to Gap moving the call (which is pre-recorded) from the morning to after the market closes and thus the confusion. The sales figures were solid and after trading resumed shares closed up $1.41 (4.09%) to close at $35.87/share. Within the numbers we see that the namesake brand is doing well and Old Navy is outperforming but at the top end the Banana Republic same store sales lagged. One would initially chalk that up to the pricing points, but the company said it was a product mix issue and that consumers did not take to their early transition to spring-like wardrobe options. We stated yesterday that this was the company to buy in the sector and the results continue to dictate that.
Manufacturing
Breaking out...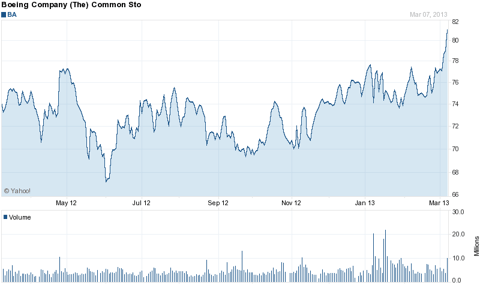 Chart courtesy of Yahoo Finance.
We saw Boeing (NYSE:BA) moving higher yesterday and setting a new 52-week high in the process before backing off a bit to close at $81.05/share after having risen $1.97 (2.49%) on the session. It is looking more and more like the battery issue is just that, a battery issue and not something larger and this could lead to the company getting the groundings lifted once they come up with a suitable fix. In our opinion, the fact that the stock is at 52-week highs with all that is going on, and has been going on, speaks volumes and indicates to us that this story has moved from a headline issue to a non-issue in investors' eyes.
Carl Icahn is hitting everything out of the park these days it seems with Navistar (NYSE:NAV) adding to his winnings yesterday. The company saw their shares rise $6.93 (27.76%) to close at $31.89/share after it was announced that the company's current Chief Operating Officer, Troy Clarke, will become the Chief Executive officer of the company as Lewis Campbell steps down (see press release here). The market liked the news and even overlooked the fact that revenues for the quarter again fell and the company reported a loss, albeit lower and improving in the right direction.
Biotechnology
Affymax (NASDAQ:AFFY) shares rose yesterday by almost 54% in what must have been a short squeeze and then simply a momentum play into the close because the chart was very impressive with a rise from the bottom left to the upper right on 45.2 million shares (and there are just over 37 million shares outstanding). Options activity was also abnormally high but the lack of news is what we found rather strange. One of our trading rules is to never buy into a drug company when a drug gets pulled and it is material to them and that happened here. Our other rule is to never invest or trade something when you do not understand it or what is going on, which is the case here as well. So needless to say, we are not touching this one at all.
Technology
So Ciena (NASDAQ:CIEN) sure surprised a lot of people with the quarterly results which not only beat but also showed the company is having success in transitioning customers to newer generation gear and the higher margin items. Not everyone is buying into the results though as some of the analysts cited in a research note we received yesterday raised their price target on the company's shares but not their actual estimates for operating results. We thought it strange, especially in an industry where you almost have to justify share price increases based on some sort of new value being created, but maybe with the current market it is just fine to adjust the P/E on a company's valuation because investors find them pleasing and simply reissue your latest report. With not everyone sold on this turnaround, we would give it some time before moving in, especially after the shares rose over 17% on the news yesterday.
Disclosure: I have no positions in any stocks mentioned, and no plans to initiate any positions within the next 72 hours. I wrote this article myself, and it expresses my own opinions. I am not receiving compensation for it (other than from Seeking Alpha). I have no business relationship with any company whose stock is mentioned in this article.