BlackBerry's (NASDAQ:BBRY) innovation does not end with BB Z10 and BB Q10. According to the report from Engadget, BlackBerry has applied for a patent on a dual-screen phone concept that hasn't gone further than a filing. This new concept could recognize touch gestures that span both displays while possibly running separate apps on each screen. Although it may just be an idea, it shows BlackBerry is still innovating hard and combating with other smartphone providers.
According to the latest data ending in January, 2013, Google's (GOOG) Android ranked as the top smartphone platform with 52.3% market share, while Apple's (NASDAQ:AAPL) share increased 3.5 percentage points to 37.8%, compared with the end of October, 2012. BlackBerry ranked third with 5.9% share, followed by Microsoft (NASDAQ:MSFT) (3.1%) and Symbian (0.5 %), as seen from the chart below.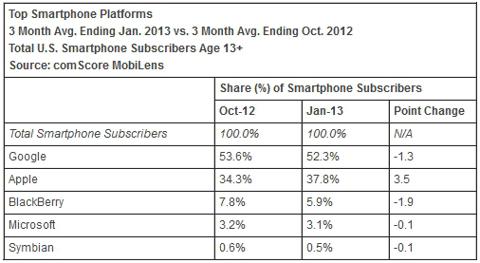 Source: comScore MobiLens
Based on the numbers, the only one gaining from October, 2012 to January, 2013 is Apple. However, AAPL's share price had been declining since September, 2012. BlackBerry, however, is rebounding from its record low in September, 2012. With BB10's launch in January 30, 2013, the trend could start to change for top smartphone platforms. Nokia's (NYSE:NOK) windows phones are also generating some positive highlights. It would be interesting to see how February and March numbers change for the industry.
A Lot of Analysts' Calls
In the past three months, BBRY had received five upgrades and nine downgrades. Tables will be provided below to show all the upgrades/downgrades with details.
| | | | |
| --- | --- | --- | --- |
| Upgrades | Firm | Rating | Price Target |
| March 7, 2013 | Jefferies | buy | $19.50 |
| February 7, 2013 | Wells Fargo | To outperform from market perform | To $19.50 from $12.00 |
| February 4, 2013 | Bernstein | To outperform from market perform | $22 |
| January 22, 2013 | Scotia Capital | To outperform from sector perform | N/A |
| January 7, 2013 | Paradigm | To buy from hold | $14.50 |
Sources: StreetInsider.com
For the upgrade side, the last analyst's comment was from Jefferies' analyst Peter Misek on March 7, 2013. The analyst said his checks at UK stores show no excess inventory for the Z10 and commented, "We physically checked six stores in London and Edinburgh on our recent marketing trip for signs of excess inventory or wavering Z10 demand. We found neither." As reported, "The analyst said all stores showed only a few devices in stock and sell-through appeared fine. This was consistent with previous checks in the UK and Canada. Checks with store managers indicate they have not heard of too much inventory; instead they noted two stores in their network that were sold out. On price cuts, this was deemed as standard practice."
| | | | |
| --- | --- | --- | --- |
| Downgrades | Firm | Rating | Price Target |
| March 5, 2013 | BMO Capital | underperform | $9 |
| February 22, 2013 | MKM Partners | To sell from neutral | To $10 from $12 |
| January 31, 2013 | Evercore Partners | To underweight from equal weight | N/A |
| January 31, 2013 | Credit Suisse | To hold from buy | N/A |
| January 23, 2013 | Standpoint Research | To hold from buy | N/A |
| December 21, 2012 | National Bank | To underperform from sector perform | N/A |
| December 21, 2012 | CLSA | To sell from underperform | N/A |
| December 20, 2013 | Hudson Square | To hold from buy | N/A |
| December 3, 2012 | Canaccord Genuity | To sell from hold | $9 |
Sources: StreetInsider.com
For the downgrade side, last comment was from Tim Long at BMO Capital on March 5, 2013. Long called the debut of BB10 "mediocre at best" and he is concerned about the U.S. launch in March. Long thinks about 275,000 Z10 units were sold since launch, a far cry from the one to two million units expected by analysts. Long sees sales of just one million Z10 units in the quarter, ratcheting that up to seven million in the following fiscal year. Long also thinks BB10 isn't necessarily attracting new customers. He believes that most of the initial adoptions will be made from current BlackBerry users. Long stated, "Even with hardware that can compete with Apple iOS and Google Android platforms, we believe that the ecosystem is still lacking." Lastly, as quoted from the report, "Long is concerned over the dip in subscriber revenue. BlackBerry needs special equipment for data encryption and to run services like BlackBerry Messenger. While BlackBerry used to get a certain fee from carriers for each user, the new structure BlackBerry plans to implement will clip gross margins, which previously sat at about 80 percent."
Fundamentally, there are a few positive factors for BBRY:
BBRY has a total cash of $2.73B with zero total debt.
BBRY generates an operating cash flow of $3.15B with a levered free cash flow of $758.62M.
BBRY at the current price of $13.22 is below its book value of $18.15 per share.
Bottom Line
BBRY is not for conservative investors. With such diverging calls from multiple analysts, understanding analysts' calls and choosing which side to be on remains a tough challenge. For long-term investors, it will be safer to establish positions after analyzing the latest February/March sales numbers. Until then, BBRY remains a traders' heaven and analysts' battlefield. The author intends to stay on the side-line until seeing further sales reports.
Note: All numbers are quoted from the closing of March 7, 2013. Investors and traders are recommended to do their own due diligence and research before making any trading/investing decisions.
Disclosure: I have no positions in any stocks mentioned, and no plans to initiate any positions within the next 72 hours. I wrote this article myself, and it expresses my own opinions. I am not receiving compensation for it (other than from Seeking Alpha). I have no business relationship with any company whose stock is mentioned in this article.
Additional disclosure: May initiate a long position in NOK and MSFT