I have been spending some time looking at potential bargains in Chinese ADRs, and while researching Baidu (NASDAQ:BIDU) I kept coming across comments from Qihoo (NYSE:QIHU) about how it is garnering market share from BIDU and how it will continue to do so. This, if true, should clearly be cause for concern for BIDU. In looking at the chart of BIDU, it's clear that people are assuming the worst (although the fear mongerers were all over Google (NASDAQ:GOOG) back in the summers of 2010, 2011, and 2012 and we see how well that panned out) as it is stuck below $100 and has been in a downtrend for the past 20 months. (As a side note, the stock does appear to potentially be putting in a double bottom around $85 to $90, and the weekly momentum readings are suggesting a bottom is very close. And the China search market is still a very long way from reaching maturity.) The fears are that BIDU is losing market share and that mobile search is harder to monetize, both of which are reasons why BIDU is trading at a very low P/E and PEG.
With this in mind, I decided to dig into the QIHU story more to see if the fears of market share loss were true, and to see if there was a possible investment opportunity with QIHU. I didn't get very far before coming to the conclusion that I really have no level of confidence in the integrity of its management team and, quite frankly, I would highly recommend steering clear of this company.
First and foremost are the company's claims about its share of the search market, since this is what has the market so concerned about BIDU and enamored of QIHU. QIHU, as most people are aware, switched its business model from directing traffic to Google China and other search engines through its Qihoo browser to generating search traffic directly from its own in-house search engine, launched in August 2012. Immediately thereafter, Qihoo was claiming that it had 10% market share and that it was taking that market share from BIDU. At first blush it appears to be quite a feat, and it might lure investors into believing that it is poised to dethrone BIDU. Investors may be left in awe, wondering how it was that it could grab such a large percentage of the market immediately when other companies, like Sohu (NASDAQ:SOHU) and NetEase (NASDAQ:NTES), have been around for years and have much smaller market shares.
While it may be true that Qihoo's new search engine has this market share, I think it is incredibly deceiving to imply to investors that it simply gobbled up this market share from BIDU without acknowledging its share of indirect search that it had previously. Through its own browser before the launch of its search engine, QIHU was generating approximately 15% of the entire search market. That is, it was directing search traffic to China Google, BIDU, and a variety of other search engines directly from its own browser and that search traffic made up about 15% of the overall market. Here's how the 15% indirect market share is calculated:
Click to enlarge image.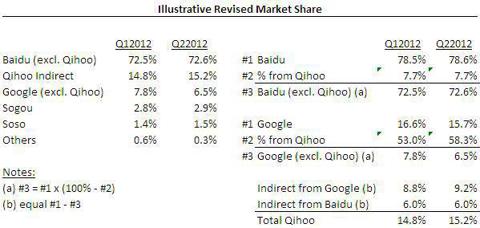 Source: Michael Fu (here)
While it may be true that QIHU has a double-digit share of search traffic, it is certainly not a new player in this market. Additionally, in assessing market shares I think the better metric is search revenue -- and more specifically, revenue per search.
As we have seen play out in the U.S. search market, the dominant leader garners the majority of ad budgets. The reason being most advertisers gravitate to a search engine that the majority of users are using. A perfect example is Microsoft's (NASDAQ:MSFT) launch of its search product Bing. Bing's share of search traffic initially grew fairly rapidly, yet MSFT has continued to lose a lot of money in its online division primarily because it has spent so much promoting Bing and the revenue per search severely lags Google. Here are the revenues and loss figures for MSFT's online division in fiscal Q2 from the last four years:
Fiscal Q2 2010
Revenue: $579 million
Loss: $$463 million
Fiscal Q2 2011
Revenue: $691 million
Loss: $543 million
Fiscal Q2 2012
Revenue: $784 million
Loss: $459 million
Fiscal Q2 2013
Revenue: $869 million
Loss: $283 million
While revenues have grown each year, losses continue to rack up and its share of the search market, after initially growing, has flat-lined. Most likely, revenues grew because the overall market grew.
Garnering market share initially seems to be much easier than actually maintaining it. The New York Times ran an interesting article on QIHU in November 2012, and in this article it quoted Wang Xing as follows:
'These days, with such an enormous Internet population in China, it's fairly easy to get started, get some traction, and even get some revenue,' said Wang Xing, a co-founder of the site that became social-networking company Renren Inc. and chief executive of group buying site Meituan. 'But it's much more difficult to get sustainable and scalable profit, and especially difficult to build a platform-type business that may challenge Tencent or other incumbents.'
A perfect example of this is a related field is Sina's (NASDAQ:SINA) Weibo, a microblog service. After it launched it quickly gained popularity, yet two years after the launch Weibo's revenues are still not significant for SINA. SINA continues to lose money on Weibo.
While I can understand why QIHU would want to tout its accomplishments, as David Wolf of Wolf Group Asia states about CEO Zhou Hongyi, "Never discount how Zhou Hongyi has learned to use a professed enmity with an industry leader to bring attention to himself and to his enterprise. It's essentially combat as a PR stunt."
But again, QIHU isn't exactly a new entrant into this field and I think it is disingenuous to imply that it has captured over 10% of the market without first acknowledging its share of indirect search previously. And using MSFT and even SINA as examples, the road to monetizing market share is extremely difficult when you are a distant second in terms of market share. While touting its market share isn't a huge red flag, I do think there is a level of dishonesty that makes my antennae go up. What I find more disturbing about QIHU, though, is that it has a history of questionable ethics.
In 2006, QIHU launched antivirus software that would allow users to identify toolbars they downloaded as malware and uninstall them. Not such a bad thing, right? The only problem is QIHU was making these very same toolbars for their own browser, which people would download and then pay QIHU to have them uninstalled. Both Yahoo (YHOO) China and BIDU fought QIHU in court in 2007 over this practice and won.
To top it off, over the past two months QIHU has had its apps removed from the Apple (NASDAQ:AAPL) iTunes store for violating its terms of service, and has had an official warning handed down by the State Administration for Industry and Commerce (SAIC) in China for unfair competition, again with its anti-virus software embedded in its Internet browsers. Keep in mind that the company's apps were removed from iTunes in early 2012 as well.
In regard to the SAIC warning, the following comments were made about QIHU's unfair practices:
Making uninstalling the anti-virus software difficult.
[Faking] incompatibility to prevent the installation of competitors' software.
Giving users of non-Qihoo browsers security warnings suggesting their browsers are unsafe.
Using default settings to trick users into installing the 360 Browser along with Qihoo's security software.
Using forced upgrades to change users' browser and homepage preferences.
Tricking users into thinking the 360 Browser download is an official patch from Microsoft.
According to TechinAsia:
That last one is a particularly nasty trick Qihoo pulled this past August. Through its '360 Defender' security software, it send users what claimed to be a Microsoft Internet Explorer update patch titled KB360018 that professed to fix 'an extremely dangerous security leak.' Users who accepted the patch were then forced to install Qihoo's 360 Browser.
Conclusion: Avoid QIHU
While none of these actions alone are enough to call QIHU a fraud, when taken as a whole in assessing management credibility and integrity, I have zero confidence in QIHU as an investment. I also find it very odd that GOOG would partner with QIHU given how it took the higher road in its stance on refusing to sensor results in China, but considering how poorly it has fared against BIDU I can understand why it would want to support a smaller rival.
While QIHU may very well go on to be a good investment, I need to have some level of comfort that management is credible. Additionally, when reading QIHU's comments about how it will continue to grab market share from BIDU and taking into account its questionable business practices in the past, it calls into question any rumors of BIDU losing market share and makes me believe that current concerns about BIDU may prove to be unfounded. And much like GOOG in the past three summers, I think this could ultimately be an attractive entry point in BIDU.
So while I went into this contemplating a position in QIHU, I came away with a small position in BIDU because it is inexpensive relative to its earnings and growth, it has a business model with a very wide moat, and it operates in a compelling long-term secular growth market. Additionally, BIDU's revenue share of the search market grew six percentage points in the last quarter, according to Analysys International, based in Beijing. And to me that is a much more important figure to focus on than overall market share because ad budgets are what drives profitability.
Disclosure: I am long BIDU. (I only have a small stake in BIDU after researching QIHU and coming away with a better level of comfort about the concerns regarding BIDU's market share.) I wrote this article myself, and it expresses my own opinions. I am not receiving compensation for it (other than from Seeking Alpha). I have no business relationship with any company whose stock is mentioned in this article.