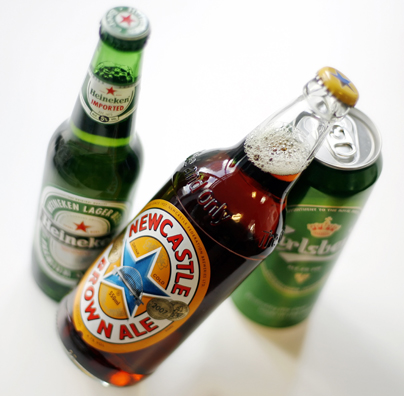 Bigger has not necessarily meant better in terms of share price performance for the global brewing industry.
Equity returns have demonstrated that they are not as immune as in previous downturns, partly as a result of margin pressure from higher cost of goods sold. More recently, however, uncertainty related to the value created by transactions and concerns about more deals to come have weighed on beer stocks.
"Beer is increasingly a sport for only the big boys," said Deutsche Bank beverage analyst Marc Greenberg, who noted that there is a fear of being left out evident in the industry.
So as brewers get bigger, the market has hesitated to award them bigger share prices until it sees a follow-through in terms of execution. The sector's weighted average share price performance was -38% year-over-year, Mr. Greenberg noted in a March 11 note.
While much of the scale benefit in brewing comes from lower cost as a permanent driver of value, companies with unfavourable hedging and long-term supply contracts have seen limited gains from lower spot commodity prices.
"Moving together on higher pricing is good, except in a year when there is likely to be clear volume consequence from pressured global consumers," the analyst said.
As most companies are suggesting that the category is resilient in difficult times, they are also waiting to make optimistic volume growth projections.
Mr. Greenberg expects M&A activity will be more subdued in the coming year, after large-scale deals in 2008 like the Anheuser-Busch/Inbev (OTCPK:AHBIF) combination and the acquisition of Scottish & Newcastle by Heineken (HINKY.PK) and Carlsberg (OTC:CGBWF). Of course, money is harder to access these days.
The analyst suggested that this is favourable for investors who are looking for companies to achieve promised synergies, while shoring up balance sheets and beginning to pay out more cash.
Among the 14 brewing companies Deutsche Bank covers, five are Buys: Ambev, Heineken, Kirin Holdings (OTCPK:KNBWF), Lion Nathan (OTC:LNNTF) and Molson Coors Brewing (NYSE:TAP). The rest are rated Hold.
Photo: A bottle of Newcastle Brown Ale, made by British brewery Scottish and Newcastle, is pictured against the backdrop of Heineken and Carlsberg, made by Danish and Dutch brewers Carlesberg and Heineken (Leon Neal/AFP/Getty Images)