Cisco Systems (NASDAQ:CSCO) is a $115.8 billion large-cap producer of networking, switching, server and other internet protocol products. Although the company was a high-flying stock in the 1990s until the tech bubble burst, it has transformed into a modest growth stock.
On the bright side, Cisco has implemented a dividend and currently yields 2.7%. The company has increased the annual dividend payment each year since beginning its dividend in 2011.
The company reported a 5% revenue increase and a 44% earnings increase for Q2 2013. Cisco has a plan to achieve profitable growth over the long-term by maintaining focus on operational excellence and portfolio management. Cisco is expected to grow earnings annually at 8.4% for the next five years. This is slightly below the market's expected annual growth of 8.92% over the same period. This shows how Cisco has evolved into a mature dividend paying company.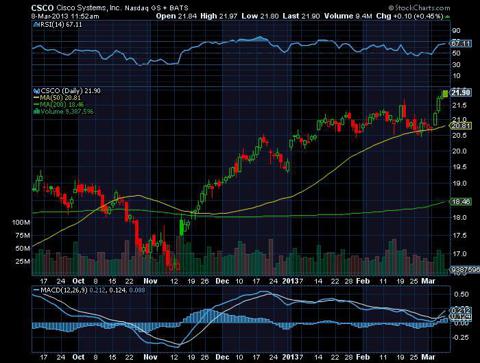 Cisco is committed to capitalize on market transitions in the form of increased virtualization, the cloud, video, collaboration and networked mobility technologies. This also includes the transition from Internet Protocol Version 4 to Version 6 and the Internet of Everything (the rapidly evolving enterprise data center market transitioning into virtualization/cloud as an example). The company plans to capitalize on the development of cloud-based offerings that will enable customers to develop and implement their own cloud-based solutions.
Another market transition that Cisco is focused on is known as BYOD (bring your own device). This refers to the IT usage of employees, customers and students bringing their own laptops, smartphones, tablets, etc. for performing work instead of using the facility's devices. Cisco provides the architecture, equipment, and services to support a broadband-quality business network and consumer web applications. Cisco provides a unified security policy, simplified operations and network management structure that lowers network operating costs, and provides a quality user experience across the organization with the use of any device.
Cisco is also focused on the use of video, collaboration and networked mobility technologies, which the company expects to drive productivity and growth in network loads. The company plans on simplifying and expanding the creation and distribution and use of end-to-end video solutions for businesses and consumers.
Cisco also has its eye on the move toward more programmable, flexible and virtual networks. This transition moves away from a hardware-centered approach for networking to a virtualized network environment that can enable flexible, application-driven customization of network infrastructures.
The Cisco Open Network Environment, or Cisco ONE, is an initiative by the company to provide an additional set of network programmability capabilities. This would include: overlay network technology, application programming interfaces (APIs), and network operation tools. Cisco intends on using internal innovation, partner for co-development, and make strategic investments to lead this new evolution.
Cisco looks undervalued with a forward PE ratio of 10.6 and a price to book ratio of 2.1. The trailing PE ratio of 12.6 is lower than the overall market's PE of 14. The company has a twelve-month operating cash flow of $11.9 billion and free cash flow of $10.7 billion.
In addition to the normal risks that are associated with economic downturns, it is important to note that Cisco operates in a highly competitive industry. The technology used in the industry is constantly changing, so Cisco will have to stay on top of its game to continue to grow revenue and earnings. The company is facing price-focused competition from Asia, particularly from China. The barriers to entry are relatively low, so new competitors are regularly formed.
Provided that Cisco continues to evolve with the industry and provides the products and services that the world demands, it should prosper for the future. Having a vision for future technologies and solutions will be paramount for the company's continued growth. Strategic acquisitions are another tool that the company can use to continue its growth. Overall, with its attractive valuation, dividend payments, and steady growth, Cisco should rise approximately in line with the market over the long-term.
Disclosure: I have no positions in any stocks mentioned, and no plans to initiate any positions within the next 72 hours. I wrote this article myself, and it expresses my own opinions. I am not receiving compensation for it (other than from Seeking Alpha). I have no business relationship with any company whose stock is mentioned in this article.