Caterpillar Inc. (NYSE:CAT) is the world's largest manufacturer of construction and mining equipment, diesel and natural gas engines, industrial gas turbines and diesel-electric locomotives. Its products can be found at practically every construction site worldwide. The company was formed in 1925 and has paid a dividend every year. That's 88 years of consecutive dividend payments, which gives me a lot of confidence in this stock.
So, for this article, I will be judging CAT on its dividend, but also on its growth in revenue, net income, assets and liabilities, and its valuation.
Financial information for CAT can be found here. The graphs in this article were all made by me, using Microsoft Excel.
Revenue, net income and profit margin are going up year after year
CAT had a difficult year in 2009, when its revenue dropped from $51.3 billion to $32.4 billion. Since then however, it has been able to increase revenue by over 100%, reaching $65.9 billion in 2012.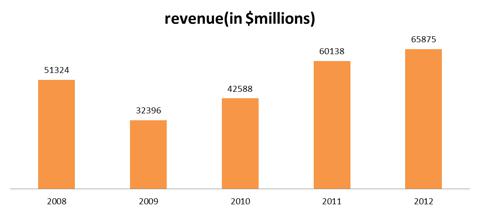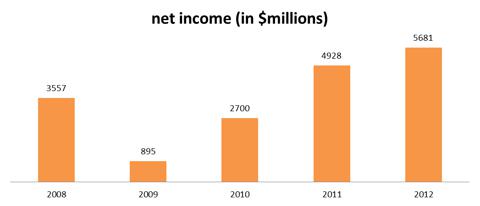 The 2009 drop in revenue also drastically lowered CAT's net income. This has also bounced back to the 2008 level and far beyond, reaching $5.7 billion in 2012. CAT has been able to lower expenses as a percentage of revenue, which has caused the profit margin (which is net income divided by revenues), to go from 6.9% in 2008 to 8.6% in 2012.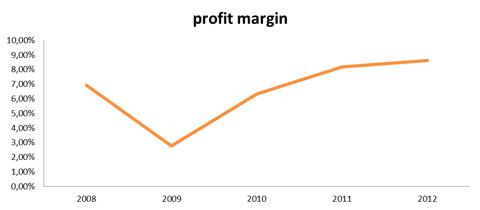 Caterpillar is in great financial health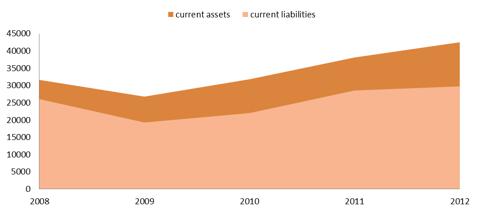 Caterpillar's assets have grown faster than its liabilities, which has increased its current ratio (which is divined as current assets divided by current liabilities). This gives me more confidence in its future.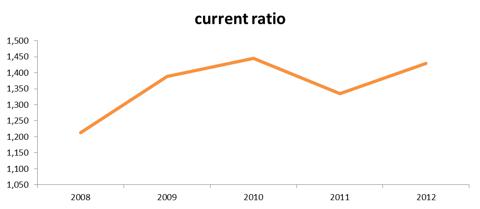 Dividend: Growing, but definitely sustainable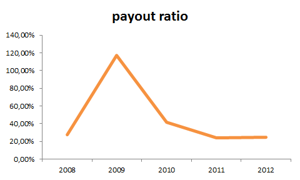 The 2009 drop in earnings really raised CAT's payout ratio, but it has declined back to more appropriate levels since then. Overall, CAT tends to keep its payout ratio between 25 and 40%, which means a large portion of its earnings are retained for future investments.
CAT has a large pile of cash (5.5 billion dollars in 2012), which ensures its ability to pay out dividends and make investments. The graph below shows us that CAT has more than $8 per share in cash. It also illustrates the rise in the dividend, from $1.56 in 2008, to $2.08 in 2012. This is an annual growth rate of 17.8%.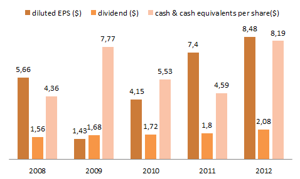 Valuation and conclusion
So, we now know CAT is a great company, increasing its dividends at an amazing rate and saving up piles of cash. But is it a good stock to own? To find out, I will compare CAT's current price-to-earnings ratio with its 10-year average, and its industry average.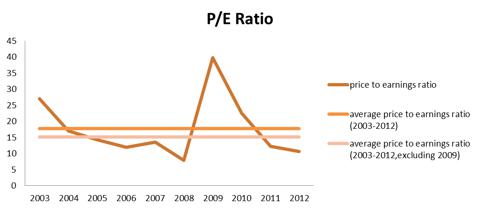 The graph above shows CAT's current P/E ratio to be far below its 10-year average. Its 2009 average P/E was very high due to the drop in income, so I have also added a line excluding this extreme year. Even if we don't take the 2009 P/E ratio into account, CAT is still trading at a huge discount to its historical average.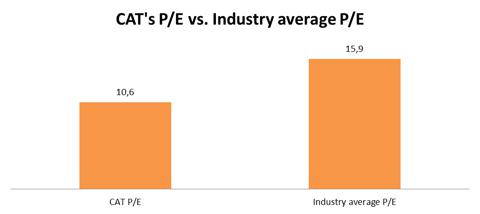 CAT is also trading far below the industry average P/E of 15.9. I believe that, because of its strong growth, CAT should be valued a lot higher than its current level, so I plan to add CAT to my portfolio. Even if I have to wait some time for the market to value CAT at a more reasonable level, I will be happily collecting the juicy 3+% dividends.
What's your view on CAT? Feel free to leave a comment below!
Disclosure: I have no positions in any stocks mentioned, but may initiate a long position in CAT over the next 72 hours. I wrote this article myself, and it expresses my own opinions. I am not receiving compensation for it (other than from Seeking Alpha). I have no business relationship with any company whose stock is mentioned in this article.