Shares of Intel (NASDAQ:INTC) seem to finally have some mojo back. After their descent into the low $20 range in recent sessions, the stock has found a home back above the $21 level and is pushing on $22. I believe that this is mostly due to the confidence that Intel isn't spending unreasonable amounts of capex thanks largely to the Altera (NASDAQ:ALTR) foundry deal. In this article, I go over the technical picture along with the latest and greatest fundamental drivers. Intel is starting to get exciting again, so I will be doing my best to provide the latest up-to-date coverage of Intel in fairly frequent releases. If you own Intel or are merely interested in Intel, this series of articles is aimed right at you.
The Technical Picture: Some Roadblocks Cleared, Many Remain
No matter what anybody tells you, the chart doesn't lie when it comes to measuring the Street's reactions to news as well as its expectations. The stock market is driven by psychology, which drives supply/demand. The chart is the single best way to measure what that picture looks like today. My belief is that both technicals and fundamentals are key to getting the "best deal" on quality merchandise.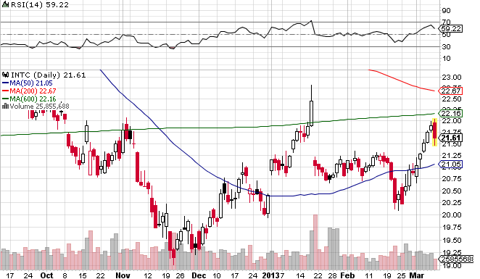 When taking a look at the chart of a stock, the key things to look at are the various moving averages. A simple moving average is calculated by taking the closing prices of the stock over the number of days, adding them up, and then dividing them by the number of days. So if I wanted the 10 day moving average, I'd add up the closing prices for the stock over the last 10 days, then divide them by 10. Things can get more sophisticated with exponential moving averages, weighted moving averages, and so on. However, for longer-term investors, we're just looking for the broad trends to guide decent entry points, so we'll stick to longer-term simple moving averages. What do we see here?
Stock Above 50 Day Moving Average (+)
The stock finally crossed above its 50-day moving average after spending some time languishing under it. Typically, being under the 50-day moving average is very unhealthy and usually a signal to keep on shorting/selling. This part of the technical picture is perking up, which is encouraging.
200 DMA Moving Average Above 50 DMA (-)
It is generally considered a bullish sign when the short-term moving averages are above the long-term ones. This helps to give investors a sense of security that the stock is in an uptrend. This makes sense, right? If the average of the last 50 days is higher than that of the last 200, then clearly the stock is, on average, doing much better.
Now, Intel shares have obviously been in a funk for some time thanks to a lot of negative developments (Wall Street doesn't like the Capex spend, concerned that PC sales haven't bottomed/won't recover, skepticism about the mobile efforts, and EPS will be down Y/Y in 2013), so the 50 DMA is full of negative datapoints that need to be worked off before it can start making a real run to overtake the longer term-value.
The nice thing, though, is that the "higher" values in the >$21 range that were baked into the 200 DMA before the stock crashed will start to be replaced with successively smaller values, bringing down the 200 DMA. In addition, the values above $21.05 should help the 50 DMA be propped up. Barring a massive gap up on some real news, it will take some time for the 50 day moving average to cross the 200, but there seems to be light at the end of the tunnel.
200 DMA Above 600 DMA (+)
The 200 DMA is above the 600 DMA, which is positive, as we want our long-term averages to be below our short-term averages.
150 DMA Proving To Be Roadblock (-)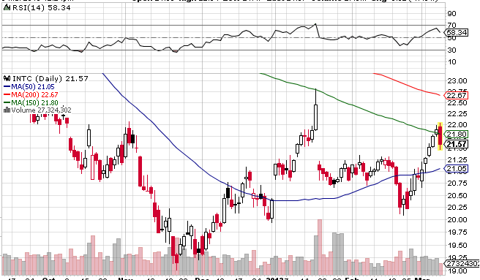 The stock was making some serious progress and had actually cleared its 150 DMA in the 3/7 session. However, during the 3/8, it seems to have been unable to stay above that level. The good news is that the 50 DMA will come up and the 150 DMA will come down over time if we stay at these levels making it easier for the 50 DMA to cross the 150 DMA, but without a major move up, this will be a slow "grind."
That's all I have on the technical picture for now. Let's talk fundamentals.
Intel Will Not Be A Foundry For Apple...
There seems to be a whole lot of "excitement" about whether an Intel/Apple (NASDAQ:AAPL) foundry deal is going to happen. I don't really know how to express this without sounding frustrated, but I'll do my best...
Intel Will Not Build Apple's A6 Chips!
People seem to forget that Intel, first and foremost, is a CPU company. While Samsung is a consumer electronics company with a semiconductor hobby, and while Taiwan Semiconductor (NYSE:TSM) is a pure play fab, Intel's main strength is that it lives, breathes, designs and manufacturers processors. If Intel were to build Apple's chips for them, rather than sell its own chips into the iPhone/iPad, then the CPU company that spends ~$10B/yr in R&D would look silly by building chips for a company that just got its first CPU design out in 2012.
Intel's goal is to leverage every single ounce of its decades of processor design experience, coupled with the world's most advanced transistors, to build chips that are better than anything that Apple can do. If Intel's 22nm Atoms don't significantly outperform Apple's designs on a performance/watt basis, I would be very, very shocked. Even today, Intel's 5-year-old, 32nm Atom core is often faster than two of Apple's home grown cores in the same power envelope.
I realize that the stock price is likely deflating in the 3/8 session on the sobering reality that this deal isn't going to happen, but long term Intel would be committing corporate suicide if it began enabling its competitors chips. Of course, management has stated repeatedly that it will not do so, so I'm not too worried.
Goldman Sachs Maintains $16 PT
Goldman Sachs' James Covello maintained his $16 PT on the stock, citing a potential Apple foundry deal as negatively affecting margins. Don't worry - Intel's not stupid enough to kill its margins for an Apple foundry deal. It will simply supply all of Apple's competitors with superior chips and help to continue Apple's market share erosion in the smartphone/tablet spaces. After all, when Lenovo, ZTE, and others are dominating the China market with more power efficient, smoother phones, it'll be a lot tougher for Apple to sell its own devices in that space.
Intel doesn't need Apple's chip building business, but one day Apple may need Intel's best-in-class mobile chips.
Intel Announced Earnings Date
Interestingly, Intel announced its earnings/webcast date fairly recently for the March quarter for 4/16. Intel generally would have negatively pre-announced if this quarter went particularly badly, so the odds of a negative pre-announcement at this point are low. Now, the company could still miss the midpoint of the projections (which it did last time), and it could issue rough Q2 guidance, but the fear of a pre-announcement should be essentially gone. This should allow the stock to see some positive momentum into the upcoming earnings report.
Conclusion
The Intel story is getting interesting again, but there is still a long road ahead. Our next catalyst is the 4/16 earnings report, although a CEO succession announcement could be a wildcard. That is worth an article of its own, especially as the rumor mill heats up, but there's still plenty to sift through for the next analysis.
Disclosure: I am long INTC. I wrote this article myself, and it expresses my own opinions. I am not receiving compensation for it (other than from Seeking Alpha). I have no business relationship with any company whose stock is mentioned in this article.