Many investors are concerned about the risk of increased inflation in light of the Federal Reserve's unprecedented balance sheet expansion from $900 billion to $3.1 trillion since 2008. This concern is warranted and begs the question how to invest to profit from inflation and protect one's purchasing power. The most common answers are to invest in commodities such as precious metals, oil, gasoline, agriculture, etc., or Treasury Inflation Protected Securities (TIPS), and while these may be good answers are there any others? I'm glad you asked, because there's one you've probably never considered. Senior secured floating rate loans (a.k.a. "Bank Loans") have historically offered a relatively high correlation with inflation along with attractive returns. For example, in the 10-year period ended 9/30/2012 the Morningstar Bank Loan category had a 0.37 correlation with inflation while the DJ-UBS Commodity Index only provided a 0.24 correlation. Interestingly, U.S. Treasury Inflation Protected Securities (OTCPK:TIPS), typically purchased by investors to hedge inflation risks, only provided a 0.07 correlation with inflation.*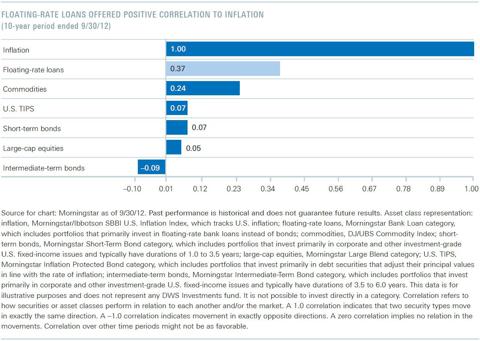 Senior secured floating rate loans offer a couple more advantages over the two more popular inflation hedges, commodities and TIPS. First, loan returns are historically less volatile than commodity returns and consequently investors have achieved better risk-adjusted performance with a 10-year Sharpe Ratio of 0.52 for the former versus 0.19 for the latter. Second, inflation will likely be accompanied by higher interest rates, which makes interest rate risk an important consideration. If interest rates rise, bond prices fall, and bond account values can lose significant value. Interest rate risk, or sensitivity to changes in interest rates, is measured by what's called duration. One potential advantage floating rate loans possess over bonds is that their interest rates adjust every 30 to 90 days consequently increasing if market rates rise. This feature keeps their duration very low, only about 0.2. By contrast, the duration of the Barclays U.S. TIPS Index is about 8.7, and therefore far more likely to sustain losses when interest rates rise.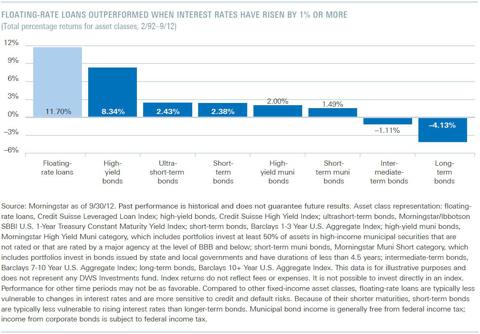 So in summary, if inflation flares up, you can get exposure to profits with less risk by investing in senior secured floating rate loans rather than commodities and TIPS. However, floating rate loans have their own particular risks that investors should discuss at length with their financial advisor. Of course, prudent portfolio management involves diversification, and in that pursuit senior secured loans should complement your other investments rather than be your only holding.
Disclosure: I have no positions in any stocks mentioned, and no plans to initiate any positions within the next 72 hours. I wrote this article myself, and it expresses my own opinions. I am not receiving compensation for it. I have no business relationship with any company whose stock is mentioned in this article.
Disclaimer: The opinions voiced in this material are for general information only and are not intended to provide specific advice or recommendations for any individual. To determine which investment(s) may be appropriate for you, consult your financial advisor prior to investing. All performance referenced is historical and is no guarantee of future results. All indices are unmanaged and may not be invested into directly. Bank loans are loans issued by below investment-grade companies for short-term funding purposes with higher yield than short-term debt and involve risk.