Through many discussions with various Seeking Alpha members on Part 1, there is clearly a sentiment that Diamond Foods (NASDAQ:DMND) has brand strength. Valuing the brands is something numerous authors have done, including me. The sentiment is clear: the market is not valuing DMND's brands. The question between some readers was the value of DMND on a discounted cash flow basis. Valuing DMND on a DCF at this current point is tough to do because of all the necessary assumptions that have to go into it.
The best way to approach this kind of 'uncertain' stock is by playing what I call the "Bookend Approach". What I mean by this is by focusing on the minimum and maximum levels of inputs for a DCF model. If a price range can show a conservative nature with the stock price trading below the low price value, the stock should be considered undervalued. The approach was the typical Bear, Base, and Bull case scenarios.
The keys to most analyses are margins and terminal values. The margin values for DMND over the last 5 years are shown below (Source: Capital IQ):

As shown, margins were decent prior to 2012. GPM (gross profit margin) declined 410 bps, and due to restructuring and various other legal costs, EBITDA Margin was dragged down. Due to these issues, NPM (net profit margin) was negative for 2012. Moving forward, these margins should rebound even though they may remain under pressure in 2013 and 2014 due to nut supply issues. Excluding 2012, the average GPM, EBITDA Margin, and NPM were +270 bps, +590 bps, and +1180 bps, respectively, higher than 2012. The best "bookends" for the method would be to use the average of 2009-2011 because of the consistency between the years, no recessionary year, and it excludes the odd-ball year of 2012.
In its Q1 conference call, CEO Driscoll highlighted that margins will have significant improvements moving forward:
The year-over-year improvement in gross margin as a percentage of sales, for instance, can be tied back, in part, to our focus on net price realization and SKU rationalization. As well, we were able to begin adjusting our Stockton cost profile to align with reduced volume… Gross margin increased to 22.7% for the first quarter of 2013 compared to 21.3% for the prior year period due to margin expansion in our snack brands. EBIT margin for the first quarter, adjusted for certain costs provided in our press release, was 8.9% of net sales as compared to 8% in the prior year period. The expansion was due to both the improvement in gross margin and the reduction in advertising this quarter compared to the prior year period.
In doing so, DMND achieved EBITDA of $79.4M. Despite walnut costs being higher due to supply issues, DMND's GPM benefited compared to FYE 2012. GPM is typically higher in Q1 over the other quarters but this could mark the turnaround for DMND. It is just another sign of the turnaround that was presented before. DMND will also be getting away from advertising as much as it did. It will rely on brand strength and awareness. By doing so, management will save on SG&A costs, further boosting EBITDA Margin back to normal. Another initiative that was mentioned above was the SKU rationalization. DMND is cutting its Emerald brand line from over 170 SKUs to about 90. This will impact sales in the coming years but help margins and thus better generate cash flow, especially as inventory will trend downwards. DMND is firming up its supply chain by cutting off the non-necessary parts to grow the rest of the body. Generating cash flow at this point is very key, especially as Secured Credit loans mature February 2015. EBIT Margin was 8.9% in Q1 2013, much improved over 2012.
My method was thus to use the bookends of the GPM and EBITDA Margin averages. I applied the averages for a 5-year model with no variations, with the belief that over these 5 years that at each scenario's level, DMND would achieve the results. I also assumed a WACC of 9.96% by adding in subjective premiums and a higher beta of 1.2 to account for the associated risks with DMND. Without adding in the subjective premiums, by the CAPM method, DMND would only have a cost of capital of 6.96%. This does not seem correct to use given the inherent risks. For terminal values, I used the EV/Revenue approach based on the last year. The average EV/Revenue value was 0.99x, with a standard deviation of 0.05x. This gives a range of 0.89x to 1.09x with 95% confidence due to the central limit theorem of normality with a large sample size. The terminal values ranged from $981M (which is what EV is about currently) to $1.24B.
Revenue was obtained using category growth, the major assumption that the five brands discussed in the previous article were roughly 86.33% of total sales given historical data (and 85% and 87.66% for the other scenarios), a retail margin of 35% (giving DMND 65% of sales, aka "net sales"), and that DMND will pay down debt with at least 75% of the FCF generated over the next 5 years. The results for this bookend method are shown below:






Interestingly enough, combining it with the corrected sum-of-the-parts valuation from the original article, produces similar results on a sum-of-the-parts basis: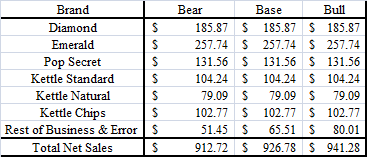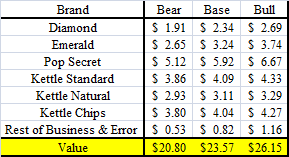 The bookend price range is shown here, with similar results using both methods:

In other words, between $20.50 to $28 is what I consider the "bookends" for where DMND should be valued at. Does it matter exactly where it will trade at within that range? No, because given the closing price of $17.56 on March 8, 2013, the bear case provides a return much greater than the cost of capital (16.8% vs. 10%). With DMND's short interest higher than most companies, if results are good enough, there could be a short squeeze. Hopefully, more insight is given on DMND's Q2 earnings call on March 11, 2013 that reiterates something similar to what is being described here. If DMND is able to generate the necessary cash flow to pay off the loan coming due, I think DMND could reinstate its dividend policy in 2016. This is because it will have a stable capital structure, enough cash flow to pay a dividend, no major debt maturity coming due, and the fact that most food manufacturers pay a dividend.
The major risks to my range include:
DMND having a secondary issue of stock. This is a situation that has not been mentioned but could be needed to finance the maturity debt. This will further dilute shareholders' interest but would create a healthier balance sheet with less debt.
Oaktree or a private firm acquiring DMND. I've said many times that DMND has value to it. With low interest rates, a PE firm could pick up DMND for potential return down the road via a LBO. The current management team has experience with LBOs. One of the best things that this company could do would be to get off of Wall Street for a few years, de-leverage, and come back with a stronger balance sheet. Despite this not being Oaktree's typical model, it provides an enticing opportunity.
DMND not generating enough cash flow to pay back the debt.
DMND sales faltering or increasing significantly.
The market's continued ignorance of the power of DMND's brands.
The margins used in the analysis not being the far-end bookends. In other words, margins going beyond the ranges given above.
Disclosure: I am long DMND. I wrote this article myself, and it expresses my own opinions. I am not receiving compensation for it (other than from Seeking Alpha). I have no business relationship with any company whose stock is mentioned in this article.