Early on in my investing career (and I'll be honest - it's still quite early), I would typically look at a list of highly shorted names, do some research on names that I had some familiarity with, and then take speculative positions ahead of upcoming catalysts. These would usually be upcoming product launches, earnings reports, and even just press events. The strategy was hectic, but at the end of the day, I ended up making pretty good money after all was said and done.
I recently took a position in BlackBerry (BBRY) on expectations of short covering ahead of, if not following, the launch of the BlackBerry Z10 in North America. In this article, I detail further my reasons for going long the stock ahead of this potential catalyst, and what the risk/reward profile looks like.
The Reasoning Behind Taking The Long View
Quite frankly, the reason I'm positioning long is almost entirely embedded in the following table: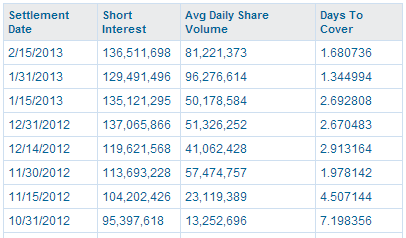 The short interest has increased by 43% over the last six months, and the current short interest represents 26% of the float! Now, this seems a little irrational in light of the following fairly recent developments and facts:
CEO Thorsten Heins went on record to note that the company is encouraged by early Z10 sales.
The Z10 will be available in the USA starting March 22nd from AT&T (NYSE:T) (this is the biggest catalyst).
The company is still well-capitalized, with $2.73B in cash on the books and no debt.
The company will be able to further built on momentum with the launch of its Q10 phone in 2Q 2013. The Z10 came first in order to build excitement and steal away share from Apple's (NASDAQ:AAPL) iPhone and Google (NASDAQ:GOOG) Android-based phones, but the Q10 will clean up and bring on board the true BlackBerry loyalists who loved the original BlackBerry.
Essentially, you have a bunch of upcoming catalysts, the company is nowhere close to insolvent, and yet 26% of the float is shorted. Best of all? Tangible book value is ~$10/share, so downside is limited to about $3/share, but upside could be in the $18+ range (BlackBerry's book value).
How To Play It
This is a medium risk/high reward trade. The implied volatility is quite high, so buying puts to hedge a long common stock position may be a little expensive. At this point, I would simply take "Vegas money" (i.e. money you can afford to lose...please read my article, "Apple: Learn From Andy Zaky's Mistake" for why you shouldn't bet the farm on a spec play) and buy the common.
Now, I would normally recommend setting a "mental stop loss" for the position and tell you to sell if things get ugly. However, ahead of these truly major catalysts, something called a bear raid usually happens. Essentially, the short sellers that need to cover drive down the price of the stock, trigger all sorts of stop losses, which cascades into a huge drop followed by pretty immediate short covering that drives the stock back up.
To play this, I recommend scaling into the position slowly. Want 500 shares? Buy them 100 at a time and on big drops. So if you go and buy your first 100 at $13, then maybe buy your next 100 at $12.5, and so on. If you can save some dry powder, wait for the "bear raid" that I mentioned and then add to your position accordingly.
Shorting Puts: Selling Expensive Insurance
Another slightly more sophisticated play would be to actually take advantage of the implied volatility and outright short puts. Here's what the put chain looks like for the March 22 expiration: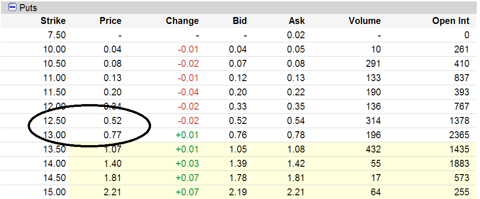 Now, I realize that many of my readers may not be totally comfortable with options; by all means, feel free to skip right on over this! However, for those of you who know how to play with fire, selling the $12.50 strike for $0.52 allows you to either pocket $0.52/share if the stock closes above $12.50 by expiration, or forces you to own the stock at $11.98 if the stock closes below $12.50. If you're bullish on the upcoming launch, then outright selling puts could be a lucrative venture, especially if you wouldn't mind owning the stock at $11.98. The $13 strike is also attractive, albeit it carries more risk.
Warning: The Street Could "Sell The News"
The tricky part about playing these catalysts is that everyone's aware of them. Just like the folks who bought Apple ahead of the iPhone 5 launch, folks trying to bet on a short squeeze here may be sorely disappointed as the buying pressure may not be there by the launch. The strategy, then, is to start selling into strength right before the launch if there is a real ramp in the stock price. Don't get greedy!
Final Note: This Is A Trade
This is, by all measures, a trade. I don't pretend to know what BlackBerry will be trading at 2 years from now, nor do I really care. The strategy outlined here is a fundamental/catalyst driven trade based on the upcoming North American BlackBerry 10 launch. Either it will drive the share price higher by triggering a squeeze (usually because analysts get excited and upgrade the stock), or it'll fizzle and could lead to losses. The risk/reward here is good, but risk is medium (not low) and reward can be high.
Disclosure: I am long BBRY. I wrote this article myself, and it expresses my own opinions. I am not receiving compensation for it (other than from Seeking Alpha). I have no business relationship with any company whose stock is mentioned in this article.