These 33 stocks are the most widely held among 6 of the highest rated equity income mutual funds, which are also owned by at least 3 of those 6 funds. Let's see if they could make a nice portfolio:
| | |
| --- | --- |
| ACN | Accenture PLC |
| ADI | Analog Devices Inc |
| AMAT | Applied Materials, Inc. |
| CB | Chubb Corp |
| COP | ConocoPhillips |
| CTL | CenturyLink Inc |
| CVX | Chevron Corp |
| EMR | Emerson Electric Co. |
| GE | General Electric Co |
| IP | International Paper Co. |
| JNJ | Johnson & Johnson |
| JPM | JPMorgan Chase & Co |
| MMC | Marsh & McLennan Companies, Inc. |
| MMM | 3M Co |
| MRK | Merck & Co Inc |
| MSFT | Microsoft Corporation |
| NTRS | Northern Trust Corporation |
| OXY | Occidental Petroleum Corporation |
| PEP | PepsiCo Inc |
| PFE | Pfizer Inc |
| PG | Procter & Gamble Co |
| PM | Philip Morris International, Inc. |
| PNC | PNC Financial Services Group Inc |
| SE | Spectra Energy Corp |
| SYY | Sysco Corporation |
| T | AT&T Inc |
| TGT | Target Corp |
| TWX | Time Warner Inc |
| UPS | United Parcel Service Inc |
| VZ | Verizon Communications Inc |
| WFC | Wells Fargo & Co |
| WM | Waste Management Inc |
| XOM | Exxon Mobil Corporation |
A reasonable definition of an equity income fund might be as follows (paraphrased bits and pieces from Investopedia):
A type of mutual fund that invests in well-established high-quality companies with a reliable history of dividend payments and growth in the dividend. The stocks are those typically favored by moderately conservative investors and/or those seeking current income, where the investment objective is a combination of generating both moderate current dividend income and moderate capital appreciation.
The 6 actively managed equity income funds selected were required to meet these simple criteria (symbols of selected funds: OIEIX, OAEIX, TWEIX, VEIPX, PRFDX, PRBLX):
"Equity Income" in the fund name
Morningstar rating of 4 or 5 stars
Morningstar analyst rating of Bronze, Silver or Gold.
We then created an equal weighted portfolio of those 6 mutual funds, and found the 50 stocks most heavily allocated in the combined underlying portfolio. We then examined those 50 stocks to see which ones were owned by at least half of the mutual funds. The 33 stocks above made the cut. Holdings as of most recently reported data.
So, we see a list of 33 stocks that 6 teams of equity income specialized researchers and portfolio managers have selected for their portfolios. That is a pretty good endorsement.
Keep in mind that those funds have large asset bases and tend toward larger companies. There may well be smaller equity income stocks of interest to individual investors that just can't accommodate the position sizes those mutual funds need. Nonetheless, it is a good group, as evidenced by this set of total return data versus the S&P 500 (all data as of February 28, 2013):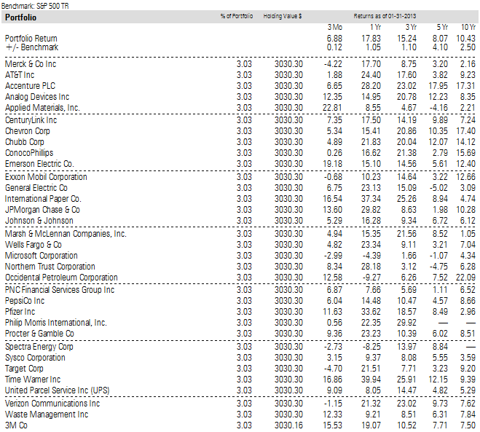 For further background, here is some 10-year data that assumes you chose these stocks 10 years ago, owned them in equal weights, and rebalanced monthly (no tax impact, so assume an IRA, 401-k, pension fund, foundation, or other tax deferred vehicle).
Note this is not a selection backtest, because we don't know what those 6 mutual funds owned 10 years ago. This just shows you how the current 33 performed had you selected them back then.
Cumulative Performance Versus the S&P 500
The group pretty much tracked the index until the 2008 crash. The group declined less and has done better since. Even though the general thought is that income stocks will lag in an up market, these seem to have kept pace in the up years before 2008, provided some downside protection, and did well in the subsequent years of fear and uncertainty, as well as yield seeking.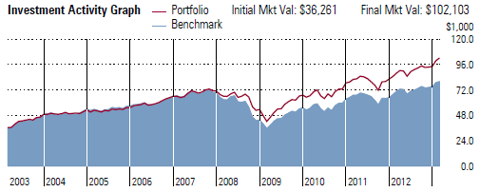 Quarter-by-Quarter Return Difference Versus the S&P 500
This graph shows this portfolio picked up most of its performance advantage in the depth of crisis and maintained the lead thereafter.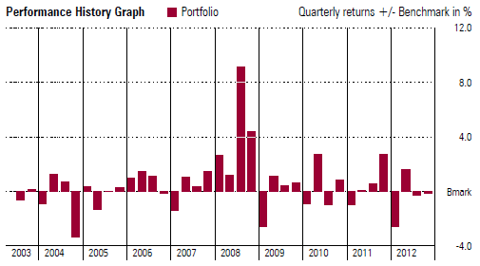 Alpha and Beta
The portfolio generated alpha over short and long periods, and is slightly less volatile than the S&P 500.

Best Up and Worst Down Periods, and Trailing Yield
The yield is attractive for dividend oriented investors at 3.16%, and the worst periods are less severe than for the S&P 500. It yields more than the S&P 500 and experienced less severe drawdowns. The second table image is for the S&P 500.


Sector Allocation Versus S&P 500
The portfolio has an allocation to defensive sectors similar to the S&P 500, but has lower cyclical sectors exposure, and more exposure to those sectors that are in between cyclical and defensive stocks (called "sensitive" in this table).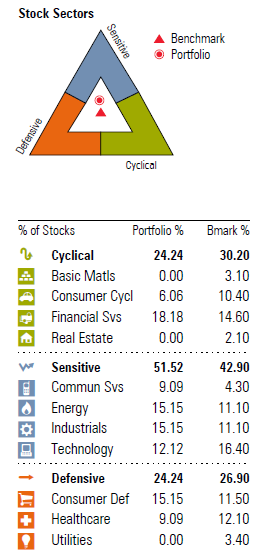 Valuation and Operating Data
The portfolio has higher valuation multiples than the S&P 500, lower operating ratios, and about the same leverage, based on the attributes in this table.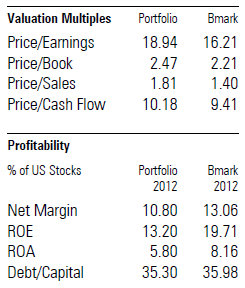 This portfolio represents the "consensus" selection of those top rated equity income fund research and portfolio management teams. As such, these stocks deserve a second look (except for CTL which for sure is a clunker, having just cut its dividend -- it is probably eliminated from those portfolios by now).
Disclosure: QVM has positions in COP, CVX, JNJ, MSFT, PEP, PM, T, VZ and WFC pfd as of the creation date of this article (March 9, 2013). We certify that except as cited herein, this is our work product. We received no compensation or other inducement from any party to produce this article, but are compensated retroactively by Seeking Alpha based on readership of this specific article.
General Disclaimer: This article provides opinions and information, but does not contain recommendations or personal investment advice to any specific person for any particular purpose. Do your own research or obtain suitable personal advice. You are responsible for your own investment decisions. This article is presented subject to our full disclaimer found on the QVM site available here.