Weekly Outlook: The market had yet another solid week on the back of better than expected employment data and a continued bullish move off of the Fed testimony from Ben Bernanke that he was not taking his foot off the pedal of quantitative easing. More funding coming into the market from the Fed will continue to bolster stocks. The market continues to ignore some important issues like sequestration, Italian election issues, and a rising dollar. The market got very solid employment data this past week, which will definitely help a move forward for this coming week. On top of more reaction from employment data, a healthy slate of economic data, and attention to some potential issues like sequester, dollar strength, and issues in Europe that have been ignored.
Economic data will be the key to the market this week with important reports like Retail Sales, CPI/PPI, Industrial Production, and Michigan Consumer Sentiment. The main data starts on Wednesday with Retail Sales and Business Inventories. Retail Sales are expected to come in at a 0.5% rise, outpacing the 0.1% rise last month. This report will be key to the market as its one of the biggest data points of the week. A weak number here will definitely hurt the market.
Thursday, the market will be reacting to Initial Jobless Claims and PPI. Employment data continues to be strong, which is very positive for the market. Finally, we have Empire Manufacturing, CPI, Industrial Production, and Michigan Consumer Sentiment report on Friday. The two industrial reports will be key as industrial production was down 0.1% last month. Expectations are for it to rise 0.4% year/year. Consumer Sentiment is also key as it will be another look at consumer sentiment in the wake of sequestration fears.
Outside of the USA, Europe and Asia will continue to be important. Italian elections are still in an impasse, and the lack of stability there will start to lead to higher bond yields to dangerous levels. Further, on Friday, Fitch cut the rating of Italy for these reasons. We believe risk continues to grow in Italy, and it will start to be an issue for the market the longer the impasse continues. Besides that, on Monday, the Bank of Japan will likely vote on the Bank of Japan governor nominations. Tuesday, Great Britain will release its February GDP. Finally, we will get ECB's monthly report on Friday. The European and Asian markets are quiet this week, which may draw attention to issues like Italian election and recent Chinese issues with properties.
There are some interesting retail earnings to watch this coming week including Costco (NASDAQ:COST), Dick's Sporting Goods (NYSE:DKS), Urban Outfitters (NASDAQ:URBN), and Ulta Salon & Cosmetics (NASDAQ:ULTA). While none of the reports alone can move the market tremendously, it will be interesting to see how brick and mortar retailers are seeing consumer spending in 2013 thus far, as results have been mixed.
The Federal Reserve was crucial to the market moving higher last week as investors/traders/banks continue to buy equities with the Fed not taking their foot off the pedal with QE. That continuation will continue moving forward, but the focus will not be on the Fed this week. The Fed has no major announcements this week except for the second round of the stress test on Thursday, which will be a key report for financial institutions that want to increase dividends or share buybacks.
So, where are we headed this week?
The market looks like it could be headed for some correcting. After several great weeks, we have a limited amount of news / data to start the week, and while we are coming off great employment data, the market needs to price in some fears over Italy and sequestration. Issues are there in the market, and the Fed and employment strength has masked those issues. We believe that until Retail Sales on Wednesday, the market may be toppy. From there, data and developments in the Fed's stress test will be key to the end of the market.
Stocks To Trade:
The four stocks we are watching this week are longs in JPMorgan (NYSE:JPM) and Cisco (NASDAQ:CSCO) and shorts in PowerShares Gold (NYSEARCA:GLD) and Foot Locker (NYSE:FL).
After last week's stress test, JPM is looking very solid. The company passed the stress test given by the Fed, and over the weekend, it has been announced that JPM has asked for share buybacks that will total about $7.5B. That buyback will be a positive catalyst to start this week. In the stress test, JPM reported minimum Tier 1 Common ratio at 6.3% under the worst-case scenarios.
We believe JPM looks solid, as the company appears to have a lot of strong catalysts on top of some definite value potential. Currently, JPM shares are trading at a future PE of 8.6. Price/sales is above 3, which is a bit high. That discrepancy shows that the market believes profits will come back for JPM. At the same time, though, we believe that profit increases will increase value in shares tremendously. Earnings are expected to grow around 5% this year and 6-7% in 2014. JPM has a lot of potential right now with value and current catalysts. Will it move soon though?
RBD Capital believes that this move to increase dividend and share buyback is just the beginning of this action for JP Morgan. From theflyonthewall.com:
RBC Capital believes JPMorgan will return a meaningful amount of capital as earnings normalize in 2016. The firm expects buybacks and the dividend to grow over the next three years and the potential for special dividends. Shares are Outperform rated with a $52 price target.
JPM looks great right now, and if all goes well on Thursday with the Fed, the stock should be able to take off from here. The stock has great support below it, and we like adding shares long as well as doing a bull put spread below it in case any near-term corrections happen in the market.
Trade #1: JPM, Long and Apr20, 47/45 Bull Put Spread
Buy Point/Max Gain: Over $50/15% Potential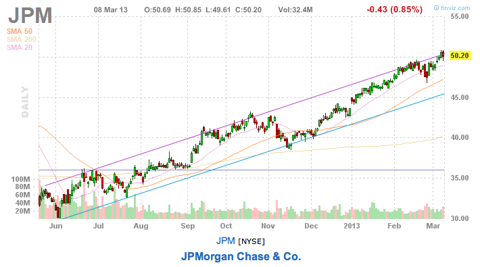 Another stock we like long is Cisco, and believe that CSCO has a lot of potential moving forward. One of the main reasons we like CSCO is that we believe its growth looks solid for the next several years, while shares are still being overly discounted. Future PE and price/sales both show good value. Future PE is just above 10 and price/sales is around 2.5. Both levels show great value.
Is there opportunity in CSCO though? Expectations are that EPS and revenue will grow 7-9% and 5-6% in each year in the next two years. Both levels show moderate growth, but some recent moves by CSCO may signal that these levels are too low. First off, we believe that the company's acquisition of IntuCell is a very positive move for Cisco. The company's acquisition will help gain a competitive edge in Voice over LTE. The next big thing in wireless is to take phone calls and stream them as Internet data over networks. It's much cheaper for wireless carriers. The problem, though, is that towers may get too crowded. What then? IntuCell has built software that would allow users to be switched from tower-to-tower without affecting the call. This news is big for CSCO, as well as other Voice to LTE firms like Ericsson (NASDAQ:ERIC) and Nokia (NYSE:NOK). CSCO can act as a brain and won't have to sell base stations that others use to curb this issue. This is a big advantage for CSCO and one of the catalysts that we like about the company. On top of that, data networking appears to be getting stronger as well.
Here were recent comments from Pacific Crest about why they also like CSCO. We believe this should entice buyers:
Mobile World Congress made us more bullish about Cisco's innovation in software (demonstrated by Quantum, incorporating the Broadhop, Cariden and Intucell acquisitions), wireless (service provider Wi- Fi and edge routing) and big bandwidth (10GE/40GE). These segments combined represent about 15% to 20% of sales and could grow faster than the Street has modeled. More impor- tantly, these innovations show that Cisco is going on the offensive […] F5's a four-year old appliance product line has been the biggest contributor to a slowdown in its product growth rate. Its appliances have been losing share, though this has been partially offset by gains in chas- sis share. We estimate the appliances segment has declined by an average of 15% over the last five quarters to drag down overall growth. But excluding appliances, we estimate F5 is on pace to grow 22% this year. Appliance refresh should reaccelerate total growth above 20% by September. As- suming the new 2K, 4K and 10K Big-IP appliances that are shipping in volume this quarter are well received (they offer 4x to 5x faster performance than Citrix and A10), we estimate that overall growth could reaccelerate back above 20% by the September quarter, which should warrant multiple expansion.
We believe that CSCO could be headed for a solid breakout over $22, and with shares as cheap as they are. The bet has limited risk.
Trade #2: CSCO, Long
Buy Point: Over $22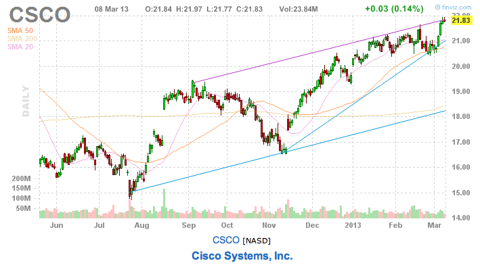 One bearish position we are looking at is in PowerShares Gold. Gold has shown recent support and a potential bottoming pattern, but we believe that the strength in the dollar over the next couple weeks is going to hurt gold. The dollar should continue to strengthen, as the U.S. market looks much stronger than most other markets right now. In the USA, we have had recent strength in employment, housing data, and comparison to risk versus other nations. Issues in Italy will start to cause weakness in the euro versus the dollar moving forward, and there are some potential risk factors in Japan and China that are flaring up with Japan attempting to get its new BOJ governor appointed, as well as China trying to curb property building that seems to be looking more like a bubble.
We believe that the dollar should strengthen as we move away from the QE conversation and focus on these external issues. As the dollar rises, gold declines in price. Further, we believe that gold loses its appeal as a safe haven asset due to strong employment levels that show good health in the American economy. Additionally, the drop in unemployment could signal the Fed pulling the plug on QE sooner than expected. That decision would also lead to a stronger dollar as well. Here are some recent comments from Commerzbank that further show why gold will remain weak:
The gold price is currently under pressure from two sides: first, ETF investors are continuing to jettison their gold holdings in grand style. The gold ETFs tracked by Bloomberg have meanwhile seen outflows on fourteen consecutive days of trading - totaling 123 tons since mid-February. Since the beginning of the year, ETF outflows total just shy of 146 tons. In all likelihood, ETF demand will thus contribute negatively to investment demand in this quarter; in recent years, investment demand has played an important part in driving up the gold price. Second, financial investors have retreated significantly from the market in recent weeks, as evidenced by the low levels of speculative net long positions. For as long as these trends continue, the gold price is hardly likely to gain any ground.
We like performing a bear call spread on gold, as we believe upside potential is very limited for gold from here.
Trade #3: GLD, 160/162, Apr20, Bear Call Spread
Max Gain: 10%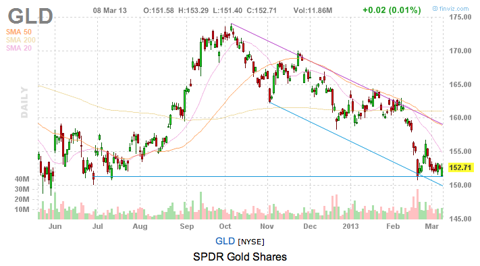 Another stock that is looking weak and will continue to remain weak is Foot Locker. The company's latest results were not as good as we had expected, and it should continue to keep a lid on share price increases. We believe that the problem for FL is the case of a stock that has gotten ahead of itself. While FL does have potential and is healthy, the company lacks a catalyst to move higher than recent highs. The company said in its earnings report that February was weaker than expected for the company and that March was only off to a high single-digit growth, which is below its double-digit 2013 expectations. Growth has been solid for the company as basketball shoes grew over 20% year/ year. Yet, recent issues of payroll tax increases and sequester cuts will hold consumer discretionaries in check. Additionally, the company wants to increase capital spending. From MarketWatch:
To continue its growth, Foot Locker said it also plans to accelerate its capital spending by about 35% to $220 million this year as it plans to add more stores in Europe and under its Kids Foot Locker chain, where fourth-quarter sales outperformed the company average.

The biggest part of the capital spending will be used to triple the number of remodels to more than 200 stores for chains including Champs and Foot Locker, the company said, adding shops that had a makeover are outperforming the traditional locations.
An increase in capital spending will also hurt the company's equity value. The long-term potential of that capital spending could be positive, but for now, the stock has lost its near-term allure. We believe that a bear call spread on the stock is extremely important for long-term investors.
Trade #4: FL, Apr20, 35/36 Bear Call Spread
Max Gain: 20%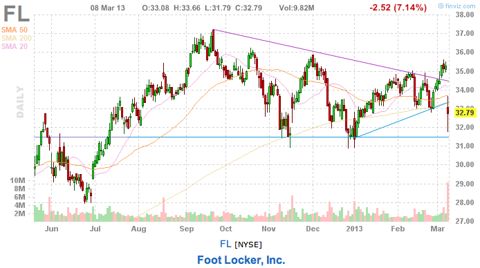 Disclosure:
I have no positions in any stocks mentioned, and no plans to initiate any positions within the next 72 hours.
Business relationship disclosure: The Oxen Group is a team of analysts. This article was written by David Ristau, one of our writers. We did not receive compensation for this article (other than from Seeking Alpha), and we have no business relationship with any company whose stock is mentioned in this article.