Where Apple is Slipping, Samsung is Stepping up
Apple's (NASDAQ:AAPL) cult following is what helps set it apart from other companies. When I say cult, I don't mean it lightly. Those that purchase Apple products seem to get infected with the Apple bug, buying any product Apple produces.
The question is if the devotion is still there though with all these competitors.
A study done on October 25, 2012 by Strategy Analytics found that customer loyalty in iPhone users declined for the first time in 2012. In 2011, a incredible 93% of iPhone users said that they would make the iPhone their next phone. In 2012, loyalty was on the decline, dropping to "only" 88%.
Although Apple seems to be losing loyalty from new competitors emerging, other companies would kill to have these numbers. A report by Barron's in August 2012 found that only 48% of Android users and 2% of BlackBerry users plan on repurchasing. Of course this was back in 2012, and it addresses the whole Android market, not a specific smartphone company.
Times are changing, and the dice seems to be rolling in Samsung's (OTC:SSNLF) favor. Brand Keys 17th annual customer loyalty engagement survey (CLEI) was released on February 5, 2013 and is the largest survey in regards of customer loyalty. Brand Keys surveys 39,000 consumers, which is enough to generalize the US population, and they do it with 95% confidence, making this survey very accurate.
This survey found that for the first time ever, Apple was dethroned by Samsung from its number one smartphone, tablet and laptop loyalty position (click here to download the study - you must put in your name and email and they email it to you immediately.)
Apple came in second for smartphone loyalty, in which it had been the leader since 2007 when the iPhone was introduced. Samsung beating Apple is a huge step for its Android run smartphones, as it now has set the precedent that the iPhone is not untouchable.
Samsung tied Apple for second in the tablet market, losing to Amazon's (NASDAQ:AMZN) Kindle. The two tech giants tied for first in laptops, which is also a big step for Samsung.
Samsung also took first place in flat screen TVs and second in printers, two markets Apple is not a leader in.
Samsung owns the Market
The news gets better for Samsung. In late January 2013, Strategy Analytics released a report stating Samsung captured 30% worldwide market share, selling a record breaking 213 million smartphones, trouncing Apple's 20% market share and 138 million in iPhone sales.
Articles such as that of a Forbes Contributor TJ McCue claim that although Apple has a smaller market share, it has a greater customer loyalty presence. TJ wrote this on January 28, 2013, which of course was 8 days before Brand Keys CLEI was released, which found Samsung, not Apple, is leading the pack in customer loyalty.
Not only has Samsung overtaken Apple but, according to Localytics survey in February of this year, it has also overtaken the Android platform as 8 of the top 10 Android phones are made by Samsung.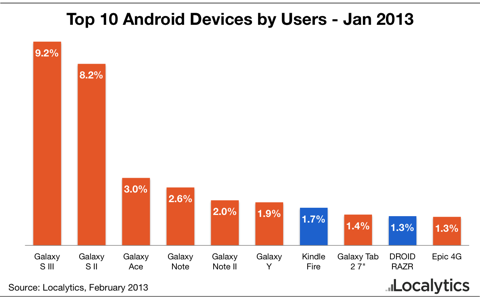 Above shows Samsung's dominance in the Android market.
Samsung's 80% smartphone market share is a testament to the pure power Samsung possesses.
While Apple's only smartphones are the iPhone models, Samsung offers a variety of different cheaper models allowing it to sell to a larger demographic across the world.
Has Apple "cool"ed off
Recent research performed by Buzz Marketing shows that the status symbol of the iPhone no longer carries the same weight for teenagers. The Samsung Galaxy seems to be a more innovative phone compared to the iPhone, and caters to younger more tech savvy users, while the iPhone is very popular among middle-aged adults (getting the same phone as your parents apparently isn't cool.)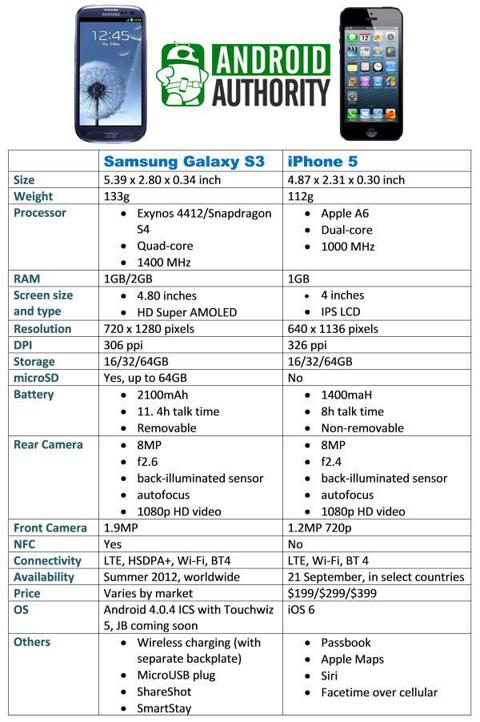 The above chart highlights the key differences between the two phones, and while the iPhone may be lighter, the S3 offers a more powerful removable (replaceable) battery, wireless charging, a higher megapixel front camera, more connectivity, and of course near field communication (NFC) tags. NFC tags can be found in over 50 Samsung, Windows and BlackBerry phones and may be the most innovative piece of technology Apple doesn't have. NFC tags allow users to share files wirelessly by simply "bumping" two NFC enabled phones together. The NFC tags are just starting to take off and could really help distance Android products from Apple products.
Conclusion
It would appear that as Samsung continues to innovate and release new concepts to the market, Apple focuses on keeping its products simple and easy to use. Samsung is capturing the ever expanding tech savvy user base, while Apple seems to be still targeting those concerned with the phone's cosmetics.
Samsung has figured out the balance between new features and ease of use, while Apple is struggling to incorporate new features (Maps, Siri) without enormous user backlash. Apple has gotten itself into a dilemma with users wanting each iPhone to be fresh with ground breaking features, while it somehow stays similar to previous models.
As Apple works to sort out its problems, Samsung just keeps rolling forward as it recently announced the unveiling of the Galaxy S4 is to take place on March 14 in New York.
If the Galaxy's past performance is any indication of its future performance, the S4 should be huge. Samsung will only steal more consumers from Apple, slowly chipping away at Apple's market share, which will not only further establish Samsung as the outright leader in the smartphone sector, but also as the biggest tech giant in the world.
Disclosure: I have no positions in any stocks mentioned, and no plans to initiate any positions within the next 72 hours. I wrote this article myself, and it expresses my own opinions. I am not receiving compensation for it (other than from Seeking Alpha). I have no business relationship with any company whose stock is mentioned in this article.