Synovus Financial Corporation (NYSE:SNV) is a financial services and bank holding company. It provides integrated financial services in Georgia, Alabama, South Carolina, Florida, and Tennessee. Its integrated financial services include commercial and retail banking, financial management, insurance, and mortgage services.
The company, through Synovus Bank, provides commercial and retail banking services. The commercial banking services include cash management, asset management, capital markets, and institutional trust services, as well as commercial, financial, and real estate loans. The retail banking services consists of accepting customary types of demand and savings deposits; mortgage, installment, and other retail loans; investment and brokerage services; safe deposit services; automated banking services; automated fund transfers; Internet based banking services; and bank credit card services, including MasterCard and Visa services.
Synovus Financial Corp. also offers various other financial services, including the portfolio management for fixed-income securities, investment banking, the execution of securities transactions as a broker/dealer, and the provision of individual investment advice on equity and other securities; trust services; mortgage services; and asset management and financial planning services.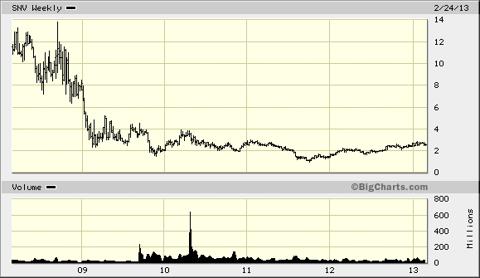 Background
Synovus Financial like every other national and regional bank lost almost 90% of its stock value as part of the 2008 housing crisis. The company has a market cap of 2.01B, forward P/E of 14.17 and a Price / Book of 0.76. The stock has been languishing at this price for almost 5 years as the bank has been a Troubled Asset Relief Program (TARP) recipient of almost $1 billion and has been stuck with a lot of distressed assets and loan losses.
Catalyst
Synovus Financial has begun turning the corner since 2010 by paring its loan losses and trying to sell its distressed assets. On Dec 10,

2012

the company announced the completion of a bulk sale of distressed assets with a total carrying value of approximately $530 million, consisting of approximately $400 million in non-performing assets, $110 million in loans rated accruing substandard, and $20 million in loans rated special mention. The company is taking steps aggressively to strengthen its balance sheet, improve asset quality and enhance future earnings.
The company has a deferred tax asset valuation allowance of $787 million which should be reversed by second quarter of 2013.
The company expects to pay TARP back in full by end of 2013. The preferred shares held by the government have a coupon of 5% which increases to 9% which provides a healthy incentive to SNV to pay back the TARP in 2013. With the repayment of TARP the company will drive improved profitability, shrink the balance sheet and lower the preferred dividends.
The company sports a dividend of 1.6%,

which

gives a floor to the stock price.
The improving housing situation is going to further help Synovus Financial. With the company's existing performing assets showing better returns, and with all the above

factors,

the book value is expected to double from $2.96 to $6 within the next year.
Institutional Investor Interest
Favorable Options Action - What prompted me to look at SNV was extremely bullish long-term options action in SNV. Institutional Investors have executed call spreads on both the Jan 2014 $3 calls and Jan 2015 $4 calls indicating that investors expect the stock to move and double within the next year.
Institutional Investors have also sold May 2013 $2.50 puts indicating that they expect the stock to hold support and not follow below $2.50
Summary
Synovus Financial looks poised to break out of its multi-year trading range and run to multi-year highs on payment of TARP loan, improved profitability, and improving housing and economic conditions. On repayment of TARP and continued string of profitable quarters, expect the stock to trade at a premium to its book value. My one year target for the stock is $6/share to reflect an increased book value and premium valuation to the new book value which offers an easy double from here.
Disclosure: I have no positions in any stocks mentioned, and no plans to initiate any positions within the next 72 hours. I wrote this article myself, and it expresses my own opinions. I am not receiving compensation for it. I have no business relationship with any company whose stock is mentioned in this article.