Pandora Media Inc. (NYSE:P) and Skullcandy Inc. (NASDAQ:SKUL) are two music related companies with recent analyst calls and earnings announcements. P received most number of upgrades while SKUL received most number of downgrades from analysts on Friday. Both stocks will be analyzed fundamentally and technically in this article. Investing strategies will also be presented.
Pandora Media Inc.
Pandora Media gives people music and comedy they love anytime, anywhere, through connected devices. P was up 17.56% and closed at $13.79 on March 8, 2013. P had been trading in the range of $7.08-$14.70 in the past 52 weeks. P has a market cap of $2.35B.
Earnings and CEO Resignation
On March 7, 2013, Pandora reported Q4 non-GAAP loss of $0.04 per share, beating consensus estimate of a loss of $0.05 per share. Pandora's revenue increased to $125.1M from $81.3M, beating analysts' estimate of $122.8M in revenue. Pandora also forecast Q1, 2013 loss of 10 cents to 13 cents per share on an adjusted basis. It expects revenue between $120M and $125M for the period. Analysts had forecast a loss of 10 cents per share on revenue $118.6M. Pandora also announced that its CEO, Joseph Kennedy, had resigned and that the company would begin searching for his successor.
February 2013 Audience Metrics
Pandora releases key audience metrics on a monthly basis to provide the most current information regarding Pandora's users and usage across platforms. As reported on March 7, 2013, for February 2013, listener hours for Pandora were 1.38B, an increase of 42% from 975M during the same period last year. Share of total U.S. radio listening for Pandora was 8.48%, an increase from 5.74% at the same time last year. Lastly, Active listeners were 67.7M, an increase of 37% from 49M during the same time period last year.
Analyst Calls
On March 8, 2013, Pandora received 3 upgrades and 1 price target increase from analysts. Goldman Sachs maintained a neutral rating on Pandora with a modified price target of $12.00 (from $11.00). Analyst Heath P. Terry said, "We continue to believe Pandora is well positioned to benefit from local advertiser adoption of mobile by leveraging its massive inventory, targeting opportunities, and user data. That said, monetization growth in mobile remains slower than expected and in our view significant success is already reflected in Pandora's valuation, therefore we remain Neutral rated." Dougherty & Co upgraded Pandora from sell to neutral. Albert Fried & Company also upgraded Pandora from market perform to overweight. Lastly, Piper Jaffray upgraded Pandora from neutral to overweight following Q4 results Thursday night.
There are a few positive factors for P:
Higher revenue growth (3 year average) of 142.1 (vs. the industry average of 10.9)
P has a total cash of $80.50M with zero total debt
Technically, the MACD (12, 26, 9) is showing a bearish trend, but the MACD difference continues to converge. The momentum indicator, RSI (14), is picking up and indicating a strong buying momentum at 67.37. P is currently trading above its 50-day MA of $11.32 and 200-day MA of $10.15. The next resistance is $14.79, the R2 pivot point, as seen from the chart below.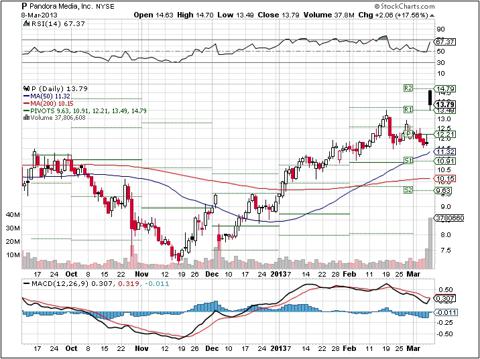 Source: StockCharts.com
How to Invest
With continued earnings improvement and growing audience, Pandora still has lots of upside potential. For bullish investors, a credit put option spread of June 22, 2013 $9/$10 can be reviewed to acquire the stock at a price below $10 or to gain some upside credit premium. Investors can also review the following ETF to gain exposure to P:
Top Guru Holdings Index ETF (NYSEARCA:GURU), 2.79% weighting
Skullcandy Inc.
Skullcandy Inc., an audio brand, develops and distributes headphones and other audio accessories to retailers globally. SKUL was down 22.47% and closed at $5.21 on March 8, 2013. SKUL had been trading in the range of $5.06-$17.76 in the past 52 weeks.
Earnings
On March 7, 2013, SKUL reported higher-than-expected Q4 revenue with a disappointing Q1 outlook. SKUL's revenue for Q4 rose 21% to $101M, beating analysts' expectation of $98.6M. Excluding items, the company earned 47 cents per share, which was below analysts' estimate of 48 cents per share. SKUL expects to post a loss of 25 cents to 30 cents per share in Q1, 2013 with falling revenue of about $37M. Analysts expect a profit of 5 cents per share and revenue of $59.80M, according to Thomson Reuters.
Analyst Calls
On March 8, 2013, SKUL received multiple downgrades from analysts. Craig-Hallum downgraded SKUL from buy to hold with a price target of $8.00 (from $15.00). BofA/Merrill Lynch and DA Davidson downgraded SKULL from buy to underperform. Raymond James downgraded SKUL from market perform to underperform. Piper Jaffray also downgraded SKUL from Neutral to Underweight with a price target of $4.00 (from $7.00). Lastly, Northland Securities downgraded SKUL from outperform to market perform with a price target of $6.00 (from $12.00).
Despite the disappointing outlook and multiple downgrades, there are a few positive factors for SKUL:
Higher revenue growth (3 year average) of 42.5 (vs. the industry average of 5.3)
Stronger ROE of 24.3 (vs. the average of 13.1)
Lower P/E, P/B, and P/S of 7.1, 1.4, and 0.7 (vs. the industry averages of 17.9, 1.5, and 1.2)
Lower Forward P/E of 4.9 (vs. the S&P 500's average of 13.9)
Technically, the MACD (12, 26, 9) had turned to show a bearish sign in the last trading day. RSI (14) is declining and indicating a strong selling momentum at 29.50, where below 30 is considered as over-sold. SKUL is currently trading below its 50-day MA of $6.72 and 200-day MA of $11.13, as seen from the chart below.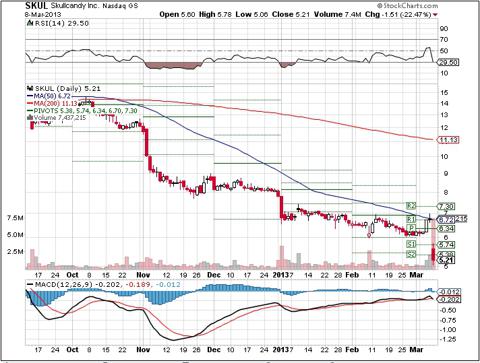 Source: StockCharts.com
How to Invest
Despite the current low valuation, negative outlook remains a great concern. However, further downside may be supported by SKUL's book value at $4.66. SKUL is definitely not for conservative investors seeking for stability in the short term. Until seeing any further sign of fundamental improvement, the author remains on the side-line for this one.
Note: All prices are quoted from the closing of March 8, 2013. Investors and traders are recommended to do their own due diligence and research before making any trading/investing decisions.
Disclosure: I have no positions in any stocks mentioned, and no plans to initiate any positions within the next 72 hours. I wrote this article myself, and it expresses my own opinions. I am not receiving compensation for it (other than from Seeking Alpha). I have no business relationship with any company whose stock is mentioned in this article.